HKSAR 25th anniversary: Significant progress with more to come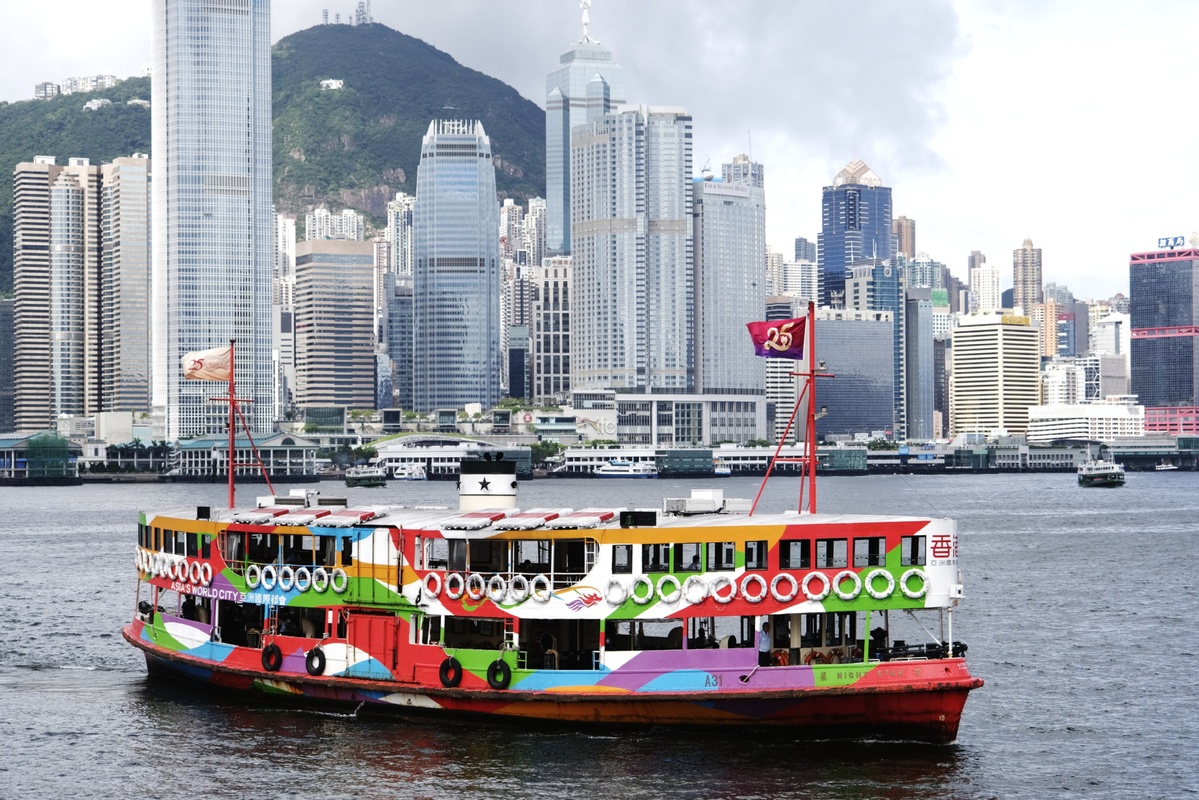 On June 23, 1984, when China's then-State leader, Deng Xiaoping, outlined the concept of "one country, two systems", he asked, rhetorically, if "any country in the history of the world ever pursued a policy as generous as China's". He saw the policy as providing the solution not only to the Hong Kong question but also others, and this was clearly farsighted.
Since 1997, Deng's vision has been fulfilled, and the 25th anniversary of the establishment of the Hong Kong Special Administrative Region is a time for celebration. It is a milestone in China's development, and provides an opportunity to reflect on achievements past as well as on future aspirations. Over the past 25 years, Hong Kong has built on its rich traditions and transformed itself into a proud Chinese city, and now contributes decisively to national imperatives.
Having been a British outpost for some 155 years, Hong Kong has now come of age, and is fulfilling the hopes of Deng and its other founders. This has only been possible because of the "one country, two systems" governing policy that was incorporated into the Basic Law by the National People's Congress in 1990. As its bedrock, the policy has guided the city and its leaders, defined its role and influenced its fortunes. Whereas the capitalist system and way of life have been faithfully preserved, Hong Kong has taken full advantage of its special status as a local administrative region, exercising a high degree of autonomy while coming directly under the central people's government.
Although the viability of Deng's policy was questioned by some people, including the unimaginative and the fainthearted, their concerns, despite some bumps on the road, have not materialized, for good reason. In good times and bad, the city has been supported by people of goodwill throughout China, and the inevitable teething problems have been resolved within the parameters of the Basic Law and the People's Republic of China Constitution. When challenges arose, often foreign-inspired, the central authorities were unflagging in their encouragement, and those who sought to harm Hong Kong were left with bloody noses.
Since 1997, there has, as promised, been continuity in key areas, and this has been supplemented by significant progress across the board, as objective observers acknowledge. While Hong Kong has continued to play to its commercial, financial and legal strengths, its status as the world's freest economy was acknowledged by the Fraser Institute in 2021. Whereas its highly professional Judiciary has buttressed its common-law-based legal system, the World Bank's 2021 Worldwide Governance Indicators ranked Hong Kong, in the "Control of Corruption" and "Rule of Law" categories, as, respectively, 15th and 18th out of the 209 countries and jurisdictions assessed, and the second-highest in Asia.
This should surprise nobody, as the rule of law is as vibrant as ever, and the basic rights and freedoms by which people set such store are guaranteed by the Basic Law, including, for example, freedom of assembly, of expression, of publication, of religion and of travel. The International Covenant on Civil and Political Rights applies in Hong Kong, and the rights of criminal suspects are strictly upheld by the Judiciary. Anybody charged with a criminal offense can only be convicted if, as elsewhere in the common law world, the case against them has been proved beyond reasonable doubt, and rights of appeal are available to convicted persons, whether against conviction or sentence.
There have, however, been those, both locally and abroad, who have treated the "one country, two systems" policy not as a godsend, but as a means of undermining China, and they saw Hong Kong as the country's Achilles' heel. Once the foreign powers that had so much clout during British rule realized that the reunification was not purely nominal, and that they could no longer throw their weight around, they were not best pleased. In retaliation, they sought to deny Hong Kong its place in the sun, whether through canceling trading preferences, sanctioning officials, suspending extradition agreements, ostracizing law enforcers, fake propaganda, or simply trying to needle China. They also sought, through local proxies, to sow internal dissension, and to upset the apple cart.
Thus, in 2014, in a dress rehearsal, anti-China forces occupied streets in Hong Kong for 79 days, causing massive disruption. Thereafter, in 2016, in a foretaste of what was to come, "localists" staged widespread rioting in Mong Kok, deploying violence that The Economist described as "the worst outbreak of rioting since the 1960s". Thereafter, in 2019, they launched their insurrection, indulging in an orgy of violence and destruction, while making no secret of their secessionist agenda.
When, for example, the protest movement vandalized the Legislative Council building on July 1, 2019, they scrawled "Hong Kong is not China" on the walls, and brandished colonial-era flags. As time went on, it became increasingly apparent that the protesters were highly organized and resourced, and were receiving foreign encouragement, financing and even training. This, of course, was why those criminal suspects who fled abroad were greeted with open arms in, for example, the UK and the US, where, incredibly, they are now allowed by their hosts to engage openly in anti-China activities, much of it subversive in nature.
As the protesters were destroying the city, their supporters in the Legislative Council, led by the Civic Party, set about bringing the work of the government to a halt. Whereas some of them paralyzed the council's operations for over six months, others vandalized the debating chamber, attacked security staff, and intimidated government officials. Although they called themselves "pan-dems", they were basically political thugs, seeking, like the street protesters, to kill the "one country, two systems" policy, knowing this would undermine China. This, of course, was exactly what the foreign powers, who egged them on throughout, wanted to see.
However, their plans failed, and Hong Kong survived, albeit at a cost. Although the police, the prosecutors and the judges did as much as they could to uphold the rule of law, it was not enough. Once, however, the central authorities enacted the National Security Law for Hong Kong in 2020, and reformed the SAR's electoral arrangements in 2021, it became clear that the tide had turned and that the city was safe. Although the whole experience was traumatic, it was also cathartic, and it will never again be possible for hostile forces to create mayhem on the streets, or for political saboteurs and foreign agents to infiltrate the body politic. For this, everybody who cares for Hong Kong will be truly grateful.
Over the past 25 years, Hong Kong, despite some setbacks, has positively developed its consciousness and outlook, and has matured in the process. Although some people lost their way, including students who fell victim to political brainwashing and civil servants who abandoned their neutrality, there is now a greater focus. People appreciate that Hong Kong is an inalienable part of China, that they have responsibilities to the whole of the country, and that China's success is also their success. Young people, many of whom hope to pursue their studies in the Chinese mainland, particularly at universities in the Guangdong-Hong Kong-Macao Greater Bay Area, are now learning about Hong Kong and its values, about China's culture and history, and about what it means to be Chinese in the 21st century, and this will give them a real chance in life.
So it is that, equipped with wider perspectives, Hong Kong's people will have much to contribute over the next 25 years to national development, and this will be warmly welcomed by their compatriots. There is, moreover, now no reason to suppose that the "one country, two systems" policy will not continue indefinitely after 2047, to everybody's advantage. This, after all, is what Deng Xiaoping always envisaged, and it is heartening that his hopes are now coming to fruition.
The author is a senior counsel and law professor, and was previously the director of public prosecutions of the Hong Kong Special Administrative Region.
The views do not necessarily reflect those of China Daily.