Indian media read too much into Macron's visit
Global Times
1521124710000
India and France signed 14 pacts ranging from defense to nuclear energy, including the construction of a nuclear power plant on March 10, after extensive talks between Prime Minister Narendra Modi and French President Emmanuel Macron during the latter's recent four-day visit to India.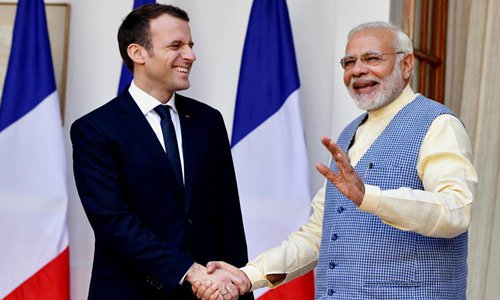 French President Emmanuel Macron (L) shakes hands with Indian Prime Minister Narendra Modi before their meeting at Hyderabad House in New Delhi, India, March 10, 2018. India and France inked 14 cooperation pacts as Prime Minister Narendra Modi held talks with visiting French President Emmanuel Macron here on Saturday. (Photo: Xinhua)
Apparently, it is a normal official visit by a head of state to India. However some Indian and Western media outlets hyped up that the deals and the two leaders' pronouncements are targeted at China. Under a new deal, India and France will open their naval bases to each other's warships - a move some media outlets believe is meant "to undermine China's territorial ambitions." Macron said, "The Indian Ocean, like the Pacific Ocean, cannot become a place of hegemony." This was interpreted as "an apparent reference to China." However, none pointed out how the words were aimed at China and what threat China posed to France and India.
Macron's remarks could target the US or India as Washington flexes its muscle in the Pacific Ocean while New Delhi seeks hegemony in the Indian Ocean.
Macron told India Today magazine in an interview published on its website, "Your historical partner in Europe was the UK. I want France to become the new reference partner of the 21st century." Going by this view, did Macron target the UK?
The "China threat" theory and "to confront China" are usually highlighted by some Indian media outlets. Whenever there are bilateral visits by leaders, these outlets comment against China. However, the Chinese media never carries such views. It reveals Indian media outlets' lack of confidence in their country and their misinterpretation of international relations, exaggerating Sino-Indian tensions and presenting a distorted picture of the relationship between China and France.
Strategically, France is not likely to help India confront China. Relations between France and China have global significance as both are permanent members of the UN Security Council. The scale of their trade, investment and communication dwarfs that between France and India. China and France also share similar stances on many global issues, like future international order, climate change and trade.
France and India are closer in ideology, which has not been the main factor in relations between countries anymore. France has not taken concrete steps to endorse India's demand for a permanent seat on the UN Security Council. What's more, China and France are not geopolitical competitors and specific bilateral differences cannot affect their comprehensive strategic partnership. Therefore, there is no need for France to join hands with India to confront China.
Due to China's increasing trade with Africa, the Middle East and Europe, the Indian Ocean has become a vital navigation channel for Chinese ships and ensuring freedom of navigation in the waters serves China's interests. The Indian Ocean faces nontraditional security threats such as pirates, terrorism and natural disasters and its stability cannot be guaranteed by China, the US, France or India alone. It needs cooperation of major powers and surrounding countries. Escorting operations and presence of the Chinese navy in the Indian Ocean not only protect Beijing's interests, but also offer public security to the whole world, without threatening any country's safety.
The Indian Ocean is not an ocean belonging to India, the US or France, but ought to be a "free and open" sea. If any country wants to do anything vicious, the surrounding countries will protest and China can also deal with it.
The author is a research fellow at The Charhar Institute and director of the Center for Indian Studies at China West Normal University.