How hard will the Russia probe hit Trump?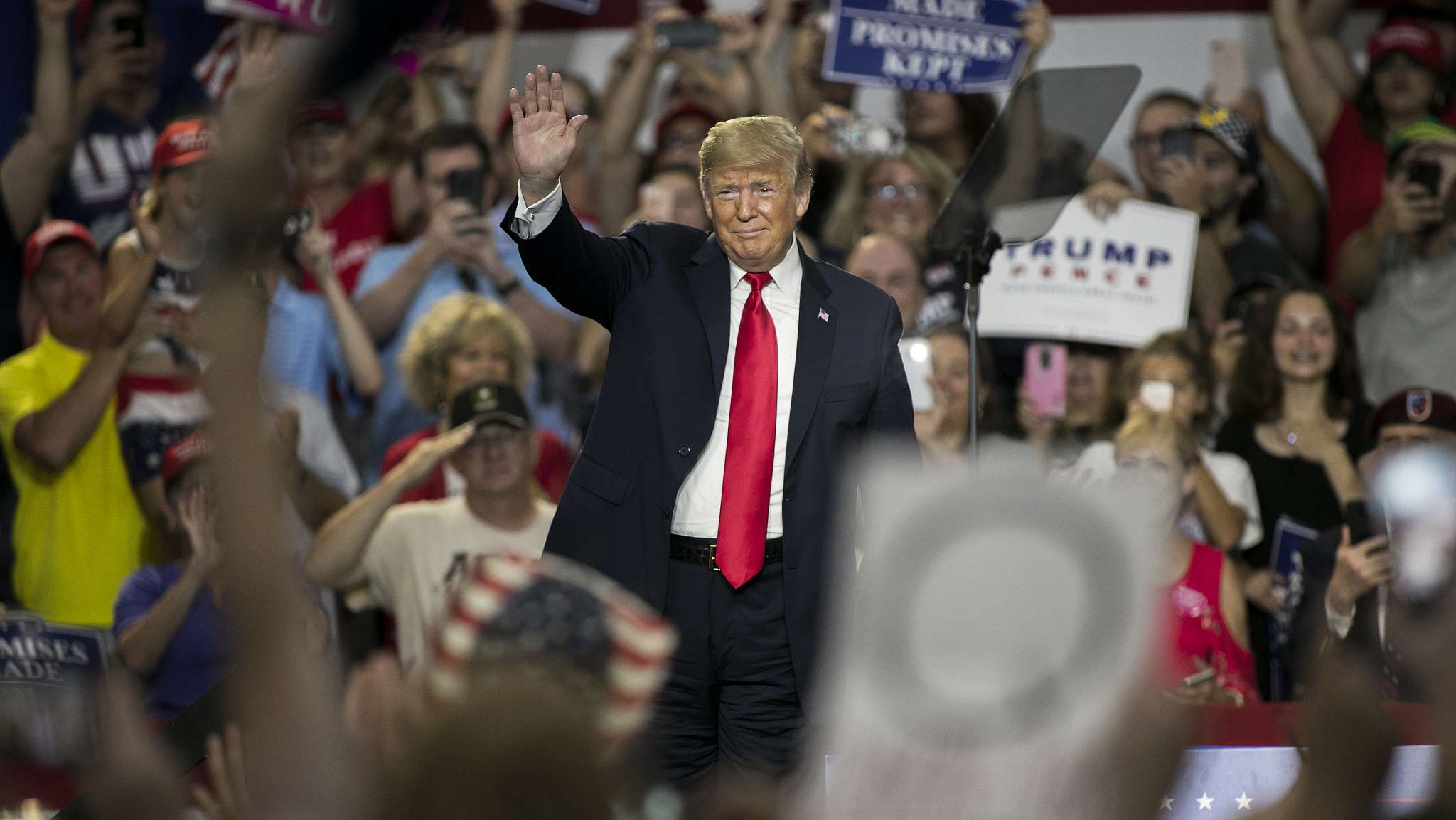 (Photo: CGTN)
Editor's note: The following is an edited translation, from China Plus, of a commentary on US President Donald Trump from the Chinese-language "Commentaries on International Affairs."
US President Donald Trump, who is known to govern by Twitter, once again used the social media platform to push himself to the forefront of controversy on Sunday.
He described "Fake News reporting" about his eldest son, Donald Trump Jr., as "a complete fabrication" and revealed that the meeting his son had with a Russian lawyer in Trump Tower ahead of the presidential election was one "to get information on an opponent, totally legal and done all the time in politics."
Over a year ago, when the New York Times first disclosed the meeting, Trump Jr. issued a statement saying that he and the Russian lawyer were discussing a project on the adoption of Russian children that the US government had stopped.
He also attended a closed congressional hearing to assure lawmakers that Donald Trump himself did not know about the meeting and that the President's campaign had no relationship with Russia.
However, a few months later, US media outlets revealed that the statement was drafted with authorization from President Trump himself.
Now, 13 months after Trump Jr.'s statement, the US President has personally admitted on Twitter that the meeting was to get unfavorable materials about his opponent from the Russian lawyer.
People, who are used to Trump's backtracking performances, couldn't help but be scared when they read the shocking reversal. Ian Bremmer, president of the Eurasia Group, has concluded that "Either Trump is lying. Or Trump Jr. is."
The mainstream media in the United States and Europe have pointed out that the meeting two years ago happened to be an important part of Special Counsel Robert Mueller's investigation into Russian meddling in the 2016 elections.
As the US mid-term elections approach, the Russia probe, which has lasted more than a year, is expected to come to a conclusion.
US media including the Washington Post, CNN, and the Associated Press have reported that Trump has been concerned that the Russia probe could reach his inner circle, especially his eldest son, Trump Jr., who planned and participated in that meeting.
Legal experts believe that Trump Jr.'s contact with foreigners in order to obtain unfavorable materials against his father's political opponents violates US election laws, suggesting he could be facing possible criminal charges, including conspiracy against the US and aiding and abetting a conspiracy.
Earlier this year, when breaking with Trump, former White House chief strategist Steve Bannon went on record saying that the meeting was "treasonous." Now, there is speculation as to whether such a heavyweight accusation and charge could be part of Mueller's probe.
In fact, another important person in that meeting, Paul Manafort, former Trump campaign manager, is now behind the bars facing a number of charges including "conspiracy against the US". The case is going to be heard next month.
But at present, Manafort is charged with fraud and tax evasion. Although Manafort refused to plead guilty, his former business partner, Rick Gates, who is star prosecution witness in the fraud trial, has said Manafort was the man behind most of the criminal acts. He admitted to the jury on Monday that he had assisted Manafort in committing those crimes and provided details.
So will Manafort decide to skip a plea bargain and wait for a presidential pardon by Trump? Or is he going to flip to become a tainted witness against his former boss?
At the beginning of the trial, Trump had tried to defend Manafort, saying Manafort had worked for former president Ronald Reagan and many other political leaders but was treated unfairly by the Mueller team.
He even compared Paul Manafort to Al Capone, the notorious mob boss, killer and "Public Enemy Number One." He even went so far as to ask Attorney General Jeff Sessions to immediately terminate the Russia probe.
Of course, the White House had to explain that the President's tweet was not an order but merely expressed his views.
Trump's resentment against the Russia probe has been around for a long time. He's used labels such as "witch hunt," "hoax," "scam" and others to describe the investigation. According to US media statistics, he used such tags 84 times in the first seven months of this year.
At the same time, Michael Cohen, Trump's former personal attorney, is now being investigated for involvement in bank and tax fraud, as well as violations against election laws.
For years, it was Cohen's job to protect Donald Trump from damaging stories and allegations. Now, the president's "fixer" appears to be the one threatening Trump with potentially incriminating information.
It's been reported federal prosecutors have seized a dozen recordings that were secretly made by Cohen when the FBI raided his office, home and a hotel room in April. One of those recordings appears to be of a conversation between Trump and Cohen about the payment to "Playboy" magazine model Karen McDougal to keep her silent about her relationship with Trump.
According to reports, Cohen also confirmed to the Mueller investigation team that Trump Jr. had informed Trump about his planned meeting with the Russian lawyer and received Trump's approval in advance.
This was immediately slammed by Trump's current lawyer, former New York City Mayor Rudy Giuliani, who has called Cohen a "pathological liar."
Cohen, who used to say that he would "take a bullet" for Trump, may now turn against him. How much deadly unfavorable material does the conversation he secretly recorded carry?
Right now President Trump is facing a difficult choice, whether he sits for an interview with Mueller, or faces subpoenas to testify.
Would Trump try to stir up tension elsewhere to divert public attention?