US bid to preserve its high-tech hegemony will be to no avail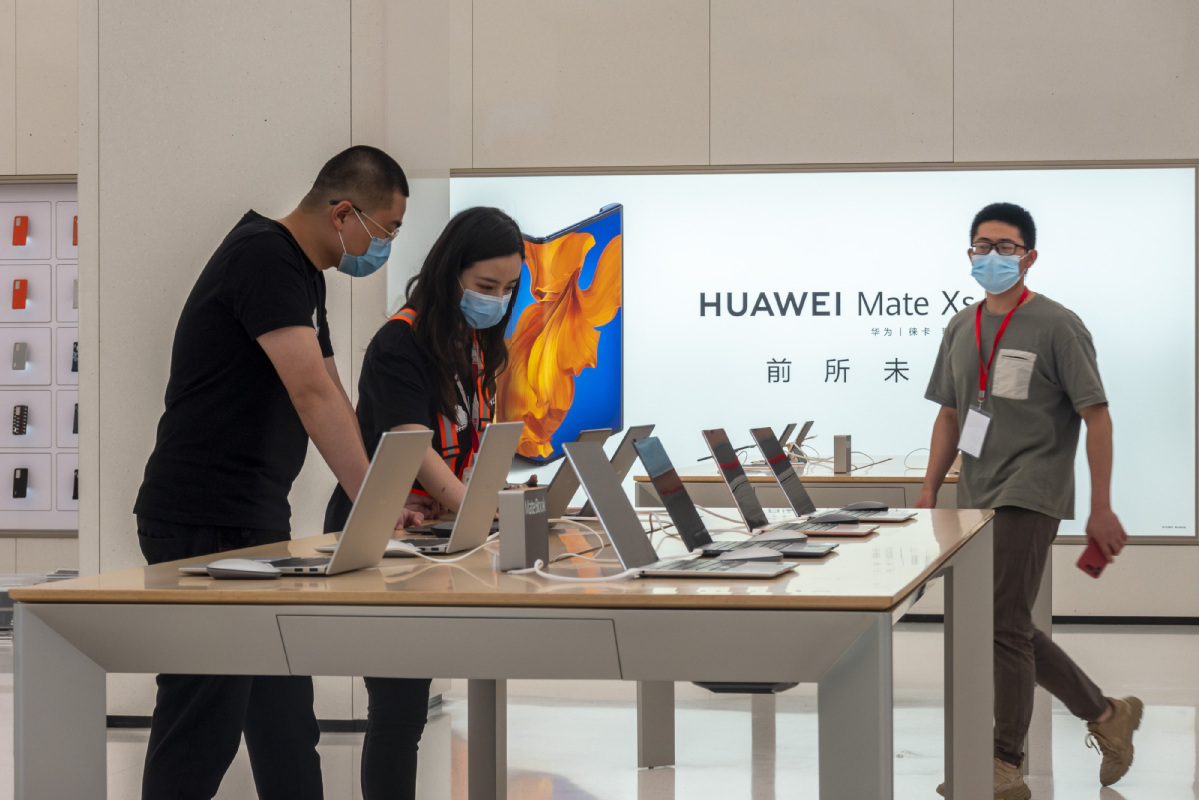 The global flagship store of Huawei Technologies Co in Shanghai. (Photo: China Daily)
On Tuesday, the US Commerce Department's tightened sanctions against Huawei officially went into effect, according to which all global companies are prohibited from supplying the Chinese telecommunications equipment giant with components such as semiconductors and display panels for smartphones that they develop using equipment and software made in the United States.
Some major international chip makers such as Samsung, SK Hynix and TSMC have reportedly said they will have to stop shipments to Huawei to comply with the restrictions, which could cause more damage to the company already at the center of the US' all-out efforts to blunt China's technological competitiveness globally.
The US' ban, citing unsubstantiated national security concerns, has grossly violated international economic and trade rules, and disrupted the global industrial and supply chains. It not only undermines the interests of Huawei, but also those of multinationals that depend heavily on the Chinese market for theirs sales and revenues.
To deal with the US restrictions, Huawei has reportedly launched a self-sufficiency program to accelerate the "de-Americanization" of its supply chains, with progress made initially in laptops and smart screens that do not use US technology. As Huawei's founder and CEO Ren Zhengfei said, "The desire to survive inspires us to find a way to save ourselves … We still have to stick to the path of self-improvement and openness."
Supporting that resolve are the company's research and development operations which employ 90,000 technology workers and its annual R&D budget of more than $15 billion. All this, together with the massive domestic market with a customer base of hundreds of millions of users, offers a glimmer of hope for Huawei that it will be able to weather the current storm and emerge even stronger.
Yet despite China becoming one of the forerunners in science and technology expenditures globally, its spending on basic research — the bedrock for innovation — has stayed at about 5 percent of gross R&D expenditure for many years, as compared with more than 15 percent for the US and Japan. Meanwhile, the investment in basic research from businesses and society is still low compared with technologically advanced countries in the West.
That has prompted President Xi Jinping to call on the nation to "strengthen basic research and make major breakthroughs in pioneering basic research and groundbreaking … innovations".
By flaunting the banner of high-tech hegemony, the US administration has again demonstrated how ready it is to act selfishly and recklessly for its own political gain.
Hopefully, the dire situation Huawei faces will serve as a wake-up call for Chinese high-tech companies to pursue self-reliance in basic research and technologies so that they don't have to worry about a technology noose tightening around their necks.