Nile dispute unlikely to derail Ethiopia-Egypt relations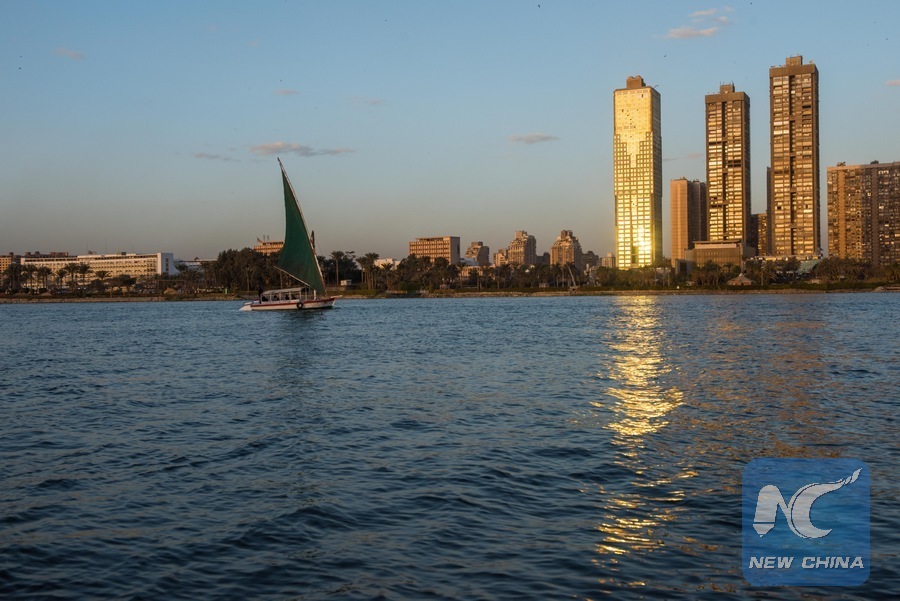 A sailing boat is seen amid sunset glow on the Nile River near Cairo, Egypt, Jan. 26, 2017. (Xinhua/Meng Tao)
Disagreement over the Nile, one of the world's largest river systems, could turn into win-win cooperation instead of fueling conflict, experts have said.

For the past weeks, there have been media reports suggesting a mega hydro dam being built by Ethiopia on the Blue Nile river could be a catalyst for a larger conflict involving Egypt and Ethiopia.
Abebe Aynete, senior researcher at the Ethiopia Foreign Relations Strategic Studies (EFRSS), a local think thank, told Xinhua that ongoing tensions about Nile river usage should not divert from win-win solutions.
"Both countries already agree on a range of economic and security themes, including the common threat of terrorism," he said.
Egyptian companies have substantial investments in Ethiopia, estimated to be more than 1 billion U.S. dollars, while Ethiopia is working on a long-term plan to sell electricity to energy-hungry Egypt.
Aynete said longstanding disagreements on the Nile river have only served to delay the inevitable consensus both nations should reach on various issues.
The Grand Ethiopian Renaissance Dam (GERD), a 6,450-MW hydro dam project whose construction was launched in April 2011, is expected to become the largest power project in Africa.
The Ethiopian government has recently said the dam project that is 63 percent complete will start test power generation in 2018.
Despite being separated by thousands of miles, Ethiopia and Egypt are intertwined by the Nile river with the former being source for 86 percent of the waters and the latter depending on Nile as its major surface fresh water source.
Ethiopia insists the mega hydro dam is part of its desire to equitably use Nile water to help power its economic growth.
Egypt, a lower riparian nation, fears the hydro dam will cut into its water supply, potentially crippling its agricultural sector that is already facing water shortages.
Alex de Waal, Executive Director of World Peace Foundation, agrees that despite occasional heated rhetoric from Egypt and Ethiopia, both countries are likely to find common ground on Nile river usage.
A longtime observer of politics in Northeast Africa, he argues that both countries are run by risk-averse governments that prioritize cooperation over potential conflict.
"With Egypt becoming less and less reliant on agriculture and more on manufacturing, services sector, oil and gas and the commerce that goes through Suez Canal, it's economic reliance on the Nile river is lessening," said de Waal.
However, he said Egyptians and Ethiopians share a strong psychological affinity to the Nile river, and that it could be used as an emotional card in potential conflict.
While tensions on Nile river has often been characterized as binary issue between Ethiopia and Egypt, recent tensions involving other Nile basin countries Eritrea and Sudan has shed light on its complexity.
Sudan, a lower riparian nation that borders Egypt and Ethiopia, has in recent years positioned itself closer to the latter by publicly supporting the construction of the GERD.
Relations between Egypt and Sudan have been tense over the past years on other issues, including a territorial dispute over the border region of Halayeb and Shalateen.
Eritrea that has a bitter border dispute with Ethiopia has cultivated close ties with Egypt, fueling speculation in Ethiopia and Sudan that it could act as a proxy for Egypt in case major crisis erupts over Nile.
Ethiopia and Eritrea fought a border conflict between 1998-2000 that left an estimated 70,000 people dead from both sides.
Sudan in the past also had tense relations with Eritrea over the latter's support for Sudanese rebel groups.
However, Aynete dismissed the possibility of a war involving the Nile river dispute breaking out in Northeast Africa.
"Eritrea, Ethiopia, Egypt and Sudan have their own domestic weaknesses, making it highly unlikely a war will break out involving the Nile river," he said.