Has China's demographic dividend met its doomsday?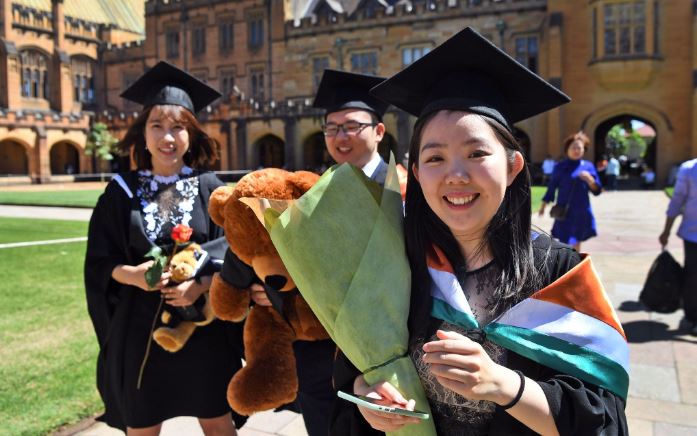 Students from China pose for family photos after graduating from a course in commerce at Sydney University, Australia, October 12, 2017. (Photo: VCG)
China would not have been what it's like today without talent. Over the past four decades, they have played a leading role in the country's unprecedented reform and opening-up tide. The year of 2018 has seen an intensive dose of actions on engrossing talent: the founding of the national bureau for immigration, the seething domestic war for talent, the residence reform for non-local talent.
CGTN's Wang Xiaonan (CGTN) interviewed Wang Huiyao (Wang), founder and president of the Center for China and Globalization (CCG) and counselor of China's State Council, on how these past and present developments help shape the future of China's talent landscape.
CGTN: What role has talent played in China's reform and opening-up over the past four decades?
Wang: Over the past four decades, China has trained a hundred million college graduates in all walks of life, in all sectors, all areas of the country. China has sent six million students overseas. By both cultivating talent domestically and sending students abroad, China has accumulated a huge talent pool that has actually supported the country into the modernization drive and ushered it onto the path of reform and opening up. Without talent, China would not have been what it's like today.
CGTN: Some Western media outlets reported that China's huge demographic dividend has met its doomsday, dragging on the country's economic growth amid a rapidly aging society. What's your view? Can we transform the demographic dividend into talent dividend?
Wang: It's true that China is facing the problem of aging. China is getting old, with 200 million people above the age of 60. The demographic dividend is of course diminishing, but we are seeing that talent dividend is catching on. For instance, before China adopted the reform and opening-up policy in 1978, 80 percent of the Chinese population was in rural areas, but now China has a 60-percent urban population. In the next 10 or 20 years, 80-90 percent of Chinese will probably live in cities.
Also, China has more college students among its population, standing at 10 percent of the working population which will likely rise to 15-20 percent in the future. China is bringing more quality education to college students so that you can see even though the population is getting old, their education and credential are much higher than what they used to be.
So on the one hand, we have an aging population while on the other hand, we have a well-trained working force scattered in Internet, artificial intelligence, big data and other hi-tech areas. Therefore, even though China's demographic dividend is smaller, its talent dividend is getting larger.
CGTN: Do you expect China to become a big country in receiving immigrants, like the United States?
Wang: Boasting 200 million migrant workers across its territory, China is a migration country itself. Shenzhen, for instance, was merely a fishing village 30 years ago but has now become an urban center with a population of some 12 million largely replenished by two generations of migrant workers. Half of Beijing's 20 million people are not permanent residents. Other megacities like Shanghai and Guangzhou as well as new first-tiers are also receiving an increasing influx of migrant workers.
I don't think China will become a US-type nation of immigrants since it has a large population of 1.4 billion itself. But it is attracting innovative talent in all arenas to better integrate with the world economy and meet the challenges to globalization.
CGTN: With the establishment of the national bureau of immigration, will it turn itself to be a melting pot with a fusion of different cultures?
Wang: The national bureau of immigrants was set up earlier this year to this end. Since its establishment, it has done a lot. For example, they have relaxed visas for 60 countries to come to the southernmost province of Hainan, one-month visa free, and it has approved almost 2,000 green cards for foreigners in China over the past few months.
Recently, it started to allow residents of Hong Kong, Macao, and Taiwan to apply for residence permits in the Chinese mainland. It's also engaged in creating a favorable environment for overseas Chinese to return and live in China by granting them five-year or 10-year multi-entry visas.
The new bureau will be more focused, study relevant policies, learn advantages from other countries and exchange experience with the International Organization for Migration and the United Nations.
Its establishment showcased that China has entered the third phase of globalization – talent movement after goods movement and capital movement. And by having a designated bureau to look after that shows China's determination and policy flexibility to meet the challenges of the needs of future talent.
CGTN: How do you view the domestic war for talent, the controversy of which dominated the whole spring this year? Some assert that winning such a war is becoming a new normal in China. Do you agree with it? Or do you think the war is just a one-time phenomenon?
Wang: We are living in a very competitive world and competition for talent is very severe. I'm pleased to see there's a talent competition going on among urban centers like Wuhan, Chengdu, Xi'an, Changsha and other second-tier cities. It's actually a great thing that local governments realize that talent is crucial to the future of urban development. In the next step, they should mull how to keep the talent – that's a new challenge.
The domestic war for talent is expected to become a new normal in the near future. Over the past 40 years, urban areas have been fighting for financial capital. In the next decade, all urban centers will be seeking human capital – the scarcest resource one place can have.
CGTN: What's the large picture in your mind about talent composition in China in the next forty years?
Wang: In the next forty years, China is expected to see an increasing number of global professionals in hi-tech, managerial, humanitarian sectors amid a new wave of globalization. As China goes up along the value chain, there will be more innovative talent on its land.