Efforts needed to boost foreign trade amid outbreak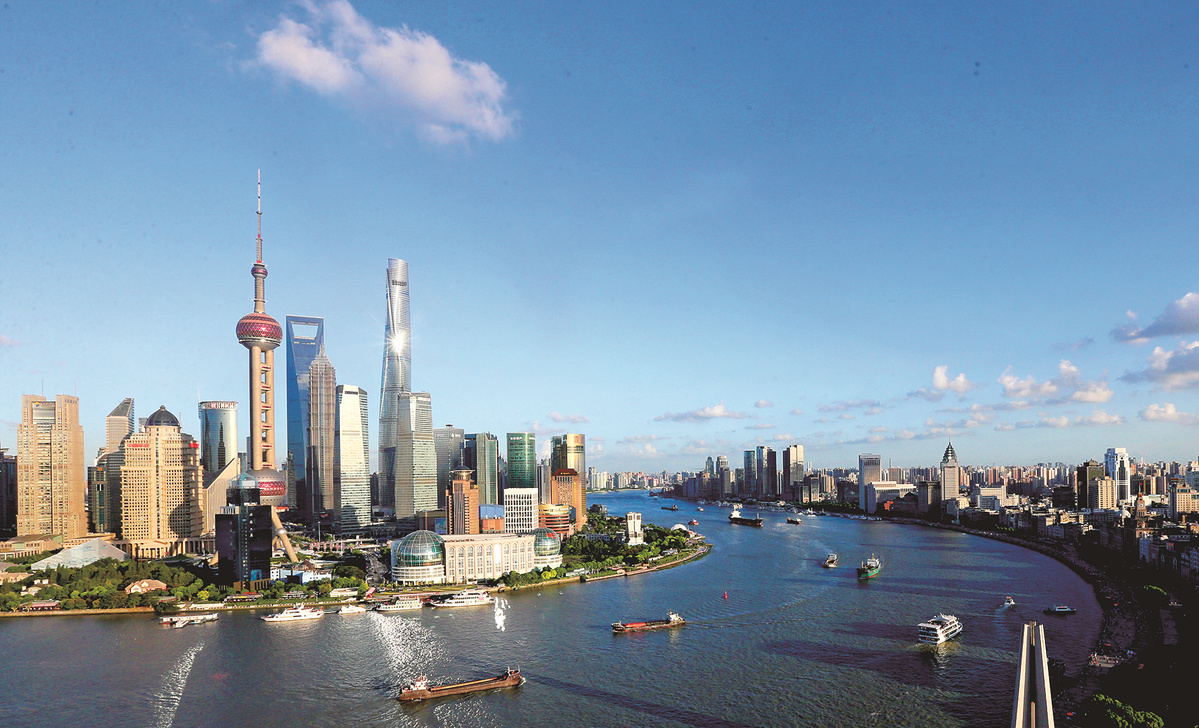 A view of the Lujiazui area in Shanghai, East China. (Photo: Xinhua)
Foreign trade is facing unprecedented challenges due to the novel coronavirus pandemic, ever-increasing international economic and trade fictions, and rising global recession risks. In the first half of this year, China's foreign trade shrunk 3.2 percent year-on-year to 14.24 trillion yuan ($2.03 trillion)-although in June, China's exports rose 0.5 percent and imports 2.7 percent year-on-year in US dollar terms.
This along with the gloomy global economic outlook means China's foreign trade faces severe challenges in the rest of the year.
The World Bank has forecast the global economy will shrink by 5.2 percent this year and the World Trade Organization has said global merchandize trade will decline between 13 and 32 percent, due to the COVID-19 pandemic.
The continuous spread of the novel coronavirus around the world has caused a decline in global demand. On the domestic front, enterprises engaged in foreign trade, especially micro, small and medium-sized enterprises, face serious difficulties, among other things, due to cancellation of orders and a drastic fall in new orders. In particular, the processing industry, whose upstream and downstream industries are located abroad, faces serious problems both on the supply and demand side.
The pandemic-induced decline in consumption, investments, production and trade has disrupted global industrial and supply chains. Also, travel and trade restrictions across the world have undermined the movement of people and goods, affecting global trade. As for domestic enterprises, especially those in the automobile and electronics industries, they are facing a shortage of some raw materials, key equipment and components because of the disruption in the global production and supply chains.
These factors have increased the pressure on enterprises. And the fact that many foreign companies have either deferred or canceled their orders because of the pandemic has increased the default risks. In addition, Chinese foreign trade enterprises are also facing the problem of stock disposal and meeting the cost of human resources.
The good news is that China has largely contained the outbreak at home and taken measures to further deepen reform and expand opening up in a bid to improve the business environment for all enterprises.
First, China has increased support for enterprises by easing the export tax refund policy, and injected new vitality into financial institutions by enhancing foreign trade credit and loan supply. According to incomplete statistics, 24 provinces and regions in China have issued 45 documents aimed at stabilizing foreign trade since the epidemic broke out. On June 9, the executive meeting of the State Council, China's Cabinet, which was presided by Premier Li Keqiang, announced measures to help foreign trade enterprises cope with the negative impacts of the epidemic.
Second, China has been exploring new patterns and models of foreign trade. It has established 46 cross-border e-commerce comprehensive pilot zones to help the foreign trade industry overcome its problems. Thanks to expanding globalization and the rapid development of information and communications technology in recent years, cross-border e-commerce has become a main channel for traditional foreign trade enterprises to realize structural transformation and upgrading.
And third, China has greatly improved government public services, by helping boost coordination and cooperation between foreign trade enterprises and major domestic e-commerce platforms, in order to boost the sale of imported goods in the domestic market.
In the medium and long term, China's strong industrial base; complete industrial, supply and value chains; and modern infrastructure will help foreign trade enterprises to expand their businesses. China has also accelerated the construction of pilot free trade zones and pledged to give the FTZs more autonomy so they can deepen reforms and become new centers of institutional reform, which in turn will facilitate institutional reform nationwide.
With the transformation and upgrading of the foreign trade industry, the innovation capacity and international competitive edge of the enterprises involved in this sector will gradually increase.
Besides, the new foreign trade channels such as cross-border e-commerce will help the enterprises overcome the negative impacts of the pandemic on foreign trade.
China remains committed to further opening up its economy to the outside world and deepening cooperation with other economies. It will also take measures to better protect foreign investment, shorten the foreign investment negative list and further improve the business environment. And by streamlining the administration and delegating more power to lower level governments, China will adjust government functions, and reduce tax and fees with the aim of increasing enterprises' development capacity and minimizing their risks.