Political epidemic biggest curse for HK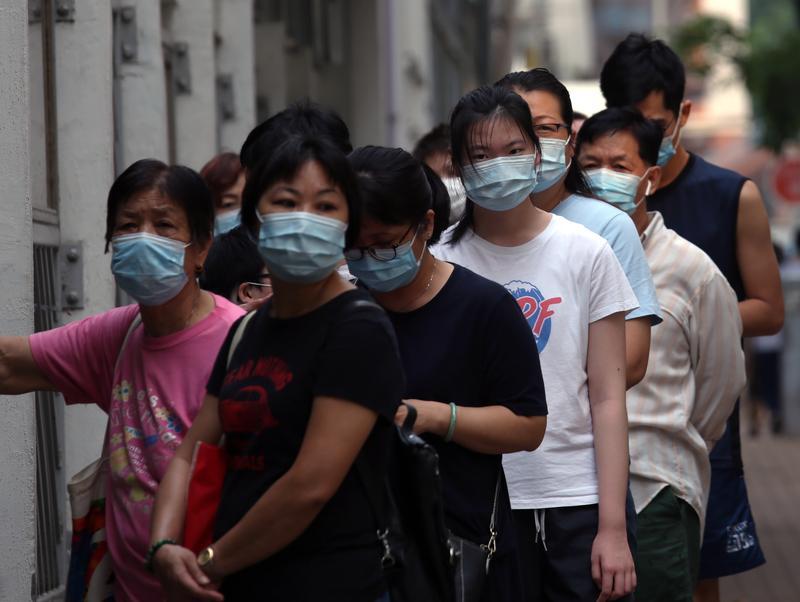 Residents wearing face masks wait in to take COVID-19 tests in Cheung Sha Wan, Hong Kong, Sept 3, 2020. (Photo: China Daily)
With the special administrative region's economy and unemployment in their worst shape in years, if not decades, it has arguably never been more imperative for Hong Kong to focus on livelihood issues.
The novel coronavirus outbreak has added to the serious harm that was already being inflicted on the SAR's economy and people's livelihoods by the trade war being waged against China by the United States and the violent antics of the opposition camp.
The economy shrank by 9 percent in the second quarter compared with a year ago, the fourth consecutive quarter of year-to-year contraction, and the unemployment rate hit a decade high at 6.1 percent. Low-income residents have been especially hard hit, with those who have been made jobless or who are underemployed about eight times more than the overall rate, based on a recent survey.
Conceivably, the unemployment rate would have shot up to an unprecedented level, had it not been for the SAR government helping mitigate a wave of business bankruptcies and staff layoffs by doling out rounds of financial subsidies.
The state of Hong Kong residents' mental health has also hit an all-time low, according to an annual survey, with the social turmoil and pandemic preying on people's minds. Financial stress has no doubt contributed significantly to the general deterioration of residents' psychological well-being.
Hong Kong will not get rid of these woes until economic activities get back to normal. It is the urgent need to tackle this woeful socioeconomic situation that has galvanized the SAR government to implement an ambitious universal community testing program to contain the pandemic, with the assistance of the central government.
Yet to the dismay of those worst-affected by the SAR's travails, the bid to cut off the transmission chains of the novel coronavirus by identifying those infected with the virus but not showing symptoms has been undermined by the opposition camp, who have made the testing program another rallying point to rekindle their political campaign that has been choked by the SAR's recent enacting of national security legislation. Many residents have been dissuaded from taking the test as a result of the opposition camp's rumor-mongering, compromising the effectiveness of the program.
By extending their "burn-together" tactic to the universal testing program, the political zealots have once again displayed their determination to pursue their own agenda at the expense of society's well-being. That even the testing, which may well be a matter of life and death for some Hong Kong residents, has not been spared the malice of these political extremists indicates they will go to any lengths to indulge their spite and prejudice.
The "burn-together epidemic" these militants hope to spread is the most harmful curse ever inflicted on Hong Kong.