Quake reconstruction hindered by Japan's political system
Sunday marks the seventh anniversary of the devastating Tohoku earthquake in 2011 and Japan still faces a long road to recovery. According to the Asahi Shimbun, about 73,000 Japanese people remain displaced at this moment due to the catastrophe. From time to time, people tend to compare reconstruction in Tohoku with that of Wenchuan county, Sichuan Province of China, which underwent a deadly earthquake in 2008. The comparison mirrored the superiority of China's political system. This is why the ongoing two sessions are attracting extensive attention worldwide.
In September 2008, a few months after the quake struck the mountainous region in southwestern China, the country issued an overall plan to rebuild the place in three years. Only two years later, new towns had mushroomed in the area, with local people's lives getting back on track.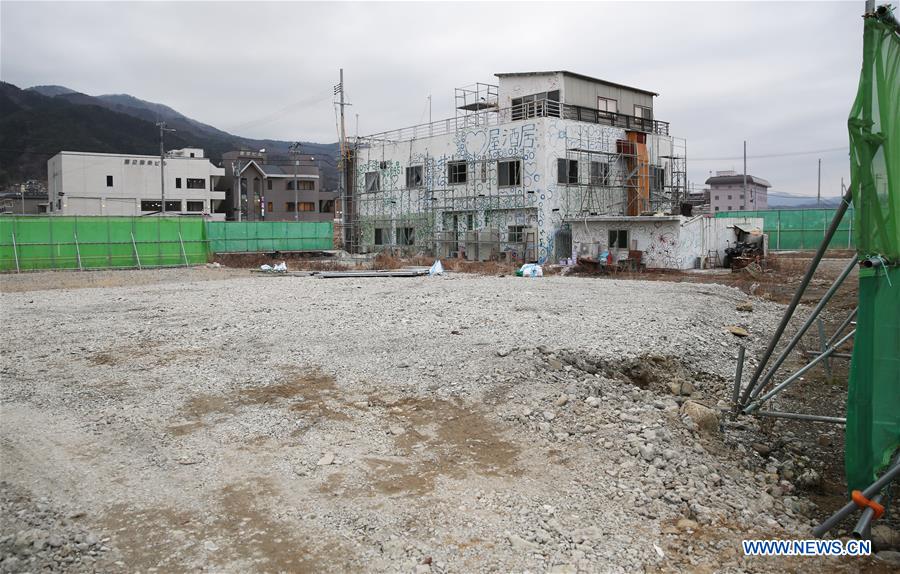 Photo taken on March 5, 2016 shows a building being renovated in Ofunato of Iwate Prefecture, northeastern Japan. Those who were evacuated after the monstrous earthquake and tsunami hit Japan's Tohoku area, or northeastern part of the island country, never imagined they'd be staying in temporary housing five years after the disaster, fighting against loneliness and diseases as public housing projects funded by the government are delayed meaning unbearable costs for those without work. (Photo: Xinhua)
Granted, what happened in Tohoku was not only an earthquake, but a compound disaster with a combination of earthquakes, tsunamis and nuclear accidents. But more importantly, it was Japan's system that hindered its efficiency of recovery.
For instance, a majority of Japanese land is privately owned. When it comes to reconstruction, the government must first of all negotiate with land owners. Allocation of funds can only be realized after relevant budget laws are passed. All those procedures take quite some time.
But after the Wenchuan earthquake, the Chinese government made sure that assistance through all channels was readily available. It invested about 150 billion yuan ($24 billion) for reconstruction, rehabilitation and relocation and reports show that a quarter of China's 4 trillion yuan stimulus package went to the disaster-hit area.
China also carried out a productive assistant system - one-to-one aide work - the most severely affected areas in Sichuan were designated to receive aid from provincial-level authorities. Dozens of donor-recipient pairs, such as Guangdong-Wenchuan, were constituted. Donors needed not only provide relief funds and materials to recipients, but also technologies and management skills for the latter's sustainable development. In Japan, where local governments are laying increasing stress on autonomy, such a comprehensive and timely assistance system could not be carried out.
What's behind the Chinese miracle? It is the advantage of the Chinese system: a strong central government that can help its people, an open society that can mobilize its citizens and the ability to concentrate the nation's strength in accomplishing major tasks. Such an advantage reflects the efficiency of governance in China.
When political infighting, social cleavage and other chaos are plaguing the West, China has been quietly emerging. The country's development has benefited from the strength of its system. But it must not pause. The key to today's reform, including institutional reform and adjustment, is not aimed at drawing close to the West, but on how to bring its superiority into full play in the long run.