Fire in S.Korea raises concern about public safety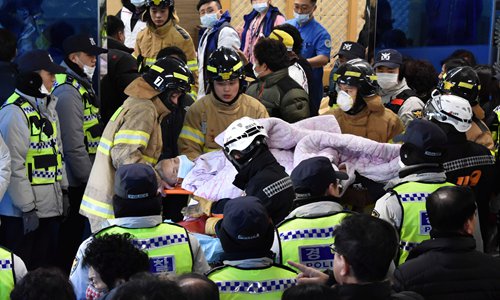 Rescue workers remove a survivor of a hospital fire in Miryang, South Korea on Friday. At least 37 people died in the fire early Friday. About 130 others were hurt in the blaze, which comes just weeks before thousands of athletes and foreign visitors are expected in the country for the Winter Olympic Games. Photo: VCG
A fire at a hospital in southeast South Korea killed at least 37 people and injured dozens of others, raising concern about public safety, local media reports said Friday citing police and firefighting authorities.

The death toll from the fire, which gutted Sejong Hospital in the Miryang city, some 390 km southeast of the capital Seoul, surged to 39 as of 1:10 p.m. local time (0410 GMT), chief of the Miryang firefighting authorities told a press briefing. It was later revised down to 37 as some deaths were counted twice.

Eighteen people were in a serious condition, while 113 others suffered minor injury. The firefighting authorities said the number of deaths could rise as 10 people sustained life-threatening injuries.

According to local media reports, police estimated the death toll at 41.

No sprinkler was installed inside the hospital, the firefighting authorities said while explaining about the high figure of deaths.

Witnesses told the police that the fire erupted at about 7:32 a.m. local time from the dressing room of nurses, next to an emergency room in the first floor. The police launched an official investigation into the cause of the fire.

Most of the deaths came from patients in the first-floor emergency room and the second-floor rooms who were of old age or difficult to move. They died of smoke inhalation, not burn, after being moved to nearby hospitals.

The major blaze was put out about two hours later, preventing the fire from spreading further.

The hospital, which was reported to have accommodated about 100 patients, treated patients with cerebrovascular disease and stroke.

All of the 94 patients at a nursing home, annexed to the hospital, evacuated safely right after the fire broke out.

The hospital fire raised concern about public safety standards of South Korea, in which a fire in December killed 29 people. Most of the victims to the December fire came from a public sauna in the second floor of the sports center building.

The government under President Moon Jae-in sought to allocate budget to an increased number of firefighters and police officers to better secure public safety.

The main opposition Liberty Korea Party strongly opposed the expanded budget for the firefighters and the police, citing worry about the waste of budget for more bureaucrats.

President Moon convened an emergency meeting with his senior secretaries, ordering officials to make best efforts at minimizing the number of casualty. Moon express deep regrets over the deaths, instructing officials to draw up measures to prevent fire from breaking out.