US threat to AVIC dims outlook of own aviation sector
Global Times
1602767092000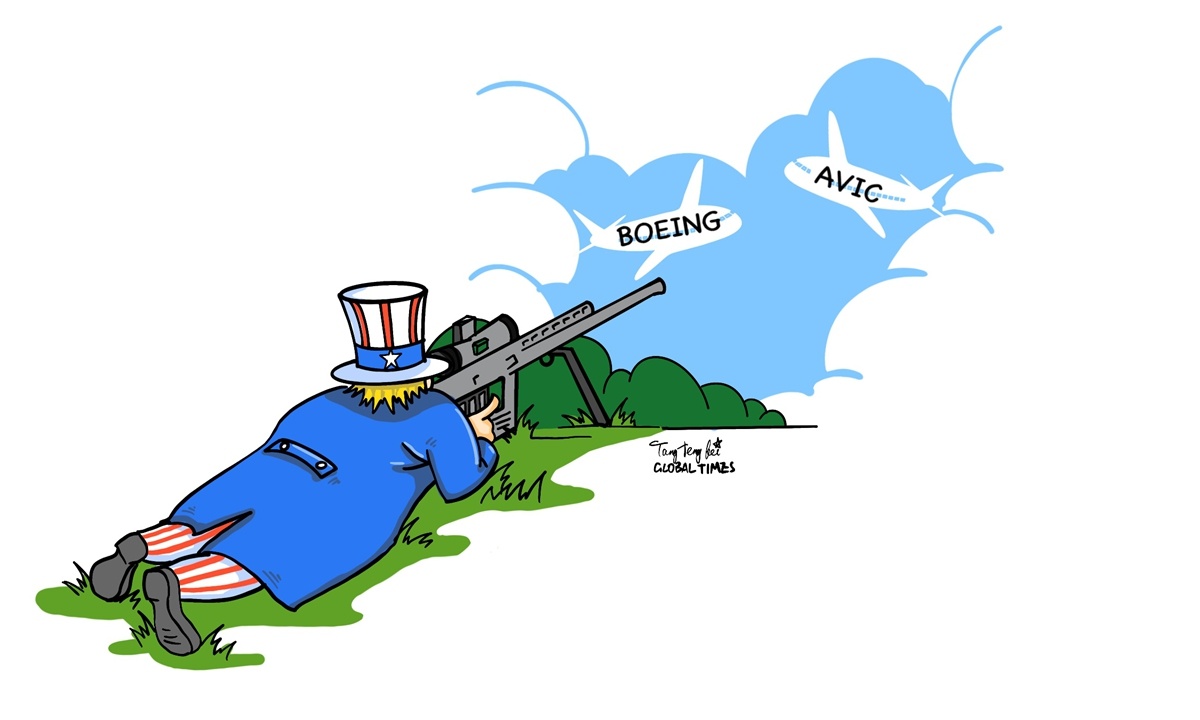 The US authority has been tirelessly making lists of Chinese companies to attack, for which the plane-maker Aviation Industry Corporation of China (AVIC) could be the latest entry to the US penalty list. However, the potential sanction on the Chinese company, this time, will likely drag the US aviation industry and the international aviation industrial chains into the morass.

The Chinese aerospace company may join 5G frontrunner Huawei and social media platform TikTok as a target for US politicians wanting to crack down on China's reach, Bloomberg reported, stressing that, unlike other firms, AVIC has developed comprehensive partnership with American firms, including General Electric Co, Honeywell and Textron Inc.
As an aerospace conglomerate, AVIC runs businesses much more complex than just developing military products which barely has any ties with the US. The part that has seen high level of cooperation between the two nations is civil aviation manufacturing, among which AVIC plays a crucial role with its advanced manufacturing capacity.
Unlike low-end products manufacturing that can be relocated to Southeast Asian countries, a replacement of Chinese aviation manufacturers is nearly impossible and will bring huge costs of capital and time for US aviation sector, represented by Boeing. Both Boeing and France-based Airbus have established delivery centers in China.
Upholding the catch-all disguise of "national security" threat, Trump has been seeking political benefits at the cost of US businesses and American consumers' interests, not to mention that its own aviation industry has been one of the hardest hit sectors.
On the other hand, the Chinese companies have shown strong resilience after being forced to respond to US' bullying. Huawei has offered an example for Chinese firms that they could not only survive, but also thrive with independently developed core technologies despite Trump administration's relentless attacks.
The years-long threatening and bullying from the US government has promoted Chinese firms to shore up their innovative capability. Under the current circumstances, they will take a more prudent attitude to investment in the US market, and diversify operations to other markets including European markets and emerging markets represented by economies under the framework of the Belt and Road Initiative.
Meanwhile, the deadly novel coronavirus has also forced Chinese firms to re-evaluate the global market and lean further to domestic market as China is expected to be the only major economy to see positive growth this year, with domestic consumption bouncing back and expanding strongly. According to a latest IMF prediction, Chinese economy may grow at 1.9 percent in 2020 while US economy is predicted to shrink by 4.3 percent.
Since the Trump administration has been abusing state power to wantonly oppress and assault selected Chinese companies without any evidence, Chinese authority has made it clear that it will take necessary measures to protect the lawful rights and interests of Chinese companies.
And if the US keeps banging the drum of its groundless "national security" threat, Chinese businesses won't be the only one to flee the US market.
The article was compiled based on an interview with Wang Yanan, an industry expert and chief editor of Aerospace Knowledge.