Need help to buy a ship or jet? Credit Suisse looks to lure super-rich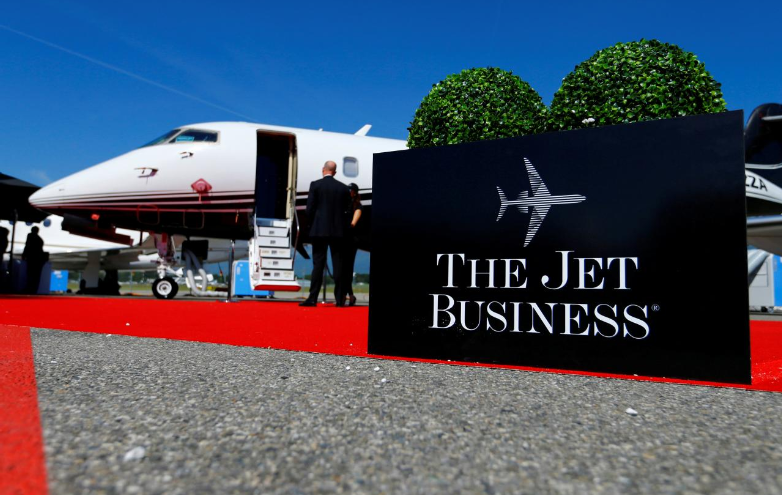 Caption: Visitors stand next to an aircraft at the The Jet Business booth during the European Business Aviation Convention & Exhibition (EBACE) at Cointrin airport in Geneva, Switzerland May 22, 2017. (Reuters - Denis Balibouse)
London/Zurich - The leap in assets at Credit Suisse's private bank to a record high this year has been aided by a key plank of the bank's new strategy: lending money to the world's ultra-wealthy.
Switzerland's second-biggest bank is trying to lure more rich customers by helping them fund their businesses and lifestyles, with shipping, aviation and real estate loans a central focus.
The company has moved lending in those areas from its corporate bank to its wealth management unit, or private bank, over the past two years; the switch is one way in which Chief Executive Tidjane Thiam aims to deliver on his overarching strategy of driving group growth by expanding wealth management.
It is also one reason why Credit Suisse's private bank is growing faster than that of its Swiss rival UBS, the world's largest wealth manager, in terms of revenue and attracting new money.
Moving the financing from its corporate to private bank means that, in those sectors, Credit Suisse will now be primarily lending to affluent individuals - clients whose personal wealth it helps manage.
But there are risks with such exposure. Shipping finance in particular can be a perilous proposition due to doubts over the current profitability of many companies in the industry and whether lenders can make sufficient returns on investments.
Credit Suisse - bucking a trend of banks retreating from shipping - believes it can reduce its vulnerability by lending to the high-net worth individuals who control firms, often millionaire or billionaire tycoons, according to finance experts.
The tactic nevertheless represents a calculated gamble, they said, because these people's personal wealth are often linked to the fortunes of the industry.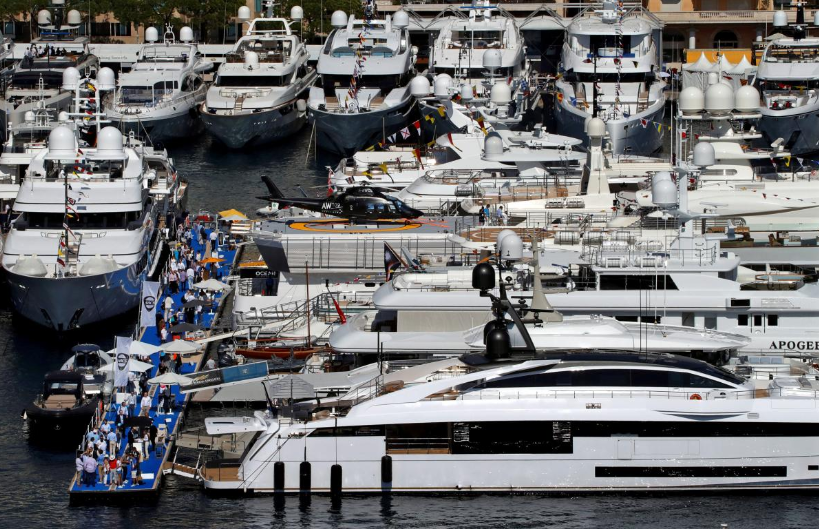 Caption: Luxury boats docked at the Monaco Yacht Club on September 27, 2017. (Reuters - Eric Gaillard)
"From the bank's point of view, the deposits and private wealth product is the juice; the value to the bank has to be strong enough in order to consider making risky loans," said Basil Karatzas of New York based shipping finance advisory firm Karatzas Marine Advisors & Co.
Credit Suisse declined to give details about its loan exposure in shipping, aviation and property, but finance sources estimated Credit Suisse's exposure in shipping alone was at least $12 billion. Credit Suisse's total net private banking loans totaled about 110 billion Swiss francs ($110 billion) at the end of the third quarter.
The bank declined to comment on the shipping loans figure.
Asked about the financing switch to the private bank and the associated risks, a Credit Suisse spokeswoman said such lending was part of its overall wealth platform and that the bank considers "franchise value when engaging holistically with wealth management clients".
A source familiar with the matter said Credit Suisse had not seen any significant losses on shipping loans and that such lending gave it a foot in the door to bank for wealthy families, which run major shipping companies.
SHIPPING MAGNATES
Many banks, facing capital pressure from regulators, are retreating from shipping because of the risks associated with a sector that has struggled with a near decade-long slump caused by too many vessels ordered and weaker demand.
Lloyds became one of the first lenders to pull out of shipping finance, while fellow British bank Royal Bank of Scotland is in the process of exiting. Others such as Germany's Commerzbank CGKG.DE and Bank of Ireland are winding down their remaining exposures. Finance sources estimate the sector has a capital shortfall of $30 billion this year.
Finance experts say Credit Suisse's new tack of lending via its private bank has helped it make significant in-roads with Greek shipping magnates - among the richest in the industry - in the past year, capitalizing on RBS's exit from Greece.
Leading Greek shipping tycoon John Angelicoussis is among those that Credit Suisse has helped finance, Thomson Reuters LPC data shows.
"Presently, Credit Suisse seems to be shedding off part of the smaller (ship) owner portfolio and those who are not top tier names with top tier deposits," said Karatzas. "There is a focus away from the transactional aspect of business towards the relationship-driven business that lowers costs and risks but also builds up on the bank's traditional core strengths."
Credit Suisse has taken a similar approach towards aviation and real estate.
Shipping and real estate lending are both bigger businesses than aviation for the bank, the source familiar with the matter said.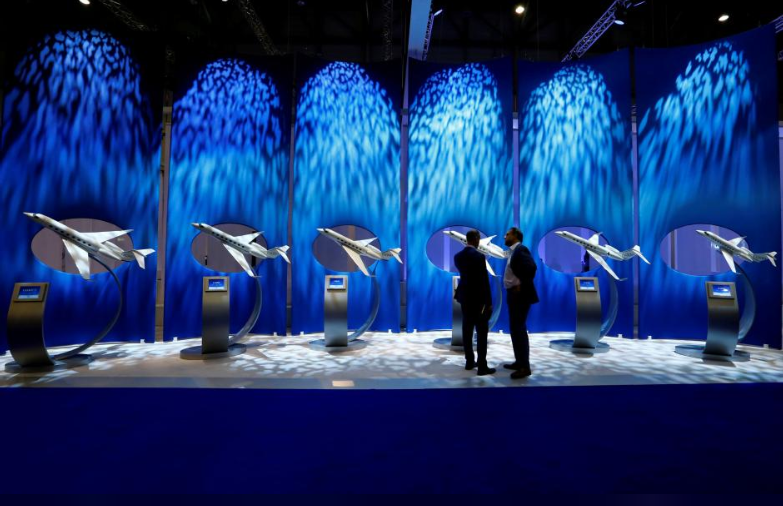 Caption: People stand in front of Gulfstream aircraft replicas during the European Business Aviation Convention & Exhibition (EBACE) at Geneva Airport, Switzerland May 22, 2017. (Reuters - Denis Balibouse)
RISK APPETITE
Credit Suisse, whose assets under management have hit a record high of 751 billion francs this year, saw a 7 percent rise in net new money in the first nine months of 2017.
By comparison UBS's flagship wealth management division, with 1.1 trillion francs, reported a 5 percent growth in net new money.
Credit Suisse's earnings from lending in wealth management have risen 5.8 percent this year, while UBS's division is down 1 percent.
Any gain that Credit Suisse can make in private banking is valuable as the lender comes off back-to-back multi-billion dollar full-year losses amid a major restructure under Thiam.
It remains to be seen whether the potential benefits of its private bank's lending tactics will outweigh the risks.
But its arch-rival is not following its approach.
The head of UBS's wealth management division, Juerg Zeltner, told Reuters in September the bank has no plans to increase risk appetite with regards to lending.
"We've defined our risk appetite," he said. "I know how much earnings I'm willing to put at risk and that limits my exposure to how much lending I'm going to do."