Regional cooperation vital for virus response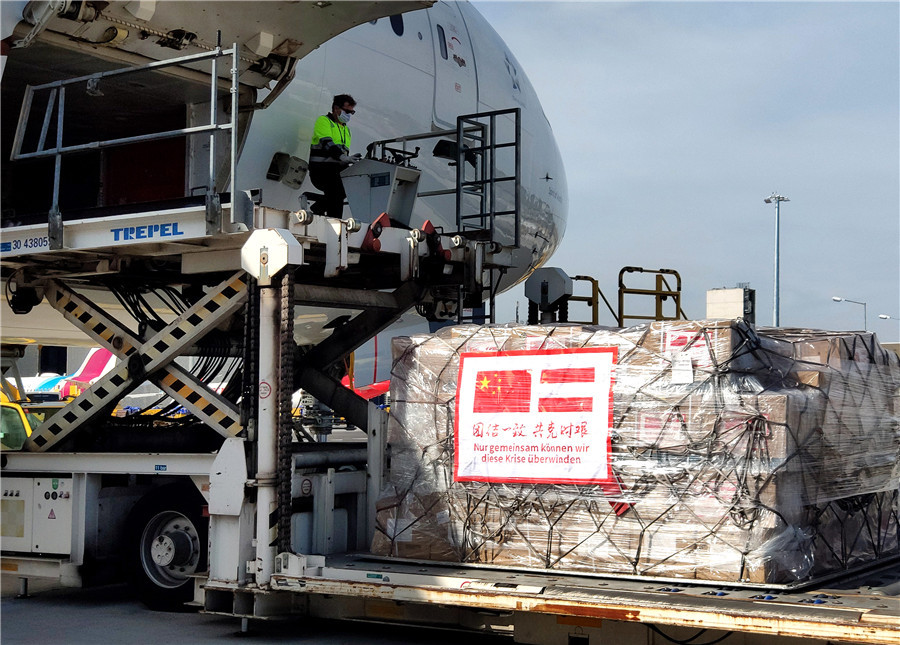 Medical supplies from China arrive at Vienna International Airport in Austria on Wednesday. The sign on the cargo says, "Only together can we overcome this crisis". (Photo: Xinhua)
President uses head-of-state diplomacy to strengthen unity in contagion battle
The novel coronavirus pandemic could help China and neighboring countries step up nontraditional security cooperation for a stronger community with a shared future as President Xi Jinping has been committed to promoting neighborhood diplomacy based on the principles of friendship, sincerity, mutual benefit and inclusiveness, experts said.
Since the start of the outbreak, which has involved more than 2.3 million confirmed infections and 160,000 deaths worldwide, China has been working with its neighbors to overcome the unprecedented common threat caused by COVID-19 through bilateral or multilateral mechanisms, and make joint efforts to offset the impact of the epidemic on their economic development.
Xi has used head-of-state diplomacy to strengthen unity with other leaders on the fight against the contagion through meetings, telephone conversations and correspondence in order to jointly promote regional and global public health security.
During his latest diplomatic interactions with neighboring leaders last week, Xi told Russian President Vladimir Putin over the phone that they should coordinate the two countries' actions to fight the virus. Xi and Kyrgyz President Sooronbay Jeenbekov also pledged to strengthen solidarity and cooperation at the bilateral level and in the Shanghai Cooperation Organization. All the leaders agreed to jointly contribute to global public health security and economic recovery.
A report released last week by the China Institute of International Studies said that in a globalized world, interconnectedness and interdependence among countries has helped to create a community with a shared future.
As a further nontraditional security threat caused by something similar to COVID-19 will possibly emerge in the future, China and neighboring countries should take the joint fight against the epidemic as an opportunity to strengthen their teamwork based on the existing cooperation mechanism, the report suggested.
Addressing a special meeting on responding to the COVID-19 pandemic involving the leaders of the Association of Southeast Asian Nations plus China, Japan and South Korea on April 14, Premier Li Keqiang said "the battle against COVID-19 has made us more aware that we are in a community with a shared future", and he called on the countries to send a message of partnership, solidarity and mutual assistance to boost confidence in the region and beyond.
A joint statement issued after the videoconference reaffirmed the countries' shared commitment to strengthening solidarity, enhancing cooperation and mutual support among them to control and contain the spread of the pandemic, and addressing the adverse socioeconomic impact of the pandemic.
China and South Korea established an intra-agency mechanism in mid-March to strengthen communication and coordination in epidemic prevention and control. During the videoconference held on Friday by Vice-Foreign Minister Le Yucheng and his South Korean counterpart Cho Sei-young, they reached a consensus on facilitating travel by key personnel between each other's countries while epidemic prevention and control measures remain guaranteed.
Wang Huiyao, president of the Center for China and Globalization, a Beijing-based think tank, said regional cooperation has played a significant role in combating the virus, and the increasing solidarity among governments and communities in East Asia will promote further regional integration.
"While fighting the pandemic, countries should also learn the lessons that we all live on one earth with a shared future," Wang said in an article published on the website of the China Global Television Network. "Through cooperation, the East Asian community will eventually defeat COVID-19 and build a brighter future."
When China was at the most difficult time after the disease broke out in Wuhan, leaders from more than 170 countries and 50-plus international and regional organizations offered their support to its fight against the epidemic, and more than 70 countries and international organizations provided material aid. Its neighbors including Russia, Japan, Pakistan and South Korea were among them.
Cambodian Prime Minister Samdech Techo Hun Sen, Mongolian President Khaltmaa Battulga and Pakistani President Arif Alvi visited China and met with Xi to express their firm support for the country's efforts in fighting the virus.
Masaaki Taniai, chairman of International Commission of the New Komeito Party of Japan, said the novel coronavirus outbreak "has reminded us that no country alone can deal with such a challenge. Countries must pool wisdom, united as one, and make concerted efforts".
His party stands ready to strengthen cooperation with the Communist Party of China and other political parties in sharing experiences on epidemic prevention and control, and coordinating economic policies in order to cope with the current difficulties, Taniai said in a message to a recent online conference of Asian political parties themed "Forging Synergy against COVID-19".
Speaking during the same conference, Sujata Koirala, leader of the Nepali Congress and former vice-prime minister of Nepal, said the coronavirus pandemic is a new challenge for the entire world. "We cannot blame one country or the other, we have to come together to fight this mysterious virus."
The CPC, along with more than 230 political parties from over 100 countries, issued a joint open letter earlier this month calling for closer international cooperation against COVID-19.
"We are aware that the virus respects no borders, and no country can respond to the challenges alone in the face of the outbreak. Countries must enhance their consciousness of a community with a shared future for mankind … closer international cooperation, coordinated policies, concerted actions, and mobilization of resources and forces globally will enable us to defeat this virus, a common enemy to all of humanity," the letter said.
While working to curb the domestic spread of the outbreak, China has also been supporting the global COVID-19 fight to the best of its ability. It has sent 14 medical expert teams to 12 countries, including its neighbors such as Cambodia, Pakistan, Laos, Myanmar, the Philippines, Kazakhstan and Russia. The Chinese medical experts also shared their epidemic control experience with foreign counterparts via videoconferences.
Moreover, China has also provided medical supply assistance to other countries and facilitated them to purchase urgently needed anti-epidemic materials from China to overcome medical supply shortages amid the pandemic.
Zhou Fangyin, president of the School of International Relations at Guangdong University of Foreign Studies, said the COVID-19 pandemic has posed severe challenges to China and other Asian nations, but in the meantime, has encouraged them to enhance cooperation.
As the epidemic is still raging globally, China has overcome tremendous difficulties and lent its support and assistance to other countries as much as it can and shared virus-related information and anti-epidemic experience with them in a candid and transparent manner, Zhou said.
"The principles of friendship, sincerity, mutual benefit and inclusiveness China upholds in its neighborhood diplomacy are fully demonstrated in the global epidemic response," he said.
As the pandemic has greatly affected industrial chains in East Asia and even the whole world, Zhou said, the realistic and grave nontraditional threats that countries are facing have become obvious, so people are more convinced that solidarity and cooperation need to be strengthened more than ever before.
During their videoconference on Tuesday, leaders of China, Japan and South Korea as well as those from ASEAN members reaffirmed their commitment to keep markets open for trade and investment, and enhance cooperation among the ASEAN Plus Three countries to ensure food security, and strengthen the resilience and sustainability of regional supply chains, while ensuring that they do not create unnecessary barriers to trade or disrupt regional supply chains, and abide by World Trade Organization rules.