At Davos, Modi reveals contradictions
Global Times
1517178276000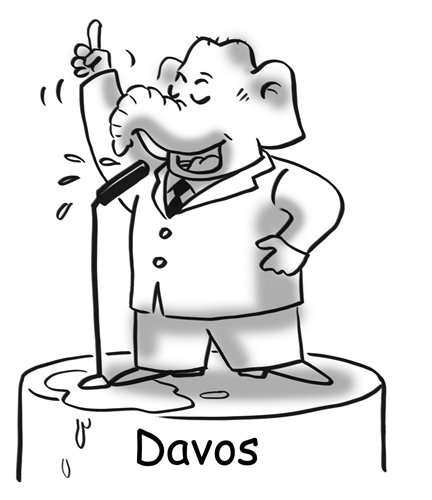 Illustration: Liu Rui/GT


Indian Prime Minister Narendra Modi made his maiden appearance at the Swiss ski resort of Davos to attend the World Economic Forum (WEF). He is the first Indian prime minister in 20 years to attend the event since H.D. Deve Gowda.

Modi took with him 130 delegates, including Finance Minister and Minister of Corporate Affairs Arun Jaitley, and business magnate Mukesh Ambani. The Indian delegation ranks fourth in size - a display of the political and economic clout of India.

Traditionally, Indian leaders were indifferent toward participating in international forums like the one in Davos. There are a number of reasons why Modi broke the practice and made a high-profile presence at the vaunted event.

India's economic reforms have made some progress. In 2017, India leaped 31 places (from No.71 among 137 countries three years ago) in the WEF's own Global Competitiveness Report. India senses the goodwill WEF commands and has had the confidence to attend it.

As India is in urgent need of foreign capital, the Davos forum can be the very platform for the country to speak out loud. Despite encouraging economic reforms, India has not seen much improvement in its overall economic situation, especially in manufacturing and employment. India needs a large dose of foreign investment to boost the development of its manufacturing industry so as to support economic growth and create jobs.

In addition, attending the Davos forum can lift India's international status and boost Modi's image, which will help him consolidate domestic support and prepare for the 2019 general elections. Due to demonetization fracas in 2016 and tax reforms last year, Modi is under huge pressure in his country. A charming performance at an international platform will help ease Modi's domestic pressure.

During his speech at Davos, many officials of the ruling Bharatiya Janata Party praised Modi on Twitter, saying he is a great world leader. Such remarks are self-congratulatory.

In his opening speech, Modi said, "Climate change, terrorism and the backlash against globalization are the three most significant challenges to civilization as we know it," a prologue with a somewhat global vision. But what he did at the event also exposes India's problems while engaging with the world.

First, Modi supports globalization and internationalization, but not in all matters. He spoke in Hindi at the forum and promoted Yoga, both of which are part of India's nationalistic heritage. In economy, the "Make in India" slogan, similar to the "America First" doctrine, has nationalistic undertones. To boost the development of the photovoltaic industry, the Indian government drafted policies to stop importing Chinese photovoltaic products which are cost-effective. Such bans go contrary to globalization and promote protectionism.

Second, India has begun to actively take part in global affairs, but not in global governance. Nor can it provide global public goods. Therefore, it can only attract limited international attention. While US President Donald Trump advertized his "America First" agenda and wrangled with European leaders at the forum, international opinion has forgotten Modi.

In addition, although the agendas Modi talked about matter a lot, they were not the main concerns of this year's WEF. The annual WEF's Global Risks Report, released on January 17, found that nuclear war, cyber attacks and environmental disasters top the list of man-made threats to global stability in 2018. The economic condition of a country is not the core theme of the forum.

While addressing the gathering, Modi quoted the number of voters in India to be 600 crore (6 billion) in 2014 in a major faux pas. Even if he intended to say 60 crore (600 million), the figure had nothing to do with the reality. According to the Election Commission of India, 814.5 million Indians were registered to vote in the country that year.

A slip of the tongue is normal, but the manner of Modi's speaking reinforces the world's understanding of India as an uncertain country. Fortunately, Modi spoke in Hindi which few understood, so the mistake did not have much impact.