Africans understand how China benefits them
Global Times
1610174132000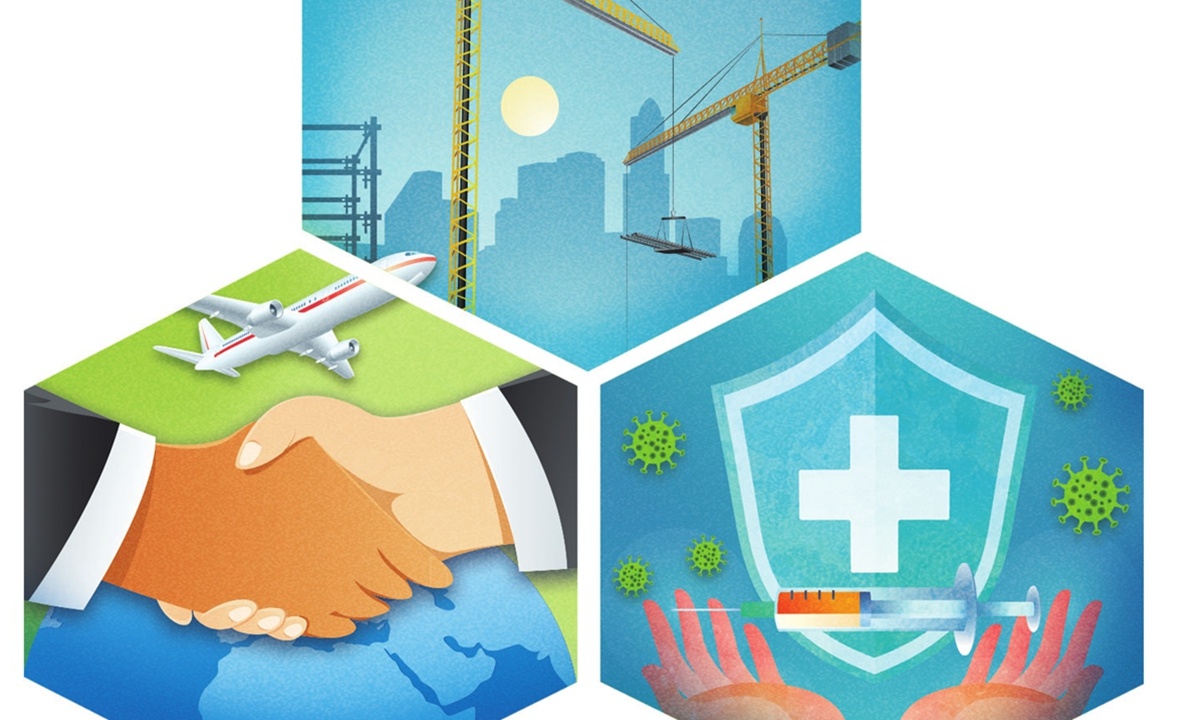 Chinese State Councilor and Foreign Minister Wang Yi on Saturday will wrap up his six-day visit to five African countries including Nigeria, the Democratic Republic of Congo, Tanzania, Botswana and Seychelles.
The visit is timed for two major reasons. First, it coincides with the 20th Anniversary of the Forum on China-Africa Cooperation (FOCAC). It needs to be recalled that from its founding in 2000, trade between China and African countries has grown more than 20 times, hitting $208.7 billion in 2019 from a meager $10 billion in 2000. China has been Africa's leading partner for the past 11 years. Further, China's stock of direct investment in Africa has reached $110 billion with nearly 4,000 Chinese enterprises setting up plants and businesses across the continent. They have thus created employment opportunities, transferring technology and promoting people-to-people exchanges. Therefore, the visit will definitely cement and consolidate this relationship for a better and brighter future for the two sides.
Second, the year 2020, which witnessed the spread of coronavirus worldwide, with its devastating economic, social and live-loss effects, has discouraged face-to-face contacts among countries. But it has encouraged virtual encounters. Indeed, the visit is a testimony to the fact that at least the COVID-19 is becoming more manageable.
But more importantly, it is a critical platform for charting out a post-COVID-19 agenda that will inform the future of the relationship between China and Africa. Specifically, issues of strengthening the public health systems in Africa have to feature more prominently in the future agenda, including issues of the digitization of economies.
Tanzania-China relations have always have been cordial in all dimensions. All indicators ranging from trade, direct investment, development aid, to people-to-people exchanges, are trending upward. Even at the political level, we have witnessed Tanzania's foreign minister and the ruling Chama Cha Mapinduzi (CCM) party secretary undertaking visits to China. Some said Wang's visit to Tanzania aims to repair ties affected by the suspending of major Chinese projects in Tanzania. But the subject of repairing ties is out of context at this point in time.
China's competitiveness has increased on the world arena, both socially and economically. And this has been good news for Africa and other developing countries because they have a richer menu to choose from in their search for development inputs; be they policies, strategies and finance.
In pursuit of that choice, most of the African countries have looked for China for a number of reasons. China has never been a colonizer and did work hand in hand with Africa in its demand for political independence and fighting imperialism (recall the Bandung Conference 1956). Most of what China offers to Africa in the context of their cooperation is to a great extent aligned with Africa's development aspirations. For example, the Belt and Road Initiative (BRI).
Indeed, in the course of the unfolding competition, most Western countries have been pushed aside. This being the case, they have to cook up stories to justify their being losers. The perception that China is or may lose Africa is likewise not grounded in facts given the mutual benefits which accrue to both sides.
However, this does not mean that there are no challenges in the China-Africa relations which need to be addressed with a view to consolidate the relationship. Further, the Chinese should never tolerate issues of discrimination of Africans, at any time and place, because such an act or behavior will tarnish the relationship.
There are a number of lessons learnt from the pandemic which need to be incorporated into the China-Africa cooperation in order to sustain the cooperation in a dynamic world environment. In this regard, we put emphasis on two aspects or issues.
First, the need to focus on the "Silk Road of Health." The incorporation of this component into the BRI would go a long way in putting in place a global architecture for planning the responses, managing and mitigating the impact of future pandemics. The main beneficiaries of this added component would be African countries, given the fragility of their public health systems.
Second, the need to focus on a "Digital Silk Road." Indeed, to the extent that technology has been the blood nerves and arteries of economies during the COVID-19 pandemic, the post-pandemic development has to likewise continue relying more heavily on and developing even farther the requisite technologies. Surely, with this in mind, scaling-up cooperation in the digital economy, promotion of e-commerce, smart cities and other applications of digital technology is an imperative. This key endeavor must be coupled with the use of artificial intelligence and big data technology. If Africa were to be effectively empowered, through the cooperation with China, to tap into these areas, the continent will not only realize a quick recovery of their economies from the pandemic, but also narrow its domestic and external digital divide significantly.
All in all, Wang's visit aims at consolidating even further the long-historical friendship between the two countries nurtured by the founders of the two nations; Mwalimu Julius Nyerere and Mao Zedong of Tanzania and China respectively. It must be emphasized that the best assessors of the relationship between China and Africa are the Africans themselves - because they are better placed to know the benefits or otherwise of the relationship.
The author is professor of economics at Tanzania's leading state-run University of Dar es Salaam.