US Navy's reckless operations in South China Sea will only hit a brick wall
People's Daily Online
1516605729000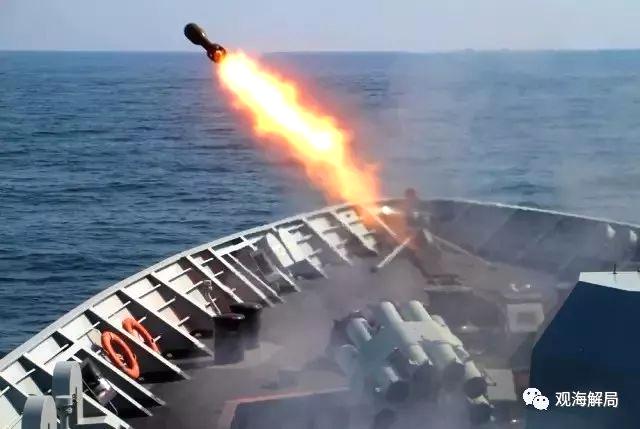 Chinese guided-missile frigate Huangshan during a maritime training exercise
On January 17, the U.S. Navy's guided-missile destroyer the USS Hopper sailed near China's Huangyan Island without permission from the Chinese government. The Chinese Navy immediately indentified the trespassing U.S. warship and warned it leave Chinese waters. The reckless provocation ended in disgrace for the U.S. Navy.
The provocative move comes on the heels of the release of the U.S. National Defense Strategy for 2018, which laid out an aggressive strategy against "strategic competitors" and "revisionist powers."
Some US officials had pointed an accusing finger at China for the "militarization" of the South China Sea.
China's sovereignty over Huangyan Island and its adjacent waters is indisputable. Aggressive acts by U.S. warships in the South China Sea undermine China's sovereignty and security interests, and threaten the safety of Chinese vessels and personnel engaged in normal activities, violating the basic norms of international relations and harming relations between the two countries and their militaries.
Shows of strength in the name of "freedom of navigation" operations go against the common interests of all parties in the South China Sea to enhance peaceful cooperation. In fact, the situation in the South China Sea is not as bad as some make it out to be. For example, China and ASEAN have adopted the framework of the "Code of Conduct for the South China Sea," and China is working with ASEAN to make the South China Sea a sea of peace, friendship, and cooperation for the benefit of all.
The U.S. decision to stir up trouble reveals who is behind the "militarization" of the South China Sea. For its part, China has established a consultation mechanism with the Philippines, and the two countries are discussing ways to foster maritime cooperation. In addition, China and ASEAN are expected to further expand maritime cooperation, and the two have already agreed to conduct a joint maritime exercise in 2018. It is against this backdrop of peace and cooperation that a U.S. warship ran rampant through Chinese waters.
Such reckless behavior will only hit a brick wall.
As a commentary in the People's Daily newspaper on January 22 pointed out, if the U.S. keeps stirring up trouble and creating tension in the South China Sea, China will be forced to come to the conclusion that it is indeed necessary to strengthen and speed up the building of its capabilities in the South China Sea so as to safeguard regional peace and stability.
While the anti-China theme does grab attention, the reality of the situation is that China plays a positive role in regional cooperation, and the rapid growth of China has benefited all of ASEAN. If the United States hopes to have a long-term role in East Asia, then it should get with the program and participate in regional affairs in a constructive manner and work for the benefit of common interests rather than its own selfish interests.