Intensified containment measures necessary precaution ahead of holiday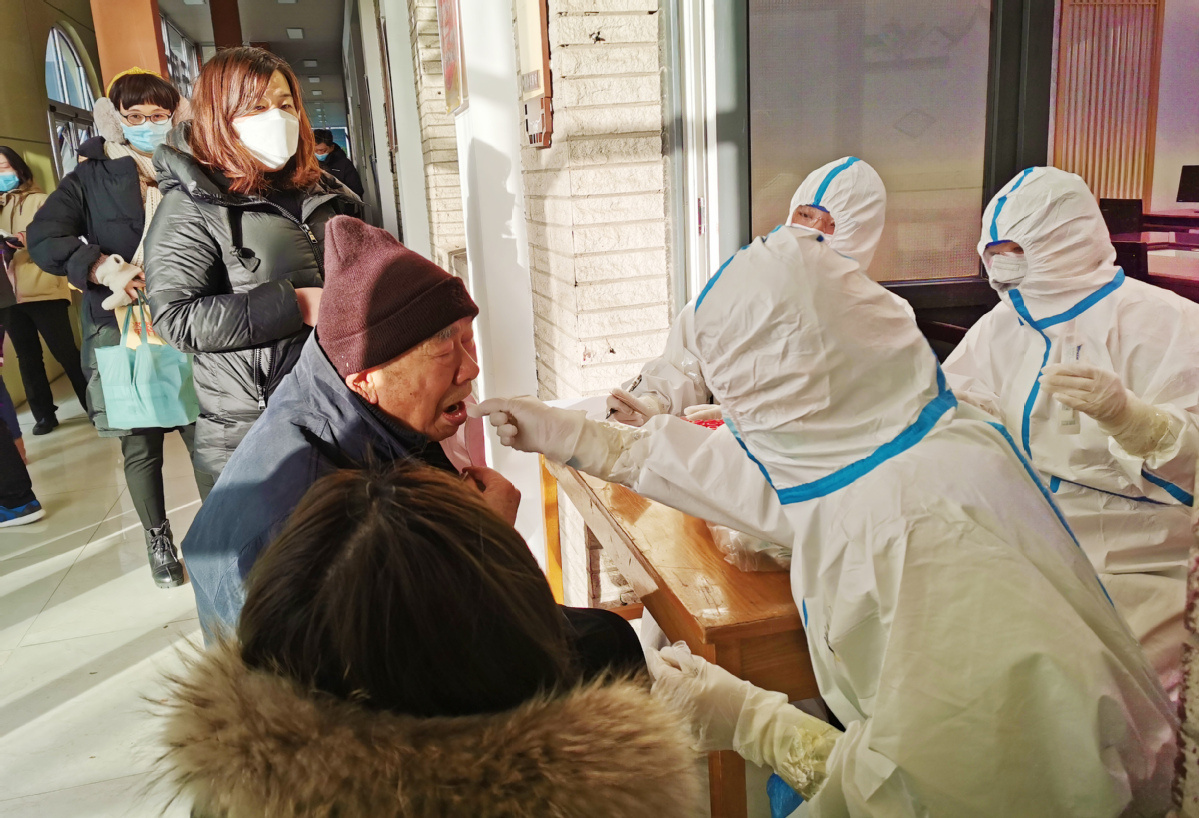 Twenty new novel coronavirus infections were reported in Hebei province on Tuesday. Fourteen were detected the previous day. There were also 30 asymptomatic cases reported on Monday and 43 on Tuesday.
A total of 39 confirmed cases have been reported in the province in the past four days, and there are 78 asymptomatic cases under medical observation.
There will certainly be more cases confirmed in the province in the days to come. Which is undoubtedly a further reminder, should any be needed, that prevention and control measures cannot be weakened even though the Lunar New Year is just a few weeks away.
Ma Xiaowei, minister of the National Health Commission, arrived in Shijiazhuang, capital of Hebei province, on Tuesday to guide epidemic control efforts in the city, and he cautioned that the situation in Hebei is still in the development stage.
As a close neighbor of Beijing, both goods and passengers pass through the province on their way to the capital. So whether Hebei can do a good job in cutting the chain of transmission of the virus means a great deal not only to the province itself, but also Beijing.
Preparations for Spring Festival, which falls on Feb 12, are already underway. It is therefore particularly important that Hebei do a good job in conducting a thorough investigation to find out the source of the cluster of infections, as the virus must have infected some people before the first case was confirmed. There would not be so many asymptomatic cases in just a couple of days otherwise.
All the close contacts and indirect contacts of the confirmed and asymptomatic cases must be identified as early as possible and be placed in quarantine. It is good to see that all residents in Shijiazhuang are getting nucleic acid tests. Daily containment measures must be carried out to the letter throughout the province to prevent any asymptomatic cases transmitting the virus.
In addition, transparency is important. All information about where the confirmed cases have been and how many close and indirect contacts there are should be reported in a timely manner, so that other localities can trace and test any close contacts.
All goods en route to the capital and other neighboring provinces must be properly disinfected and all passengers en route to Beijing and elsewhere must be screened. The virus can be prevented from going anywhere as long as all intensified measures are put in place.
With warnings about a resurgence of the virus in winter and the possibility of the highly transmissible strain that has been detected in other countries being imported ringing in people's ears, concerns about a resurgence of the virus in China are natural. These have been compounded because the country had returned to a high degree of normalcy after the hard-won victory against the virus last winter. A return to those difficult days is a daunting thought. But that is why, despite any pandemic fatigue they may feel, people must abide by any containment measures in place. The prevention and control system has proved effective. Temporary inconvenience is preferable to the alternative, even if it does upset holiday plans.