SEZs will continue to lead the way for the country's socialist modernization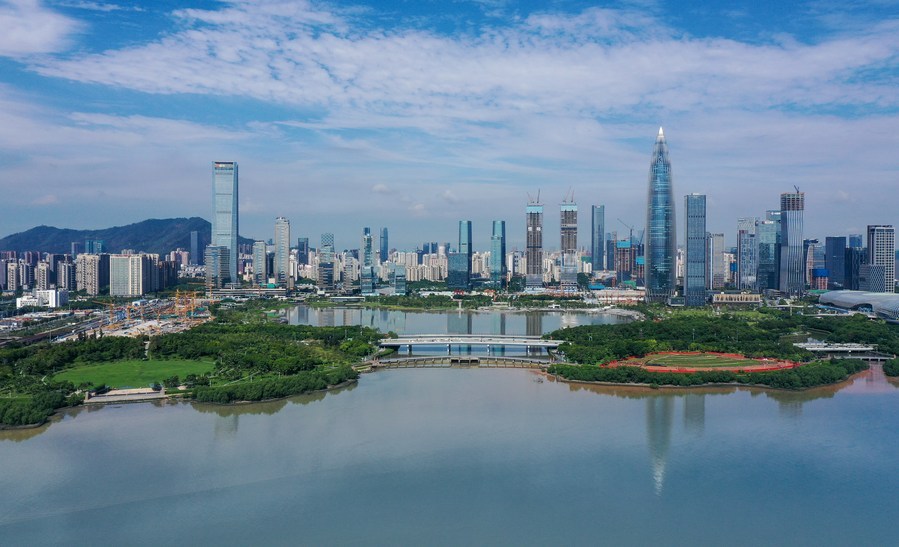 Daring to be first, pursing reform and innovation with creative thought, being committed to their historical mission of being the vanguards for the country's economic reform and opening-up and their painstaking efforts in that regard are what President Xi Jinping summarized as the attributes of the country's first four special economic zones over the past four decades since their establishment in 1980.

He was speaking at a meeting in Shenzhen on Wednesday to celebrate the 40th anniversary of the founding of the four SEZs.
Shenzhen is the most prominent of the four, the other three being Zhuhai, Xiamen and Shantou. In four decades, Shenzhen has developed from a small fishing village into a global metropolis. Now it is one of the most developed cities in Asia, with its GDP surpassing that of Singapore in 2019, to rank 21st in the world. Its GDP was 2.69 trillion yuan ($399.42 billion) in 2019, an increase of 12,000 times from what it was in 1979. Its per capita GDP has increased from 606 yuan in 1979 to 103,489 yuan in 2019.
It would not have been possible for Shenzhen to have become what it is now had it not been for the path it has taken over the past 40 years. As President Xi said in his speech, what underlies this path is the recognition that development is of paramount importance and that socialism with Chinese characteristics can be improved through reform.
With this right orientation and adherence to the guidance of the Party's leadership, Shenzhen has sought breakthroughs in whatever areas it believes might advance its economic development.
This has facilitated its continuous opening-up at a higher level than its counterparts in other parts of the country, and its higher level opening-up has increased its attractiveness to global capital and advanced technologies.
It is no exaggeration to say that Shenzhen's rapid and high-level development has proved the launch of reform and opening-up was the right policy.
Now when the country is at a crucial transition stage from high-speed growth to high-quality growth, with economic restructuring underway to cater to the need to meet the challenge of the changing international situation and the requirement for higher level domestic development, the SEZs must continue to play their pioneering roles.
SEZs such as Shenzhen must remain committed to opening up on all fronts as the top priority, take innovation as the most important driving force and talent as the most important resource.
Just as President Xi said, reform is always on a bumpy road and there are always problems to solve. But with greater autonomy in some areas, Shenzhen will have much larger room to try out new ideas and blaze a trail for the country's further development.