After Singapore talks, what comes next?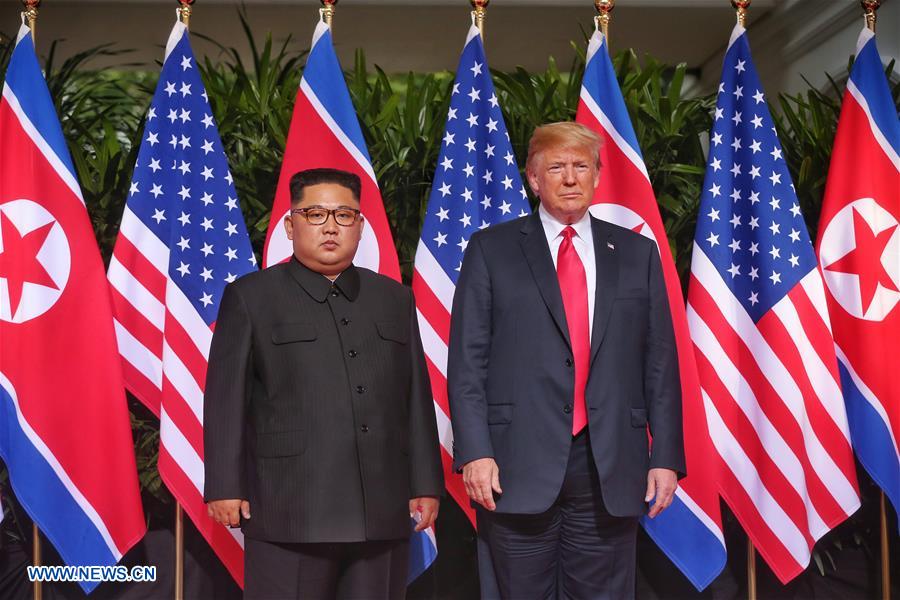 Top leader of the Democratic People's Republic of Korea Kim Jong-un (left) meets with US President Donald Trump in Singapore, on June 12, 2018. (Photo: Xinhua)
It remains to be seen if it was the defining moment in history it was being billed as. Nevertheless, the smooth proceeding of the first ever face-to-face talks between the sitting leaders of the United States and the Democratic People's Republic of Korea has yielded positive results.
While it was hard to reconcile nuclear Armageddon with the images of US President Donald Trump and the top leader of the Democratic People's Republic of Korea Kim Jong-un shaking hands, having a friendly chat and sitting down to lunch, that has been the concern of the international community, given the hostilities that has festered over the past more than six decades.
The summit therefore marked a significant step forward in meeting expectations for an end to the animosity between the two countries, and for concerted efforts to denuclearize the Korean Peninsula and find solutions to the attendant issues.
As China's Foreign Ministry said, the meeting was a correct and important step. It should not be forgotten how unlikely such a summit was just six months ago. Nor how much effort it took on the part of many to overcome what Kim called the "old prejudices and practices" to make it happen. China has been unswerving in its efforts to facilitate the talks.
Now the commitments that were announced in Singapore need to be delivered on so that the momentum that has built up steam since the beginning of the year can become sustainable and irreversible.
While appreciating the political resolve shown by Kim and Trump, China has urged further dialogue and the continued efforts of all the parties concerned to push forward the peace process and denuclearization.
And it will continue to play its part in seeking to achieve these goals, by firmly supporting the two countries realizing the consensus reached by Kim and Trump in Singapore and providing its continued support to consolidate and expand that consensus.
Since the crux of the Korean nuclear issue is the DPRK's sense of security, Trump's promise of unique security guarantees has removed one of the obstacles to a peace agreement, and ultimately the denuclearization of the Korean Peninsula.
While no one should expect the summit to have ironed out all the differences and erased the deep-seated mistrust between the two long-time foes, it has ignited hopes that they will be finally able to put an end to their hostility and that the long-standing peninsula issues can finally be resolved. These hopes should not be extinguished.