China's 2050 Goal is not about winners or losers
Global Times
1508887276000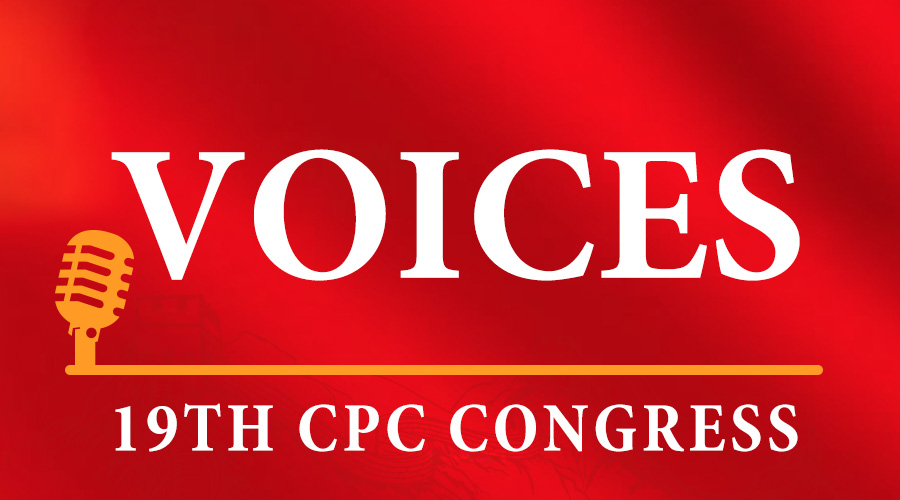 The 19th National Congress of the Communist Party of China (NCCPC) has set out to establish a modern socialist country by 2050. The goal is a clear indication of the confidence found throughout the CPC and the country. But this level of confidence some Westerners find challenging. They are concerned that China has established such a goal to serve as a threat, rather than anything else. It is time for these people to open their hearts to China.
Western elite anxiety is a manifestation of how deep they understand China's unstoppable progress. The sentiment is shared among Chinese as they are convinced that until the mid-century mark, the target of establishing a powerful socialist country must be reached. As for the anxieties of our Western counterparts, it is unnecessary for Chinese to react in a similar fashion. In many ways, the Western reaction reflects China's prosperous future.
Such reactions need to be taken seriously, especially in the coming years. Interpreting our goals from a Western perspective to maximize communication with the outside world will help us establish an optimal global environment while moving into a new era.
China needs to guide and influence foreign perspectives on the reports generated from the 19th CPC National Congress. It is imperative to help outsiders understand how China is building a modern and powerful socialist nation, rather than a new superpower or empire. We are creating a strong nation that is friendly toward others and understands the importance of sharing the benefits reaped from development, a trait that has yet to emerge in human society.
China states as described by reports from the 19th CPC National Congress include a "prosperous, strong, democratic, culturally advanced, harmonious, and beautiful" nation. This means China will not only be a strong nation with and a first-class army, but will focus on its continued pursuit of harmony, balancing an ecological environment, and democracy. In simpler terms, the citizens of China will lead beautiful lives. This modernized country will serve its people, rather than seek revenge upon the world in efforts to establish global hegemony.
Peaceful development and achieving a win-win result are the driving ideas behind the creation of the country's modern socialist power. If we can maintain these principles, China will be able to maximize its resources and energy required for this type of progress, thus ensuring steady development. China will not tolerate disruptions of any kind during this new phase of socialist modernization.
Conversely speaking, if for whatever reason the nation's peaceful development is thwarted by external influence, China will not hesitate to strike back with sharp strategic force, or if necessary, prepare for a full-scale showdown. Of course, a situation of this nature will lead to consumption, and have a negative impact on the realization the nation's goal for 2050. China would not pursue hegemony, choosing peace and stability, eagerly more so than other foreign nations.
It requires a great amount of time before a true world power can emerge. Among other nations, the varied paths of development have always remained doomed. But now China is reviving the concepts of post-modernity for a new global era. The past examples set by foreign superpowers are not applicable. China's emphasis on utilizing a win-win strategy is further evidence of its true intention. This is not diplomatic rhetoric designed to deceive the US and other western nations. Instead, it is a message that has taken 5,000 years of Chinese civilization and knowledge to deliver to the world. China's history as a nation has helped solidified its will and determination.
Our planet cannot endure another round of competitive games played among powerful nations. Clearly the bonds of human destiny provide benefits everyone can enjoy. This is not a philosophical idea, but rather a reflection of human concern over economic and international development, the fight against terrorism, assisting refugees and addressing climate issues.
It is true all societies do not adhere to a win-win strategy, and prefer to use geopolitical shock tactics to achieve its goals. Now is the time for us to use this as a reason to remove ourselves from the "Thucydides' Trap." China and the US have realized the win-win situations of this century. Whichever methods Beijing and Washington use to break from traditional geopolitical thinking will serve as a test of political wisdom and diplomacy for both sides.
When China's peaceful ascension is realized, it will be a watershed moment for humanity, a form of development completely removed from the laws of the jungle. The determination to grow into a powerful and peaceful nation will remain intact. China is confident of its abilities, and believes the history of human civilization has set the stage for its success.