Trump's measures to affect Asian economies
Global Times
1523313223000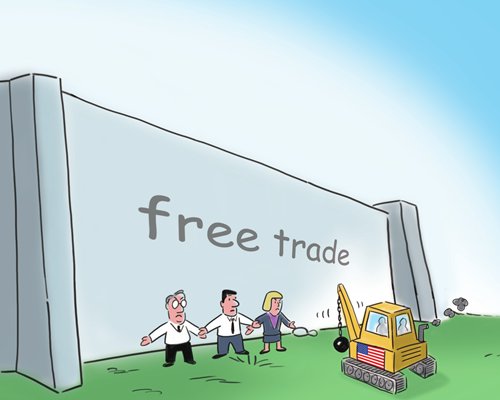 Illustration: Liu Rui (Photo: Global Times)
With economic tensions between China and the US escalating, the Boao Forum for Asia (BFA) has opened, with an aim to promote Asian regional common development.
Chinese President Xi Jinping is attending the BFA again after three years. As this year marks the 40th anniversary of reform and opening-up in China, Xi's keynote speech at the opening ceremony will release important political signals.
According to Bloomberg data, China's GDP for 2018 is expected to reach about $13.2 trillion, surpassing the total of the eurozone, another sign that the "Asian Century" is coming.
With the Trump administration insisting on "America First" and protectionism, China has been seen as the main supporter of global free trade. Norwegian Prime Minister Erna Solberg slammed Trump's punitive tariffs on steel and aluminum as "protectionism" amid escalating trade tensions between the US and other countries, including China. Solberg said it is a great paradox when countries like the US come across as the biggest threat to free trade, while China has become one of the most prominent defenders.
This March, at the first G20 Meeting of Finance Ministers and Central Bank Governors in 2018, "America First" was deemed a risk and threat to every country. Japan, as well as Europe, worried that if protectionism further prevails, trade will stagnate and the future of the world economy will dim.
Asian economies worry that their economic growth will be affected by US tariffs against imports from China. China's manufactured goods exported to the US include high value-added components imported from Asian countries like South Korea and Singapore. Trump's measures against China not only deal a blow to bilateral business ties, but also regional and global supply chains. Goldman Sachs analysts said that if the US imposes tariffs on $50 billion of Chinese goods, other Asian countries will suffer an economic loss of over $10 billion.
The Asia-Pacific region makes a 60-percent contribution to global economic growth. China, Japan and Singapore are ramping up efforts to promote free trade in the region. The Comprehensive and Progressive Agreement for Trans-Pacific Partnership (CPTPP) was signed by 11 countries on March 8. The Regional Comprehensive Economic Partnership (RCEP) will likely be finalized at the end of this year. Singaporean Prime Minister Lee Hsien Loong said that a free, open, and rules-based multilateral trading system is key to the region's growth and prosperity. Lee makes his debut appearance at the BFA this year.
Openness and innovation are expected to be among keywords in Xi's keynote speech to be delivered at the opening ceremony of the forum. Openness underpins sound global economic growth and innovation boosts sustainable development. China will further increase the imports and lower import tariffs. The first China International Import Expo will be held in Shanghai on November 5-10 this year.
China will also ease investment access to manufacturing and financial sectors and give priority to IPR protection. The American Chamber of Commerce in China said in a report released in January that 46 percent of its members expressed confidence that the government would further open China's market to foreign investment within the next three years. China has set up a state immigration administration as a way to attract more global talent.
The possible China-US trade war is mainly attributed to Trump's fear of the US losing dominance in the high-tech industry. However, it is an inevitable trend that emerging economies including China increase efforts to enhance their industrial and technological competitiveness. Instead of resorting to trade protectionism, the US should strengthen its capability to take an active part in a fair competition, such as increasing support for scientific research.
The BFA is drawing world attention against the backdrop of the escalating Sino-US trade friction. It is the third time Xi attends the forum as Chinese president. Xi proposed to create a community with a shared future at the forum in March 2013. In recent years, China has assumed more responsibilities of addressing climate change and advancing free trade and economic globalization. Beijing will further build its global leadership by holding the forum.