Hungary, Serbia struggle to strike a balance between EU & Russia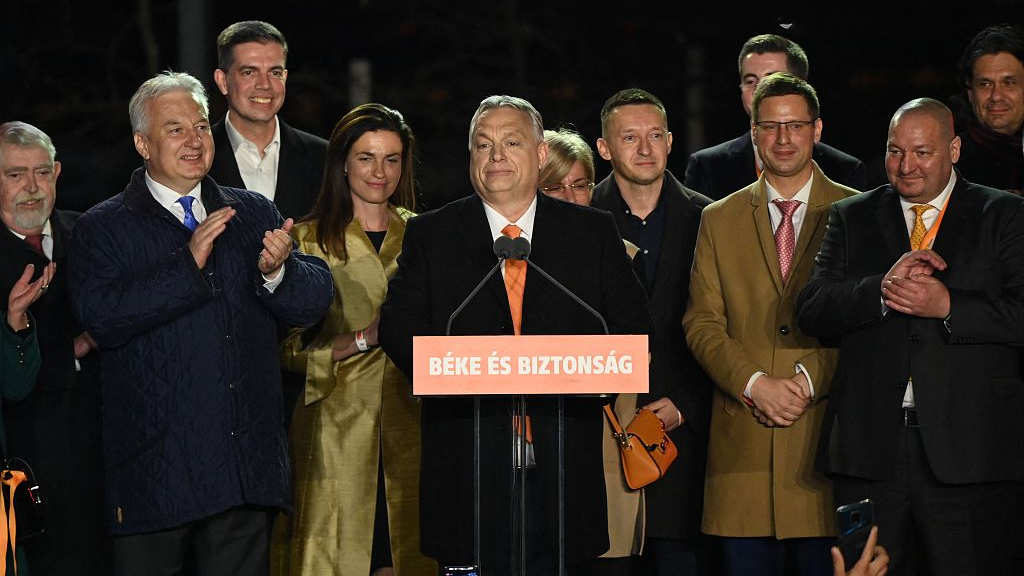 Editor's note: Nikola Mikovic is a freelance journalist based in Serbia. He covers mostly Russian, Ukrainian and Belarusian foreign policies, and writes for multiple web magazines. The article reflects the author's opinions, and not necessarily those of CGTN.
For Russia, Hungary and Serbia are "truly sovereign countries." From the Western perspective, the two European nations are ruled by "pro-Russian populists." The truth, as usual, lies somewhere in between.
As a member of the European Union, Hungary is unlikely to be described as a completely sovereign country as the EU nations cede to Brussels some of the powers that sovereignty protects, such as national budget making as well as immigration and work authorization laws. Still, the Central European country is pursuing a relatively sovereign foreign policy. Budapest refuses to host refugees from the Middle East and opposes EU's Pact on Migration and Asylum, drawing criticism from Brussels.
Russian President Vladimir Putin congratulated Hungarian Prime Minister Viktor Orban on his election, even when Hungary did not veto EU's sanctions against Russia. The nation found itself on the Kremlin's list of "unfriendly countries," although Budapest still seems to have a "special treatment" in Moscow.
Unlike Hungary, Serbia remains one of the handful of European countries that did not impose any sanctions on the Russian Federation. Just like its northern neighbor, the Balkan nation held general elections on April 3 – the ruling Serbian Progressive Party won the majority of seats in the parliament, while the party's leader Aleksandar Vucic won his second consecutive term as president.
Although Western media tend to portray Vucic as "Putin's ally," it is worth noting that U.S. Ambassador to Serbia Christopher Hill congratulated the Serbian leader, while the State Department welcomed the outcome of the Serbian elections.
Still, the West seems to continue to indirectly pressure Serbia to change its foreign policy vector. According to reports, transport of crude oil from EU member Croatia for Serbian oil corporation NIS will cease on May 15 due to the EU's sanctions against Russian companies.
Russia's energy giant Gazprom Neft owns 56.15 percent of the share capital of NIS, while a stake of 29.87 percent is owned by the Serbian state. The fourth package of EU sanctions prohibits European companies from cooperating with a number of Russian companies including Gazprom Neft and its subsidiaries in which it has more than 50 percent ownership.
In order to avoid oil embargo, Serbia might be forced to nationalize NIS, which would undoubtedly jeopardize Belgrade's relations with Moscow. Alternatively, the Balkan country could start transporting crude oil by rail from various ports on the Adriatic and Black seas, although that would be much more expensive than getting oil from neighboring Croatia. Thus, Serbia has more than a month to make a decision, and it is certainly not going to be an easy one.
Politically, both Serbia and Hungary are deeply in the Western geopolitical orbit. Militarily, Serbia is a neutral country, while Hungary is a NATO member. The U.S. is unlikely to demand Belgrade to join NATO any time soon, if at all, and given that Ukraine continues to receive large amount of weapons through Poland, there is no need for Washington and its allies to pressure Budapest to allow weapons transit through Hungarian territory.
The West, however, is expected to continue pressuring Belgrade to distance itself from the Kremlin. Although Serbia supports Ukraine's territorial integrity and has condemned Russia's actions in the Eastern European country, Washington and Brussels reportedly expect Belgrade to openly side with the West against Moscow. Such a move, however, would add Serbia to the list of countries that pursue "unfriendly" policy towards Russia, and would have a negative impact on the Balkan nation's energy cooperation with Moscow.
As a result of the deal between Putin and Vucic, made in November 2021, Serbia pays $270 per 1,000 cubic meters of natural gas from Russia, which is significantly below the current market price. Moreover, given that Serbia did not join anti-Russia sanctions, Belgrade does not have to open a ruble account in Russian banks, but can continue purchasing Russian energy in U.S. dollars. But if Serbia, pressured by the West, eventually decided to impose sanctions on Russia, a relatively cheap energy will almost certainly become a thing of the past.
Unlike Hungary, Serbia is not the European Union member, which means that it cannot count on the EU funds – or at least not in a huge volume – to overcome a potential economic turmoil that would come as a result of energy crisis. Therefore, Belgrade is still trying to balance between Moscow and the West, although its room for political maneuvers narrows. The coming days and weeks will show if Serbia will find a way to preserve good ties with both sides.