US has no qualms about beggaring its friends: China Daily editorial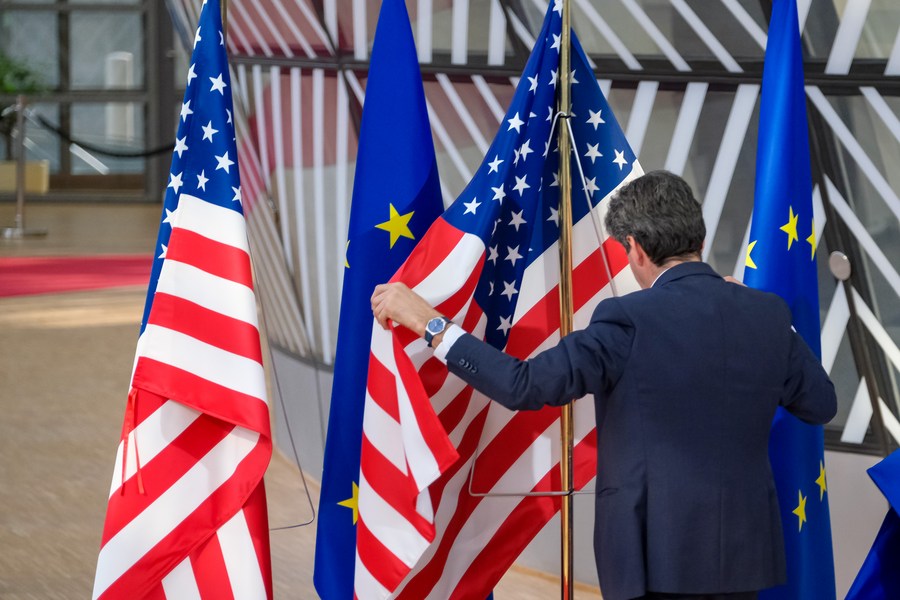 The European Union is now facing an economic recession, with manufacturing activity in October plunging to its lowest level since May 2020 and economic growth for the eurozone declining to 0.2 percent in the third quarter of this year. The massive energy price increases, mainly as a result of the Russia-Ukraine conflict, have led to a surge in consumer prices, which hit a record high of 10.7 percent last month, compared to 9.9 percent in September.
Compounding the EU's economic problems is a looming subsidy war with the United States after President Joe Biden rolled out a sweeping $369 billion energy and climate legislation in August to support green industries.
The huge subsidies the US now provides under the Inflation Reduction Act to companies in specific sectors such as electric vehicles have made many European businesses consider relocating their investments to the United States from Europe.
The trend, which is likely to turn the continent into an industrial wasteland, has prompted EU Industry Commissioner Thierry Breton to warn that Washington's new subsidy package poses an "existential challenge" to Europe's economy.
To counter US subsidies, the EU is reportedly considering rolling out a fund of its own, possibly a "European Sovereignty Fund" to assist businesses investing in Europe. It is now a matter of utmost urgency to "revert the deindustrialization process taking place", Breton said.
French President Emmanuel Macron has been particularly vehement in trying to join European forces against the unjustified and unfair US economic move. "We need a Buy European Act like the Americans, we need to reserve (our subsidies) for our European manufacturers," he said in a recent TV interview, in reference to the subsidies to EVs.
The dire situation that Europe finds itself in may serve as a chance for it to make some soul-searching when it comes to its relationship with the US. Many EU countries were elated at the prospect of the possible political, economic and security benefits they would be able to reap when Biden declared that "America is back, the transatlantic alliance is back".
Yet the beggar-thy-neighbor economic move Washington has made, in addition to other things such as the high-priced liquefied natural gas the US has been exporting to Europe, seems to make his claim that the US-Europe partnership "is and must remain the cornerstone of all we hope to accomplish in the 21st century" a cheap promise.
Europe must retain its strategic autonomy for the good of its own interests when dealing with the US.