Britain should not poke its nose into Hong Kong's affairs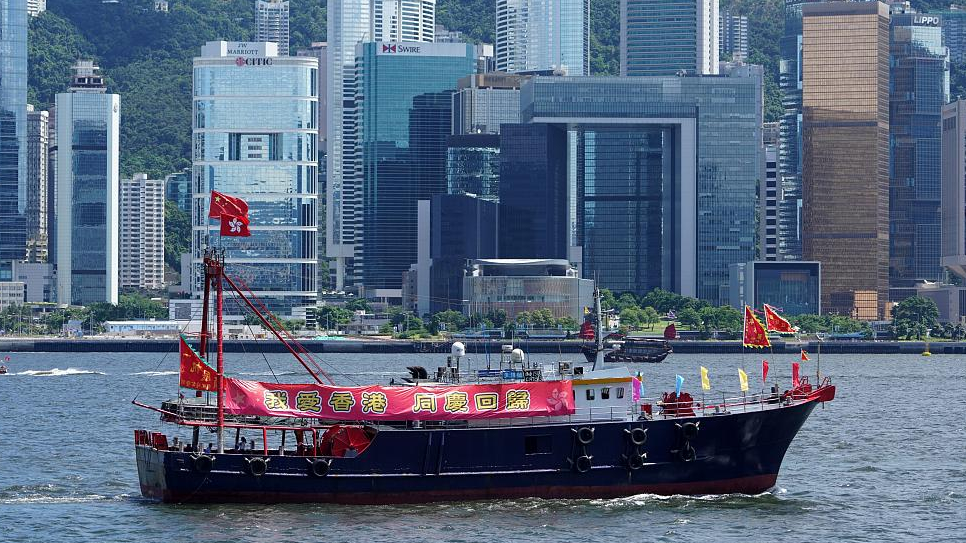 (Photo: VCG)
It was one minute after midnight on July 1, 1997, on which a historic ceremony marked the People's Republic of China resuming its exercise of sovereignty over Hong Kong by unfolding the five-star red flag of the nation and the Hong Kong Special Administrative Region (HKSAR) flag in the Grand Hall of the Hong Kong Convention and Exhibition Center (HKCEC) Extension, bringing an end to the imperialist British colonial rule. A proud moment of history was created with the homecoming of Hong Kong to China, leaving behind "100 years of humiliation."
A new Hong Kong started its journey with the new authority of the Hong Kong Special Administrative Region (HKSAR) embracing late Chinese leader Deng Xiaoping's visionary idea of "One Country, Two Systems." A few lines of then Chinese President Jiang Zemin's speech which he delivered at the ceremony for the Handover of Hong Kong in the presence of then British Prime Minister Tony Blair deserve to be quoted: "The return of Hong Kong to the motherland after going through a century of vicissitudes indicates that, from now on, Hong Kong compatriots have become true masters of this Chinese land and Hong Kong has now entered a new era of development."
Surely, Hong Kong's reunification with the motherland is not a fairy tale but such "a big moment of history" for which 1.4 billion Chinese mainland people, the people of Hong Kong, and all the oppressed people of the world should be proud of. Without any prelude, it can be said that Hong Kong's return to China is a historic fact which can't be changed by anyone in the name of "Hong Kong self-determination" or "Hong Kong independence." Hong Kong affairs are exclusively China's internal affairs, and neither the UK nor the US government has any right to interfere in any form in the internal affairs of the HKSAR.
Enacted in accordance with China's Constitution, the HKSAR Basic Law specifies the guidelines of "One Country, Two Systems" and "Hong Kong people administering Hong Kong" with a high degree of autonomy. It has been 22 years since Hong Kong was reunited with the mainland and the whole world has witnessed that Hong Kong residents have been enjoying the fruits of the "One Country, Two Systems" practice and the HKSAR Basic Law, despite acerbic criticism from the British side.
HKSAR has been benefiting greatly from the country's three major development initiatives: the Belt and Road Initiative, the internationalization of the renminbi, and the building of the Guangdong-Hong Kong-Macao Greater Bay Area city cluster. Truly, "One Country, Two Systems" policy is at the very essence of Hong Kong's resounding economic success. Today, as far as statistics are concerned, Hong Kong's economy is doing better than most other free market economies in the world. It must be noted that with the full support of the central government and the Chinese people, Hong Kong has become one of the richest territories in Asia, as well as one of the safest cities in the world.
However, it is a matter of great concern that in recent years, some pro-separatists have been advocating "Hong Kong independence," violating the Basic Law with an aim to challenge China's sovereignty. They have been conducting many illegal acts, including street violence, vandalism and arson in protest against a controversial fugitive bill for the past several weeks. It's really unfortunate that some opportunist local media, as well as Western media, are blatantly stirring up the flames of the continual endeavors of the separatists in what amounts to an abuse of freedom of speech.
On July 1, demonstrators stormed and trashed the Legislative Council building, known as LegCo in Hong Kong, breaking the law in the name of so-called democracy and freedom. Needless to say, this type of hooliganism is an insult to Hong Kong's rule of law. As expected, the Global Times in an editorial rightly noted, "Out of blind arrogance and rage, protesters showed a complete disregard for law and order." The HKSAR authorities should tackle the lawless acts of separatists in accordance with the law.
On the other hand, instead of providing full support for the "law-based governance" in Hong Kong, the UK government once again stuck its nose into China's internal affairs by claiming Beijing was encroaching on the special administrative region's autonomy. On July 2, the British Foreign Secretary Jeremy Hunt warned of "serious consequences" if Beijing breaches the 1984 "legally binding agreement." Hunt said, "We stand foursquare behind the people of Hong Kong" and urged Hong Kong authorities not to use protests as a pretext for repression.
It is seen all along that Hunt, who is currently campaigning to become the UK's next prime minister, is a provocateur of separatist sentiments and illegal, unconstitutional acts. The British foreign secretary and his government must accept that Hong Kong is no longer a colony but an inseparable part of China. As such, the foreign secretary's comment is a shameless interference in China's domestic affairs. And after reading his words, it can be said that he needs to learn the basics of "One Country, Two Systems" policy under which Hong Kong's residents rule themselves with a high degree of autonomy.
At the Chinese Foreign Ministry's regular press conference on July 4, when responding to a question on British Prime Minister Theresa May's claim "that a high degree of autonomy in Hong Kong and all rights and freedoms enshrined in the Sino-British Joint Statement should be respected," spokesperson Geng Shuang said, "China's resolute response to Mr. Hunt's erroneous comments on Hong Kong-related affairs can also be applied to similar remarks made by other British officials."
Over the past 22 years, Hong Kong has made constant endeavors in various areas under the principle of "One Country, Two Systems" and marched on an extraordinary journey. No matter what the western politicians and experts say, undoubtedly, the innovative "One Country, Two Systems" has brought benefits to people of Hong Kong with a view to building an equitable, inclusive and people-oriented society. It is in the best interest of both countries that the British government should stop such groundless statements in order to safeguard the stable Sino-British relationship.