Cooperation stressed after UN rights council vote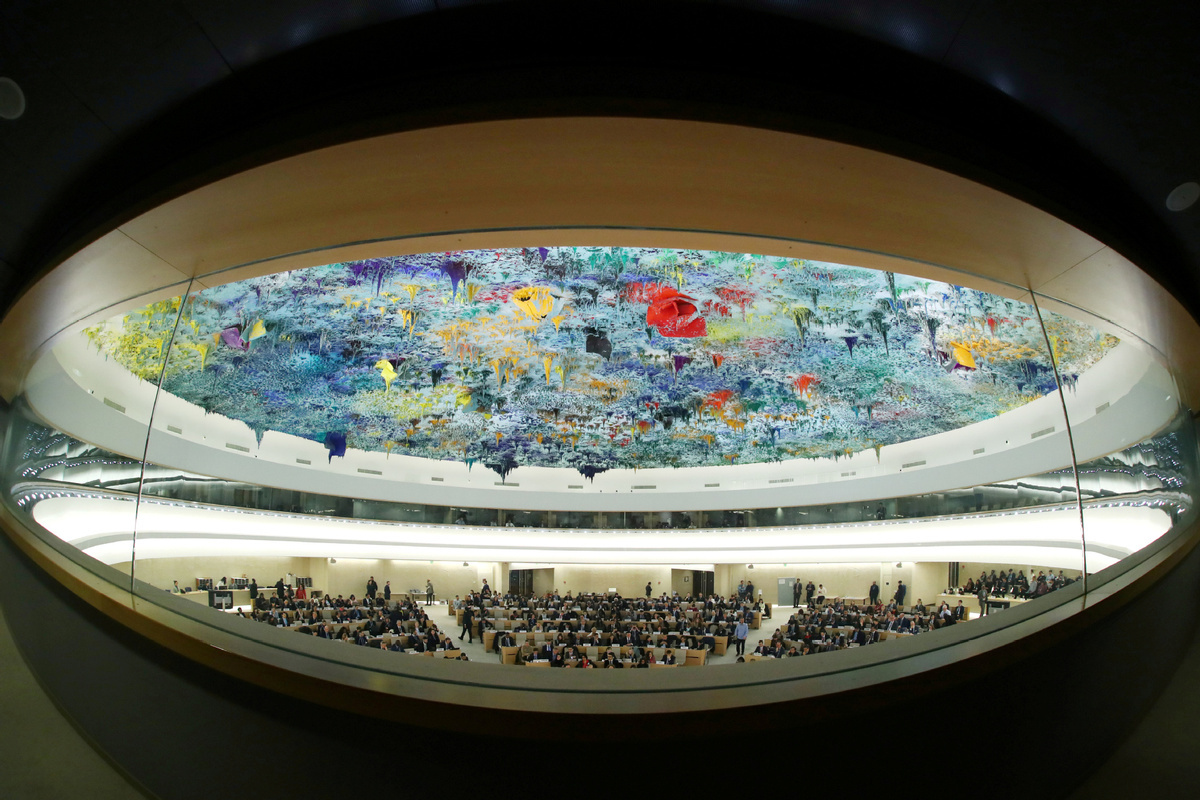 UN Human Rights Council session at the United Nations in Geneva, Switzerland, Feb 27, 2020. (Photo: Agencies)
China's Permanent Mission to the United Nations on Tuesday expressed "heartfelt gratitude to member states for their support" after the country secured a seat for a three-year term on the Human Rights Council in an election during the 75th UN General Assembly.

"China always attaches great importance to the promotion and protection of human rights. Following a path with Chinese characteristics, China has made great achievements in human rights development," said a statement released by the delegation, which also extended warm congratulations to other elected members.
China, whose term will begin on Jan 1, 2021, pledges "to take this opportunity to continue to firmly uphold multilateralism and the purposes and principles of the UN Charter", the delegation said.
"China will participate in depth in the work of the Human Rights Council, actively promote international exchange and cooperation on human rights, and oppose the politicization of human rights issues and wrong practices of double standards to make greater contributions to the healthy development of international human rights."
China's Foreign Ministry spokesman Zhao Lijian said on Wednesday that it is the fifth time that China has been elected as a member of the council. This fully reflected the international community's recognition of the development of China's human rights cause, as well as China's participation in global governance of human rights, he said.
China will use this opportunity to continue to engage in various works under the UN human rights mechanisms, while advocating dialogue and cooperation, Zhao said.
China is willing to handle human rights issues in a fair, objective and nonselective manner, he added.
The 47-member entity, founded in 2006, is a subsidiary of the UN General Assembly tasked with the promotion and protection of human rights around the world.
According to Resolution 60/251, which created the council, members are elected directly and individually by the majority of the General Assembly by secret ballot.
Council seats are allocated to five regional groups on the basis of equitable geographical distribution. African and Asia-Pacific states each have 13 seats; Eastern European states have six seats; Latin American and Caribbean states, eight seats; and Western European and other states, seven seats.
Elected member states serve three years on the council for a maximum of two terms. They are not eligible for immediate reelection after two consecutive terms.
Fourteen other members were elected to the Human Rights Council on Tuesday: Bolivia, Cote d'Ivoire, Cuba, France, Gabon, Malawi, Mexico, Nepal, Pakistan, Russia, Senegal, Ukraine, the United Kingdom and Uzbekistan.
The newly elected states are replacing outgoing members Afghanistan, Angola, Australia, Chile, the Democratic Republic of the Congo, Mexico, Nepal, Nigeria, Pakistan, Peru, Qatar, Senegal, Slovakia, Spain and Ukraine.
According to General Assembly President Volkan Bozkir, continuing as members of the Geneva-based council are Argentina, Armenia, Austria, Bahamas, Bahrain, Bangladesh, Brazil, Bulgaria, Burkina Faso, Cameroon, the Czech Republic, Denmark, Eritrea, Fiji, Germany, India, Indonesia, Italy, Japan, Libya, Marshall Islands, Mauritania, Namibia, the Netherlands, the Philippines, Poland, the Republic of Korea, Somalia, Sudan, Togo, Uruguay and Venezuela.
China previously was elected to the Human Rights Council in 2006, 2009, 2013 and 2016.