Homosexuality debate shows progress in society
Global Times
1524004965000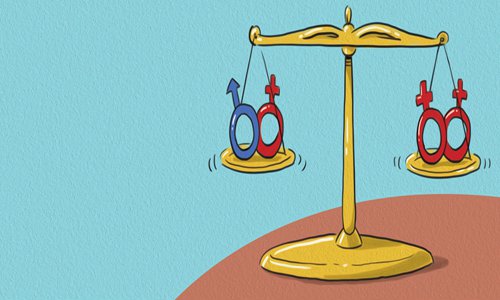 Illustration: Liu Rui(Photo: Global Times)

Tolerance called for toward homosexuals
Why can't people hold an objective attitude toward homosexuality? If people's attitude toward sex marks the level of a society's civilization and openness, then the attitude toward homosexuality is an even more obvious symbol.
We should not discriminate against or even defame homosexuals as they, just like us, also contribute to a society and a way of life. Maybe I do not agree with their sexual preference, but that does not get in the way of my respect and care for them. Why not treat them with an open mind?
Gay, lesbians and bisexuals are a minority group currently of around 50 million, or about 2-5 percent of the Chinese population. Scientific research shows that sexual orientation is mostly established during early childhood and is difficult to change. Although China has achieved great development in its society and human beings continue to open their minds, that does not mean everyone can accept homosexual love. This leads to a lack of social recognition and no room for homosexual marriage.
A mainstream trend of the world is that people's attitude toward homosexuality has become increasingly tolerant and inclusive. Although China has not yet recognized same-sex marriage, it has removed homosexuality from the category of mental illness.
Many countries including Britain, France and Germany as well as some states in the US have legalized same-sex marriage.
China has made progress in attitudes toward homosexuality, such as the abolition of the homosexual "crime of hooliganism," which is a manifestation of cultural confidence.
Love is great and truly trustworthy. Every person is endowed with his or her unique emotion and personality, which contributes to a colorful world. A person has the right to choose his or her own lifestyle and to pursue his or her own happiness without jeopardizing the interests of others.
A democratic society must protect the rights of minority groups. Southwest China's Yunnan Province is at the cutting edge of China in showing respect and care for homosexuality.
For example, the province has set up a semi-official network for homosexuality, a public welfare website that integrates AIDS prevention, chat rooms, healthcare and making friends.
I believe that people should accept homosexuality. They are not harmful to society. They need more equal protection. More and more people come out today and they can face disputes about distribution of common property if they buy a house after living together. They want to adopt children, but they cannot obtain legal qualifications.
The legalization of same-sex marriage seems far away in China. But at the very least, we should not label homosexual groups as alien.
Feng Qingyang, a media commentator
Tanbi culture confuses issues of pornography
Sina Weibo blocked gay content as part of a campaign to regulate the online environment. This triggered a firestorm of discussion online as Sina Weibo mentioned homosexuality and pornography, bloody violence in the same breath.
Relevant authorities ordered ratification of certain video sites and social platforms with the intention of making a cleaner and more harmonious community environment.
It is understandable for Sina Weibo to clean up pornographic and violent content, but homosexuality should not be the object of rectification.
Homosexuality has existed both at home and abroad since ancient times as it is a natural phenomenon in human society. Although there is no scientific conclusion on the causes of homosexuality, it should never be confused with pornography.
Homosexuals have been associated with stigmas such as AIDS and pornography. It is very hard for this group to pursue recognition in mainstream culture. Sina Weibo's behavior is clearly a wrong one-size-fits-all implementation of the government's governance over pornography and vulgar culture.
In this incident, there is also a concept that cannot be ignored: tanbi culture. Tanbi, which originated in Japan, refers to a literary style that advocates romance and aestheticism. In the 1960s, Japanese novelists and cartoonists established a connection between tanbi and beautiful boys' love, which was widely loved by readers. Over time, tanbi became a synonym for homosexuality.
Tanbi culture spread to the Chinese mainland and developed fast at the beginning of the 21st century. Fujoshi girls who enjoy romantic relations between two men are eager to share their own fantasies of same-sex love. In recent years, the rapid rise of social networks has provided an opportunity for the spread of tanbi culture, which has also gradually been recognized by the mainstream ideology of society and become an important source of literature, film and television creation.
It is undeniable that many works of tanbi culture have become carriers of pornography. Those pornographic works that seek commercial profits in the guise of tanbi culture lead to a one-sided misunderstanding of homosexuality.
We should make it clear that tanbi culture can never be confused with pornography. Both the government and enterprises have the responsibility and obligation to implement supervision and rectification of the negative elements of tanbi culture.
In addition, supporters of tanbi culture and homosexuals are two different groups. Tanbi culture does not represent homosexuality and the porn economy is not equal to tanbi culture.
In any case, homosexuality should not be a scapegoat for the porn economy.
From WeChat account: covricuc
Gay content, if vulgar, should be regulated
Many people feel embarrassed taking about sex, and often prevaricate when asked by their children where they came from. But fortunately, a series of primary school sex education textbooks have lessened adults' uneasiness in explaining sex to children. The textbooks were compiled in accordance with UNESCO's International Technical Guidance on Sexuality Education and have become increasingly popular in China.
In the volume designed for sixth grade students aged 11-12, the textbook introduced different sexual orientations, and made clear that homosexuality and bisexuality are normal and cannot be regarded as diseases.
Indeed, homosexuality is not a mental illness. The World Health Organization removed homosexuality from its International Classification of Diseases in the 1990s, and China's Institute of Psychology under the Chinese Academy of Sciences declassified homosexuality as a mental disorder in 2001. Equal treatment of gay people is a basic principle of modern society.
Respect and protection of people with a different sexual orientation reflects the level of civilization in a society. Sexual orientation is, in essence, an individual right, and all citizens are free to live the life they like. Homosexual people are a minority. Protecting minority people's rights is a must to realize fairness and justice. Emotionally, people may be different in their acceptance of the gay community, but respecting others' sexual orientation should be the consensus.
The textbooks educate us to overcome prejudices on differences. To a large extent, the existence of homosexuality reflects people's diversity of sexual consciousness and sexual orientation. From Homeric Hymns to Death in Venice, many world-renowned literary works are themed on homosexuality, noting that the most precious human emotions often exceed the boundaries of sex. But illegal content on social media platforms must be eradicated regardless of sexual orientation. This is a basic principle of online regulation. In the meantime, patience is needed during the process. Lumping gay-related content with pornography and violence, and categorizing homosexuality as abnormal will inevitably trigger public anxiety.
Sexual orientation shouldn't be used as a tool to catch eyeballs on social media platforms. Vulgar content about homosexuality may exert a negative influence on young people, and encourage them to blindly follow so-called gay fashion. Above all, homosexual people are ordinary citizens. While striving for rights, they should also bear their due responsibilities toward society. Sex is nothing to feel ashamed about. We hope people can overcome prejudices and become more tolerant of people with different sexual orientations.