Manila gives Washington cold shoulder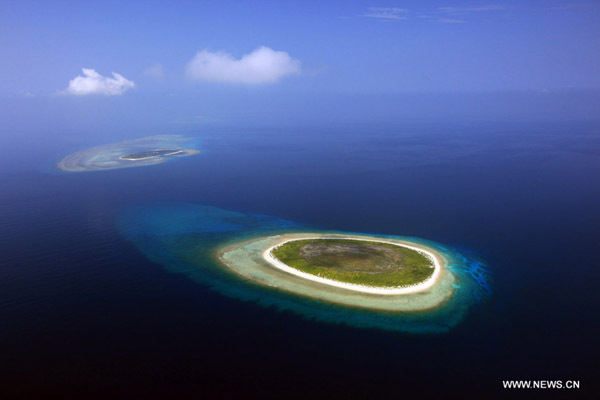 This bird eye view shows the coral reefs in China's Xisha Islands, South China Sea, June 1, 2011. (Photo: Xinhua)
It is a good sign for the region that the Philippines will not follow the United States lead in sanctioning Chinese companies which have been involved in the construction of artificial islands in the South China Sea. Manila's decision shows the importance it has attached to China-Philippines ties and its commitment to independent diplomacy.
In one of a series of provocations against China, Washington last week blacklisted 24 Chinese State-owned companies, including subsidiaries of China Communications Construction Co, which is reportedly involved in a $10 billion airport project in Manila.
On Tuesday, Harry Roque, Philippine President Rodrigo Duterte's spokesman, said the Philippines will not follow the US directive, and Chinese involvement in major Philippine infrastructure projects would go ahead, including turning Sangley Point, a previous US naval station, into a commercial airport.
Manila's latest stance, which is conducive to bilateral cooperation in infrastructure construction, was naturally applauded by China, with Huang Xilian, Chinese ambassador to the Philippines, saying that the US sanctions were aimed at driving "a wedge between China and regional countries", while stressing that "any attempt to undermine the normal economic cooperation between China and the Philippines will never succeed".
Thanks to mutual efforts from both sides, China-Philippines ties have greatly improved in recent years, and bilateral cooperation in various fields such as infrastructure has deepened with Chinese investments pouring into the country.
Such a bright picture has also contributed to building peace and stability in the South China Sea.
Yet, turning a blind eye to the regional efforts to quell the maritime disputes and expand reciprocal cooperation among countries in the region, the US has constantly been disruptive and sought to make waves in the South China Sea.
Its move to sanction Chinese companies involved in island construction in the South China Sea was just the most recent example of US troublemaking in the region.
To justify its ill-grounded decision, Washington has falsely accused Beijing of militarizing the South China Sea. But the truth is the US has sent military aircraft to the region more than 2,000 times in the first six months of this year alone.
In fact, its frequent military maneuvers in the South China Sea under the pretext of freedom of navigation have become a destabilizing factor in the region. Manila's decision to not follow the US lead should serve as a timely reminder to the US that its provocations and mischief-making in the South China Sea have become increasingly unpopular in the region.