Chinese vaccines a banner of fairness and justice despite West's unfair scrutiny
Global Times
1610155383000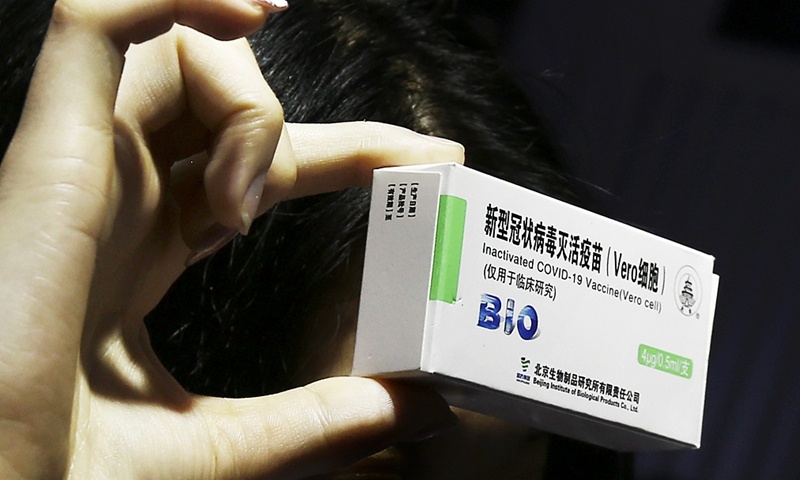 Tao Lina, a former employee of Shanghai center for disease prevention and control, recently published a post on Chinese social media Sina Weibo, criticizing the Sinopharm COVID-19 vaccine's user guide for not being rigorous enough, saying it might make its vaccine look like the most unsafe in the world and lead to misunderstandings. The post soon made some foreign media outlets and anti-Chinese vaccine forces feel like they'd hit the jackpot. They spared no effort to hype up the rhetoric that Chinese vaccines are "the most unsafe in the world."
There are indeed 73 side effects in the Sinopharm vaccine's instruction manual, but they include all potential and possible side effects, as requested by China's State Food and Drug Administration (FDA). They are not simply adverse reactions that have emerged in the vaccine's Phase III clinical trials, but a summary of all side effects of various similar vaccines in history. The FDA requires all of them to be listed, so that vaccine recipients could get to know comprehensive information about the jab, including the worst-case scenario. Some side effects may never occur, but as long as there is no evidence to prove that the probability of their occurrence is zero, they must be included on the list.
I think Tao's post was not rigorous in itself. And I noticed he deleted it and apologized.
Inactivated vaccines are safer than Pfizer's mRNA vaccine and have much fewer side effects. This has been proven in Sinopharm's Phase III clinical trials across various countries and has even become common sense. In order to strengthen the safe use of vaccines, the Chinese government has never encouraged high-profile promotion of the advantages of China-made vaccines. So far, most of the praise for them has come from foreign governments and local medical circles that have approved their use. The Chinese government has only granted market approval of the Sinopharm vaccine with conditions attached. More than 10 countries have given Chinese vaccines full authorization.
Western media outlets have been very unfriendly to Chinese vaccines and have been putting our vaccines under scrutiny so as to catch their weaknesses for sensational hype. Unfortunately, they haven't found any. Quite the contrary, Pfizer's mRNA vaccines have triggered severe adverse reactions multiple times. Yet Western reports touched upon them lightly. Has anyone seen Western media dig deep into one of their vaccines' serious adverse effects?
Chinese vaccines and those of Pfizer are facing completely different public scrutiny. While Chinese ones are facing storms, the latter are enjoying sunshine. It is believed if a malignant side effect occurs among recipients of Chinese vaccines, we will see overwhelming reports from Western media. So, don't trust that vague rhetoric. If there is any severe accident with a Chinese vaccine, the media covering the case better report it accurately - when, where and in which person it occurred. Without precise information, relevant hype should be simply ignored.
No matter how safe and effective Pfizer's vaccines are, one thing can be certain - most developing countries will never obtain them in large quantities in the first time. Pfizer will sell a small portion of its products to developing countries in order to win trust. But Chinese vaccines are the real global public good. They are a banner of fairness and justice. Because of Chinese vaccines, a lot of ordinary people in developing countries can be safely vaccinated as fast as the world's rich, inexpensively.
At this time, those who deliberately smear Chinese vaccines are black-hearted. They should be despised.
The author is editor-in-chief of the Global Times. opinion@globaltimes.com.cn