Good tidings for Sino-Brazilian economic ties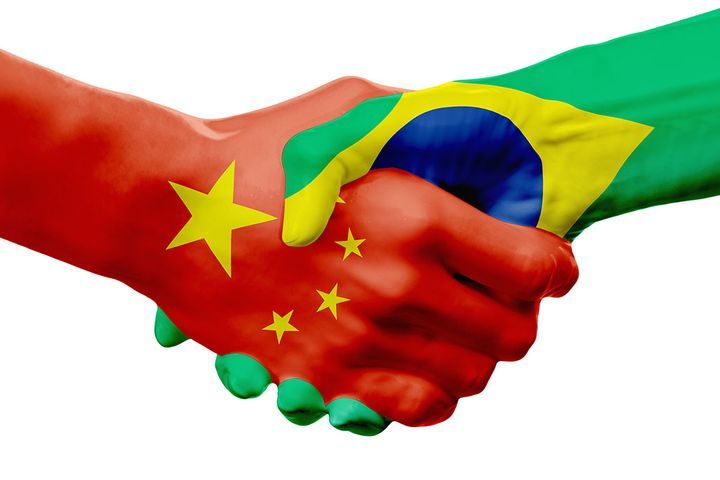 It's been a year and a half since the COVID-19 pandemic overwhelmed productive relations across the world. Constrained access to inputs, problems in accessing vaccines and other medical supplies, and travel restrictions are just a few of the most pressing characteristics of this period.
But despite the unprecedented conditions, China-Brazil economic exchanges have progressed well and also benefited from spillovers of Sino-US relations, especially on trade in agricultural products, adding to an already significant trade relationship.
Since 2013, China has been the most important destination for Brazilian exports. As for direct investment, China has invested quite significantly in Brazil since the early 2000s-initially in production of commodities such as petroleum, minerals and soy, but later also in transportation, telecommunications, financial services, energy and the industrial sector. And heavy investment has been made in infrastructure, mainly energy generation and transmission.
Sino-Brazilian economic ties, however, are not limited to trade and investment. The two countries' partnership in technology has allowed them to launch a good number of joint satellites. Globally, the two countries are members of groups such as BRICS, which allow them to launch joint initiatives on a broader scale.
However, China's 14th Five-Year Plan (2021-25) will certainly influence post-pandemic bilateral relations. In particular, "internal circulation", which along with "external circulation", makes up the new "dual circulation" development paradigm China is following, comprises certain factors that will likely affect bilateral ties: consolidation of social development, including a higher rate of urbanization; reduced dependence on imported resources and technology; industrial modernization; and technological innovation.
China's decision to achieve "higher-quality development" instead of pursuing quantitative growth implies a new consumption pattern that could create opportunities for middle-income economies such as Brazil, which might exploit the new market segments and different demand patterns in different regions of China, provided there are no barriers to trade.
Yet the fact that the 14th Five-Year Plan also aims to increase agricultural production, in order to make China self-sufficient in food grains and strengthen food security, is a cause for concern for some countries including Brazil, especially because a big part of Brazil's total exports to China is soy. The potentially positive aspect is that it also implies higher demand for agricultural production technology in which Brazil has comparative advantages.
The five-year plan's goal is also to develop more sophisticated and efficient machinery for agricultural production, including grain processing and oil production. This is good news for Brazilian producers, because it might foster global competition in the sector.
China has also chosen the health sector, too, for further development, which will have a big impact on China's foreign trade. There will be incentives for basic research leading to curative treatment for serious diseases. The objective is to apply high-tech, such as regenerative medicine and new therapies, to prevent and treat easily transmissible diseases.
The emphasis on the health sector and the industries producing equipment for the sector create opportunities for investment in the area in both countries, particularly since the pandemic has highlighted its need, and Brazil is one of the few emerging economies that has the capacity to produce vaccines and medicines.
The Chinese authorities have also emphasized the importance of research in synthetic biology and genetics, creating new types of agricultural microorganisms, and research and development of vaccines. The emphasis on biotechnology suggests a China-Brazil R&D partnership could be established, especially because Brazil is a country with one of the highest degrees of biodiversity.
The focus on investment in high-tech, including artificial intelligence and its practical use, will lead to the development and production of new equipment which, apart from affecting the international market for machinery, could benefit Brazilian producers.
Moreover, the Chinese leadership has set ambitious carbon emission reduction targets, and promotes efficient use of energy in order to meet the Paris Agreement targets. Which is important for bilateral relations from the perspective of South-South cooperation to strengthen the global fight against climate change, especially because China has adopted a proactive policy on financing "green activities" as a way to contribute to the 2030 Agenda.
Way back in 2015, the two sides signed a memorandum of understanding creating a China-Brazil Fund for Cooperation in the Expansion of Productive Capacity. More than a typical investment fund, it is designed as a mechanism to strengthen bilateral relations, as any decision on financing of projects is to be taken by a steering committee comprising vice-ministers from the two countries. An important area in which the fund can play a big role is preservation of Brazil's forests and promoting environmentally friendly agricultural practices.
The China-Brazil economic relationship can be strengthened in diverse ways, and a good deal of the direction to be taken will be determined at the highest level, by the Sino-Brazilian High-Level Commission for Consultation and Cooperation that is jointly chaired by the vice-presidents of the two countries. And a more ambitious agenda for joint initiatives will likely promote the interests of both countries.
The author is coordinator, International Cooperation and Investments at the Institute of Applied Economic Research, Brazil.
The views are the author's personal and don't necessarily reflect those of either China Daily or the IPEA.