Is Kudlow the 'worst choice' to lead US National Economic Council?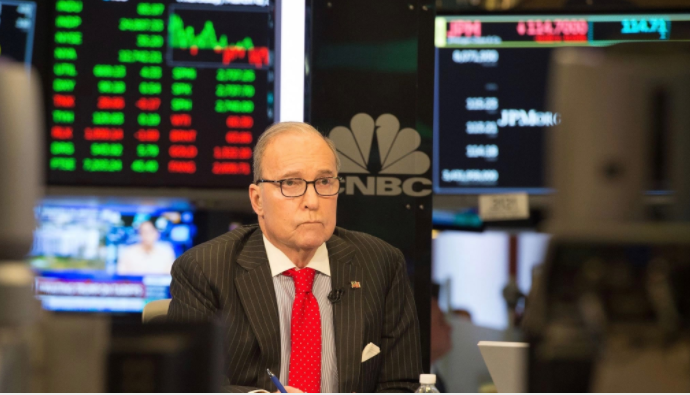 (Photo: CGTN)
The White House has been a stage for amped-up drama since Donald Trump assumed office in January last year. The latest episode came as he tapped CNBC anchor Larry Kudlow as his top economic advisor Thursday, on heels of Gary Cohn's resignation after losing the battle with the president over tremendous tariffs on steel and aluminum imports.
This appointment, days after Rex Tillerson was fired as the secretary of state, is another move that has startled West Wing staff members, who have experienced near-constant turmoil in the house.

Though seen by many as an opportunist who knows nothing about the economy, Kudlow may not be the worst choice to lead the US National Economic Council. He has long been a free trade and globalization advocate, and therefore will likely play a balancing role in the currently protectionists-filled White House.
Holding a different view from Trump's trade advisor Peter Navarro and Commerce Secretary Wilbur Ross on tariffs, he will probably pull Trump back a bit from his protectionist leanings. And if he can work together with Secretary of the Treasury Steven Mnuchin to "make America great again" through a way back to the free market, the US can expect a quicker economic recovery and probably circumvent a full-out trade war.

Nonetheless, that will be the best-case scenario for the US economy, which has already experienced an uptick. But idealism often turns into delusion.

On one hand, Trump is unlikely to take a U-turn in his obsession with mercantilism, despite the unfolding power wrestle between trade protectionists and liberalists. After all, Kudlow has bitten his mouth on free trade after getting Trump's seal of approval. The US president has even said that Kudlow has "come around to believing in tariffs as also a negotiating point."

The appointment, on the other hand, has drawn wider attention because of Kudlow's identity as a China hawk. Many are afraid that he will sabotage the trade ties between the world's two largest economies.
"China needs a comeuppance on trade," he said, adding that he endorsed retaliatory tariffs on Chinese imports. "Canada is exempt. Mexico is exempt. Australia is exempt. I guarantee you, all of Europe is going to wind up being exempt. And I bet you our allies in Asia will wind up being exempt. China may be the only one [not exempt]," he said during a radio interview earlier this month.

Such a tough stance simply caters to Trump's recent China policy. Since late last year, the Trump administration has constantly lambasted Beijing as a major rival, given its massive trade surplus. He labeled the rising Asian nation as a "primary threat" to the US economic dominance in his new national security strategy and pointed it as a "new imperial power" when it came to Sino-Latin American cooperation.

His call on tariffs is just another maneuver to achieve the so-called fair trade by tipping the balance in favor of US interests, after setting obstacles to China's intellectual property rights and market access to Chinese enterprises, shown by the frequent hindrance of Chinese acquisitions of US firms by the Committee on Foreign Investment in the US.

Therefore, the arrival of Kudlow, a vocal critic of Beijing's "violations" in intellectual property and corporate technology, will expand the team of China hawks in the White House. Mike Pompeo, the new director of the Central Intelligence Agency, is known for his hostile stance on China. And Navarro, author of "Death by China: Confronting the Dragon," had a resurgence lately and took the lead in the imposition of stiff steel and aluminum tariffs.

Economic ties are the ballast of Sino-US relations, which, however, have been losing weight since the mercurial Trump entered the White House. Currently, trade frictions have even become the primary cause of turbulent bilateral ties. Beijing has noticed the adverse trend and taken a positive approach to the conundrum.

Last month alone, two Political Bureau members of the Central Committee of the Communist Party of China – State Councilor Yang Jiechi and Director of the General Office of the Central Leading Group for Financial and Economic Affairs Liu He – paid visits to Washington to tackle trade disputes and build trust with their US counterparts.

Actually, a number of strategists in the US, both hardliners and moderates, believe they brought China into the international economic system, but China has cost them an unexpected amount of trade deficit, which stood at 375 billion US dollars last year – the largest ever in history. They feel like they are taking a beating.

Therefore, it's a high task to negotiate with Washington now that Trump has called Kudlow to the lectern. But in face of increasing hostility, Beijing can play it cool and calmly seek appropriate solutions through dialogue. For example, it can choose to reduce imports of certain farm produce from Republican-majority states.
If Trump and his cheerleaders for free trade continue to cling to notions that could start a trade war, they will have trouble claiming victory. Furthermore, if Kudlow takes a hardline approach to trade with China, then he could undermine China-US relations, which is underpinned by benign economic relations. The consequence would be a step away from economic globalization, of which he has been a strong advocate.

History shows that no one will win from a trade war. The Trump administration will learn about this sometime in the near future.