Clear signal that nation holds steady to course of reform and rejuvenation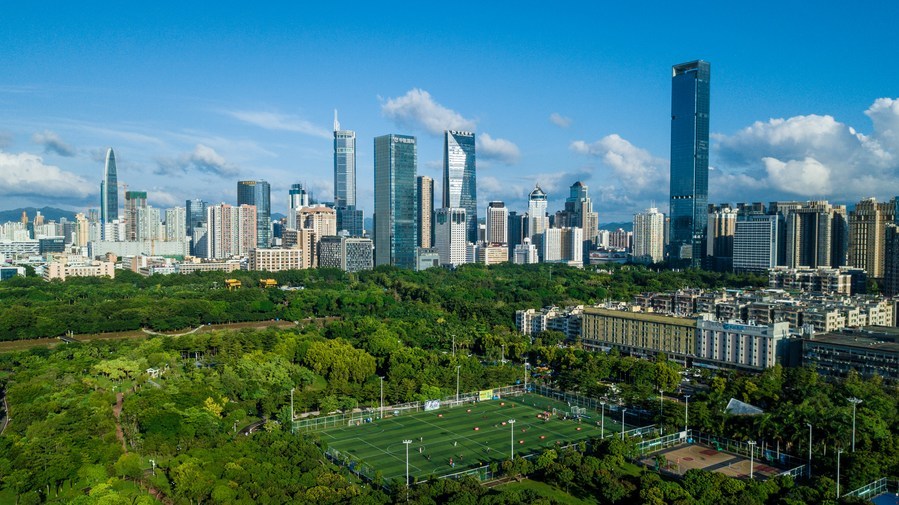 The gathering to commemorate the 40th anniversary of the Shenzhen Special Economic Zone in the city on Wednesday has provided the opportunity for the nation to not only review how far it has come, but also to consider the journey ahead.

The city embodies the pioneering spirit that has transformed the country since the launch of reform and opening-up, and the occasion also serves to set the stage for President Xi Jinping to reaffirm that China is committed to deepening reform and opening its doors wider.
Xi's visits to Shenzhen have always had great significance. His previous two visits were in December 2012, immediately after he was elected general secretary of the Communist Party of China Central Committee, and in October 2018 at the 40th anniversary of the launch of China's reform and opening-up policy.
On both occasions, he extolled the city's role as a trailblazer, affirming the Party's determination to make breakthroughs in the deep waters of reform and to open wider to the world.
As the global health crisis has reinforced the trend of protectionism and isolationism that had emerged prior to the sudden outbreak of the novel coronavirus, the commitment of the world's second-largest economy to innovation and cooperation should instill confidence in post-pandemic recovery of the global economy.
Notably, the Shenzhen meeting comes ahead of the Fifth Plenary Session of the 19th CPC Central Committee scheduled for Oct 26-29, at which the 14th Five-Year Plan (2021-25) will be approved, as well as the development targets till the year 2035, bestowing Xi's words with practical consequence.
As he did in Hainan province when he visited for the commemoration of the 30th anniversary of the Hainan SEZ, Xi will outline a series of specific to-do lists Shenzhen is to accomplish.
Unveiled by the central authorities on Sunday, the implementation plan of reforms for Shenzhen in its construction as a pilot demonstration zone for socialism with Chinese characteristics should be taken as a testimony to the importance of Xi's third visit to the SEZ.
The plan charts a clear development course for the city over the next five years, while granting it tremendous authority to try out new ideas and new practices. Xi's visit on the 40th birthday of the Shenzhen SEZ sends an explicit signal to the world that no matter how strong the headwinds are, China will persevere in pressing forward with reform and opening-up in its quest for national rejuvenation, and that is unstoppable.
Happy birthday, Shenzhen SEZ.