True heroes must be placed on nation's pedestal
Editor's note: We should be grateful to the nation's real heroes, including war heroes — rather than merely film and online celebrities. All the Chinese people, especially the young, should cherish the heroic deeds of our true national heroes, writes a senior journalist with China Daily.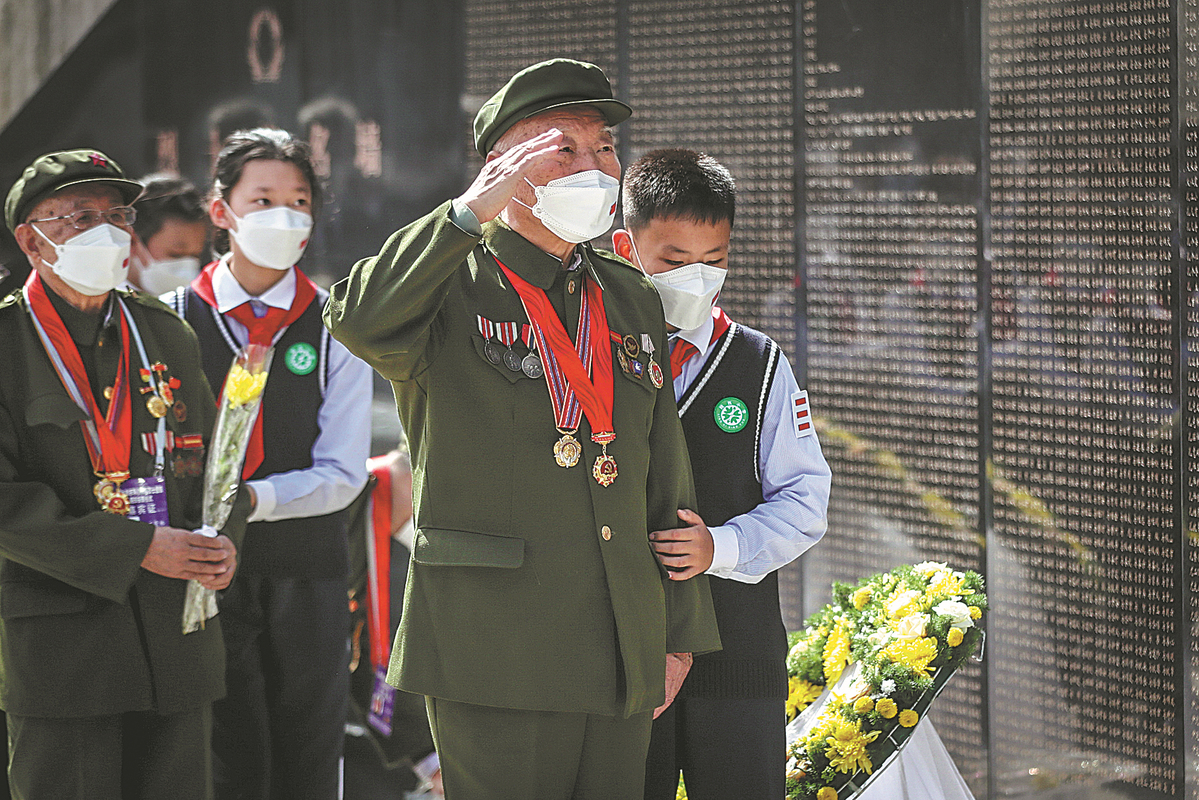 After being removed from Chinese school textbooks 20 years ago, the article on a fierce battle between US troops and the Chinese People's Volunteers during the War to Resist US Aggression and Aid Korea (1950-53) found its way back into textbooks last year.
The article, titled "Who Are the Most Lovable Persons", narrates the heroism of the Chinese volunteers who sacrificed their lives to defend the motherland. Their valor and sacrifice touched the hearts of millions of Chinese people and found their way into textbooks in 1950. I still remember how my classmates and I were moved to tears after reading the account of the battle.
But in 2001, then education authorities removed the article from school textbooks, saying that the description of the battlefield in the article was too gory and that the message of heroism it conveys is no longer necessary in these changed times. Based on the same logic, the educators also removed several articles about the war heroes who had been idolized by people for generations.
With the stories of national heroes not being taught in school or discussed by people in general, entertainment stars started being seen as "heroes" by youngsters. For years, we have been bombarded with gossips about movie and singing stars adored by millions of young fans. However, the fans were disappointed to learn that some of their idols did not deserve their admiration after a dozen-odd celebrities faced legal charges for tax evasion, drug consumption or being involved in prostitution rackets.
For years, we have also been bombarded by online celebrities "groomed" by entertainment agencies, which not only trained them but also invested heavily to promote them or the products they endorsed to build a big fan base for them.
Many of these celebrities usually are good-looking men, wear fake eyelids and clothes which some describe as "metro-sexual", and use lots of make-up. And even though their performances lack aesthetic value, they develop huge fan followings, especially among youngsters, thanks to the machinations of their sponsors.
While the older generations may look at these celebrities with disdain, many young people are crazy about them. There have been many reports of high school and university students falling into a debt trap by borrowing money to look and/or dress like their idols or "donate" money for their idol's "cause".
These unhealthy traits among youngsters have left parents in deep worry. It was the parents who realized that the stories of heroes had been removed from textbooks. It was they who first appealed to society to give our heroes their due. One parent wrote: How can a nation which doesn't remember its national heroes pass its ethics and spirit down to the next generations?
Realizing that the country will go nowhere if the phenomenon is allowed to continue, the central authorities have taken measures to pull the brakes on this celebrity culture. Performers violating the law have been banned from performing platforms, and celebrities are required to dress and behave properly if they want to continue their online and offline shows. And some TV programs promoting unhealthy social and moral values have been ordered to stop their telecast.
With the war heroes' return to the textbooks, more and more stories of contemporary heroes have started appearing in newspapers and are being telecast on TV.
Each year, top scientists are honored for their achievements and contribution to the nation and society, with President Xi Jinping himself giving the awards to them at a glittering ceremony. Similar award ceremonies are held each year for best teachers, best doctors and nurses, as well as best village heads and most skillful workers. Our real heroes never left us; they still live and work among us.
China never lacked heroes in its 5,000-year history. We should protect their memory and be grateful to them for their great contributions to humankind.
The author is former deputy editor-in-chief of China Daily.