Ensuring rare-earth dominance crucial in trade war
Global Times
1574720614000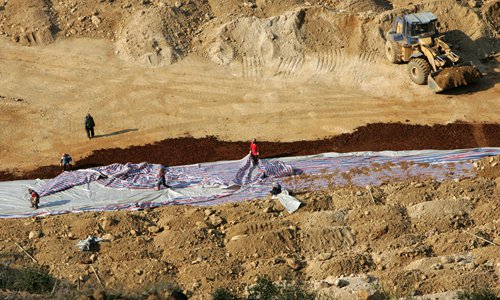 Mining of rare earths in China. (Photo: VCG)
Considering China's dominance in the rare-earth sector, any move by the Chinese government involving these coveted minerals could lead to all sorts of interpretations.

According to a recent statement from the Ministry of Industry and Information Technology, China raised its annual rare-earth mining quota to 132,000 tons, 10 percent more than last year's level and a new record high.

While the move alleviates concerns that China, the world's largest supplier of rare-earth minerals, may cut supplies, some critics believe that by raising the quota, China has actually made it more difficult for the US and other countries to develop their own rare-earth industries. The importance and strategic significance of rare earths is self-evident, but it should be made clear that China is not trying to contain the rare-earth industry of any country with its advantageous position. Unlike the US, China never resorts to containment as its strategy to any potential competition.

It is no secret that the excessive reliance of the US on China's rare-earth supplies is a form of leverage that China has in the trade war with the US. China controls at least 85 percent of the world's rare-earth processing capacity, according to research firm Adamas Intelligence. Over the years, the US sourced about 80 percent of its rare-earth imports from China. China may not need to play the rare-earth card for the time being, but it is still essential to keep vigilant and to ensure the deterrent effect of this crucial bargaining chip.

It wasn't until the US-China trade war broke out that the West realized that rare earths would be used as a countering weapon.

Because of the pressure of a possible rare-earth fight with China, the US has been busy diversifying its rare-earth supplies away from China this year. Media reports indicated that the US had talks with some rare-earth mines in Africa, and just last week, US and Australian officials agreed to formalize a partnership to boost supply of rare earths from outside China.

While it's never too late for a person to start all over again, it may be too late for the US to catch up with China in the rare-earth sector, an effort that is expected to face great difficulties and challenges, including but not limited to China's dominant influence in the industry.

Most importantly, it is not just pricing or quantity that gives China its grip on the rare-earth supply chain. Over the decades, China has paid great environmental costs and spent heavily in developing a clean and efficient rare-earth processing technology system. Such technological advantage is the key behind China's leading position in the global rare-earth market.