US 'government-coerced deal' a robbery, against rules
Global Times
1599039448000
China's Ministry of Commerce and the Ministry of Science and Technology released the revised catalogue of technologies that are subject to export bans or restrictions on Friday. In Section 15 of Part II dealing with computer service industry, "personalized information push service technology based on data analysis" has been added to items subject to export restrictions.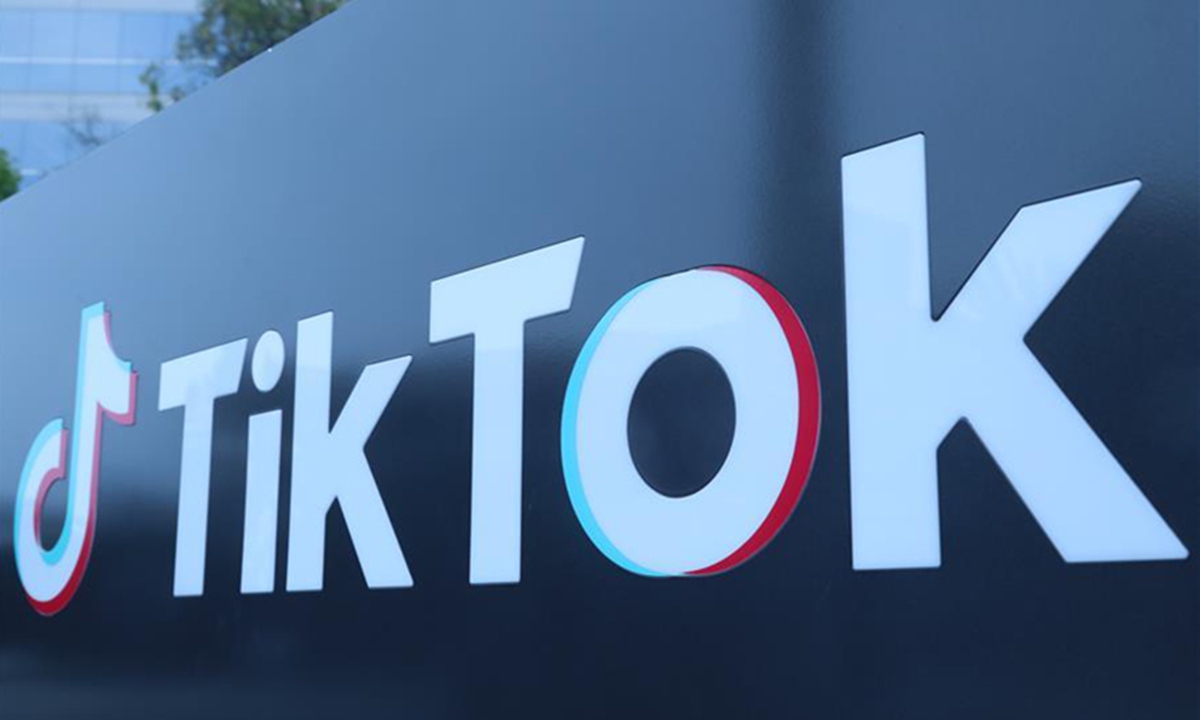 A logo of the video-sharing social networking company TikTok's Los Angeles Office (Photo: Xinhua)
ByteDance on Sunday said it will strictly follow the catalogue in handling operations related to export of technologies. Experts and media outlets generally believe TikTok won't be able to sell the relevant business without the Chinese government approval. The US maneuver of the "government-coerced deal" is carefully calculated, but it's very likely to end up with nothing.
The US "government-coerced deal" involves subjects that are not equal, is conducted in a discriminatory manner based on extremely vague rules, and has extremely bad influence, which can be seen in the following aspects.
Under the US government's all-out attack, subjects of the "coerced deal" are extremely unequal. In the "coerced deal" involving the sale of TikTok's businesses, one party is the US government authorities, and the other is a non-American firm, so their status is vastly different. By placing its own political interest above market principles, the US government arbitrarily used intelligence and law as the weapon to unreasonably and brutally crack down non-American firms.
The US government's legislative, executive, judicial and other departments all made their moves jointly. US President Donald Trump signed the executive orders, the US Congress passed a bill prohibiting US federal employees from downloading TikTok, and the Committee on Foreign Investment in the United States conducted a security review of the acquisition of US company by TikTok. They pressed the firm at every step so that it cannot escape from the wide encirclement.
Such kind of all-round suppression by the US government violates the principles of market economy and fair competition, and represents a blatant unilateral economic bullying.
The approach that the hegemonic Trump administration took to force the sale of TikTok is extremely discriminatory. Trump signed two executive orders on August 6 and 14, imposing a timetable for the sale. He has repeatedly threatened publicly that TikTok could be bought or pulled out of the US market.
The US government's actions are ill-intentioned, arbitrary, rude, and full of lies and slander. They seem to have been plagued by anti-China diseases, coercing the sale of TikTok without due process and just cause, which violates the internationally recognized practice of offering fair, just and non-discriminatory treatment to foreign investors.
Under the disguise of "national security" threat, the Trump administration launched its hunting campaigns for non-American firms like TikTok by imposing maximum pressure, which are tantamount to bullying markets and extorting others.
A government's action to promote a deal through threat and coercion is hegemonic, and reveals "national discrimination" in technology arena.
Without any related law to rely on, the rules behind US authorities' "coerced deal" are extremely vague. The US government is forcing Chinese companies to sell without any substantial evidence or legal basis. This is nothing short of blackmail. Although TikTok took various measures to improve and strive to achieve "localization" in the US, and tried its best to "prove its innocence", it was still ignored and rejected by the Trump administration. The related law that the US cited is broad and vague, which shows that "the one who wants to blame someone can always find an error in him".
The companies involved pose no real national security threat to the US, have no clear laws to follow and do not know how to meet US legal requirements. Using fabricated evidence to bully non-American firms, the US' "coercive" behavior is lawless and unverifiable, violates the requirements of the World Trade Organization on transparency and tramples on international rules.
The US government is the initiator of evil, and the fallout of its "coerced deal" is extremely baneful. It abused its state power and unreasonably suppressed certain non-American enterprises, causing serious and substantial damage to them and violating the international practice of protecting property ownership. What is bad about America's coercive approach is not just that it unjustifiably cracks down a company that is widely popular in the country, but that it sets a bad precedent for the world. After France's Alstom and Japan's Toshiba being cracked down, the US' list of "coerced deal" is getting longer and longer, with its bottom line getting lower and lower. The actions have drawn deep hatred from the international community.
No government is forcing people to install TikTok, but there are governments forcing TikTok to be sold. Such governmental coercion, which ignores the rules, will cause infinite harm if it is not stopped.
The author is an observer on international issues.