Trump's sharp shooters give way to heavy artillery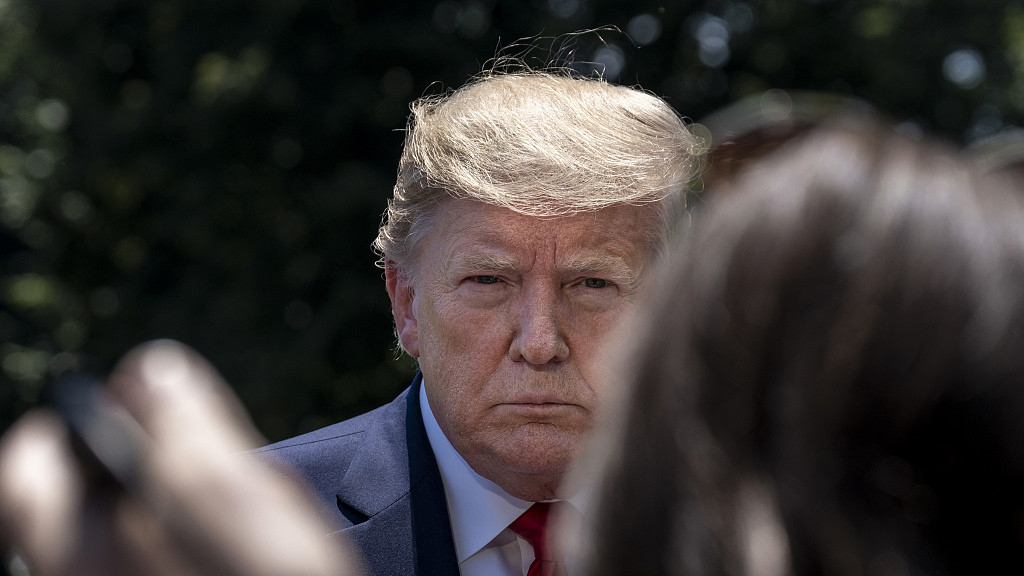 (Photo: CGTN)
Trump claimed on Aug. 2 that an additional tariff of 10 percent will be put on the remaining 300 billion US dollars of products China exports to the US, starting Sept. 1.
Trump's words took the world aback, which led to the American markets falling and bond prices surging, sending yields sharply lower. The S&P 500 index dropped 0.9 percent, and the Dow Jones Industrial Average fell 1 percent.
Trump's decision sent the world markets into a tailspin. Investors were taken off guard because the White House had said a day earlier that Beijing had promised to buy more farm goods. As growing hopes that the world's two superpowers would manage to reach a deal were dashed, the world markets plunged.
Trump's sharp shooters have given way to the heavy artillery, and this comes just after China's Foreign Minister Wang Yi's meeting with US Secretary of State Mike Pompeo and the wrap-up of the 12th round of trade negotiations.
On Aug. 1, Wang met with his American counterpart on the sidelines of the ASEAN meeting in Bangkok to discuss major trade and economic issues.
In their talks, Wang Yi said that it is an important opportunity for the two sides to communicate, and no matter how many problems lie ahead, both sides need to communicate face to face and there is always room for cooperation.
Pompeo made it clear that Washington has no intention of containing China, and its commitment to the one-China policy regarding Taiwan will persist.
While the meeting was brief and seemingly ended with little substance, it says more than it appears if the timing and background thereof are taken into account.
In terms of the timing, it came just one day after the trade talks concluded in Shanghai, the meeting should be more broadly perceived as a continuing effort by China to send out agreeable signals for the next round of negotiations.
In terms of the background, the talks began amid low expectations. Observers speculated beforehand that the negotiations would be centered on "goodwill" gestures – China would promise to purchase American agricultural commodities and the US would agree to ease sanctions on Huawei and the like.
Just as expected, apart from China's willingness to increase import of US farm products, there was nothing special. Perhaps this partly explains Trump's sudden introduction of tariffs.
It is hence clear that Wang Yi's meeting with his US counterpart as a last resort to overturn the latest trade negotiation result failed to take effect. And the tariff threat, as Foreign Minister Wang Yi said later at Bangkok, was "not a correct or constructive way" to resolve disputes.
The threat will give rise to growing tensions between the two countries, and sabotage the candid and cordial atmosphere for the new round of talks.
In response to Trump's earlier threat of giving China a rougher deal, Hua Chunying, spokesperson of China's Foreign Ministry, said America's campaign of maximum pressure is of no use to China. The relationships between the two superpowers will be plummeting to an unpredictable and uncertain stage if the US keeps employing its strategy.
That said, it is way too early to announce the complete breakdown of the China-US relationship if issues such as the Democratic People's Republic of Korea's (DPRK) denuclearization and economic gains are taken into account.
As far as the DPRK issues are concerned, America needs China's efforts more than ever. If Washington hopes for the agreement reached in Panmunjom to be carried out, and the working-level dialogue with Pyongyang to be resumed at any time, it would be unimaginable if there were no support from China. This echoes Wang Yi's words that there is more room for the two countries to cooperate than differences.
When it comes to the economic benefits, America's businesses will also be undermined as a result of Trump's trade policy. In an international community whose economies are increasingly intertwined, it might be argued that some American jobs will be saved because of the trade war, but for the majority of population whose job were never in threat from the Chinese competition, they will find it harder to nose around Walmart for bargains simply because of fewer Chinese goods imported to the US.
According to some economists, the number of the former will be small, but the benefits to the latter will be great. The revenue American government could extract from Chinese exporters will therefore be lost, and this does more harm than good to the US economy.
In this light, Wang Yi's message was not properly received by the American side, and by adding another round of tariffs, Trump may be edging the ongoing negotiation to a point of no return.