Countries politicizing COVID-19 response harm others without benefiting themselves
People's Daily app
1674020865000
After China entered a new phase of its COVID-19 response, many countries welcomed its optimization and are expecting visits from Chinese tourists.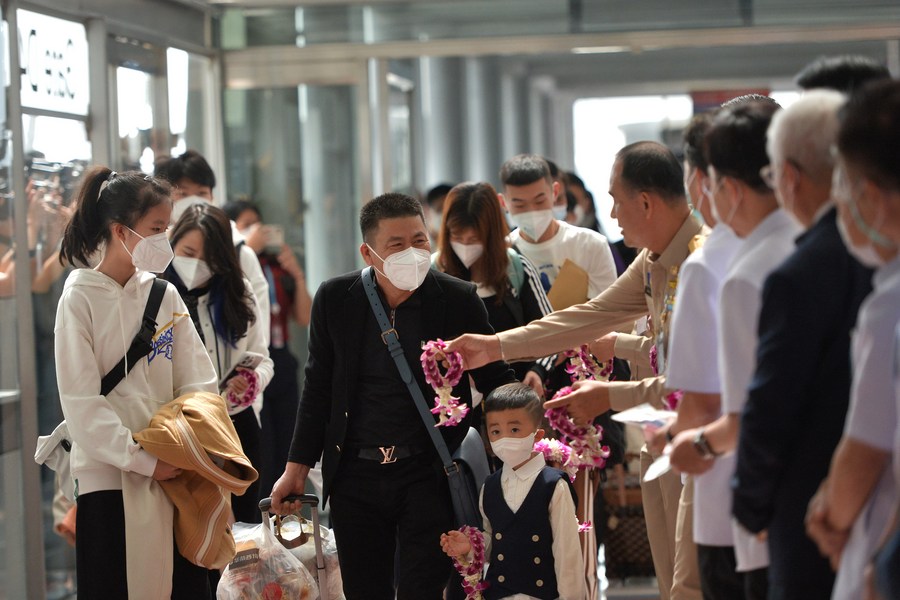 The Thai deputy prime minister and other senior officials greeted the first group of Chinese tourists with flowers and gift bags at the airport. The Maldives foreign ministry published a statement on its website saying the country welcomes China's adjustment of exit and entry measures and looks forward to receiving Chinese tourists soon. Switzerland, New Zealand and other countries made clear that they would not impose new restrictions on visiting Chinese tourists.
China has always optimized its COVID-19 response in light of the evolving situation in a science-based and targeted manner. Its provisional measures on cross-border travel were formulated based on the decision to manage COVID-19 with measures against Class-B infectious diseases. The measures can better coordinate COVID-19 control and socioeconomic development, and make cross-border travel more convenient, safe, orderly and efficient.
With the utmost sincerity and in a fact-based manner, China has carried out adequate communication with relevant countries, explaining in detail the current COVID-19 situation in China and how the optimization of its COVID-19 response is science-based and reasonable.
However, a few countries, turning a blind eye to science, facts and even their COVID-19 situations at home, have arbitrarily imposed discriminatory entry restrictions on travelers from China. This is completely politicizing COVID-19 prevention and control.
Health experts from multiple international organizations and countries have pointed out that no new variant or dangerous mutation of the novel coronavirus has been detected in China, so tightening the entry policy toward travelers from China is neither science-based nor necessary.
Stephane Dujarric, the spokesperson for UN Secretary-General Antonio Guterres, said UN member states should follow WHO guidelines and it is very important that all decisions regarding the screening of passengers and so on be taken on a scientific basis and only on a scientific basis.
The Singaporean health minister noted that infections entering the country from China accounted for less than 5 percent of Singapore's total imported cases in the last 4 weeks of 2022, far lower than figures from some other countries and regions. There's no need for Singapore to tighten its entry policy toward travelers from China, the minister added.
Countries imposing entry restrictions on China travelers should listen to these voices and adopt a fact-based manner, make their COVID-19 response scientific, avoid political manipulation and discriminative measures, and maintain normal cross-border exchanges and cooperation.
China's COVID-19 control policies have to the largest extent protected people's lives and health, and minimized the pandemic's impact on economic and social development.
As the world faces increased downward pressure on the global economy, China's optimization of its COVID-19 response has facilitated cross-border travel and boosted confidence in global growth.
Heads of many international organizations, including the World Trade Organization and the Organization for Economic Cooperation and Development, are optimistic about China's economic prospects, believing the country's optimization of its COVID-19 response will assist global recovery and development.
It is believed by the international community that China's adjustment of exit and entry measures is a key moment in the global tourism recovery process and will inject strong impetus into the comprehensive recovery of the tourism industry.
Thai newspaper Bangkok Post said a total of 5 million Chinese tourists are expected to visit Thailand this year, which will forcefully drive the recovery of Thai tourism and economic development.
A few countries' discriminatory measures that undermine the normal flow of people will only hurt others without benefiting themselves.
Respecting science and facts is a valuable lesson for the international community, which should unite and cooperate in the fight against COVID-19. China will keep adapting prevention and control protocols based on the evolving situation and work with relevant parties to safeguard safe and orderly cross-border travel, so as to maintain the stability of global industrial and supply chains and promote the healthy recovery of the world economy.
Countries politicizing China's COVID-19 response should follow science-based principles and the spirit of mutual respect, change their discriminative measures imposed on Chinese travelers as soon as possible, and create favorable conditions for normal personnel exchanges and cooperation.
(Zhong Sheng is a pen name often used by the People's Daily to express its views on foreign policy and international affairs.)