What are the favorable conditions for China's economy?
People's Daily app
1564700956000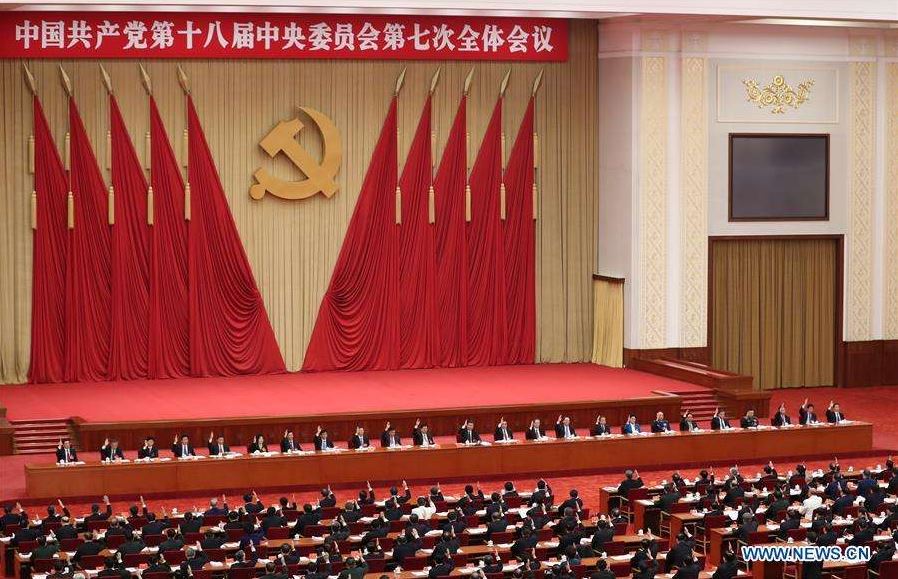 The Political Bureau of the Communist Party of China Central Committee. (Photo: Xinhua)
China's economy maintained steady upward momentum during the first half of the year, the Political Bureau of the Communist Party of China (CPC) Central Committee announced Tuesday, after analyzing the economic situation and outlining the second half of 2019.

As the Chinese economy faces new risks and increased downward pressure, attention should be given to long-term trends and critical issues, where each crisis is turned into an opportunity.
To achieve sustainable and healthy development, what conditions exist in China that will the country reach this goal?
China's continued industrial sector optimization
Industrialization in China has undergone profound change. Strategic adjustments and transformation upgrades within the country's economic structure have accelerated. The service industry has shown remarkable progress and has become a "stabilizer" for economic growth.
In 2018, the proportion of added value for China's primary, secondary, and tertiary industries was 7.2 percent, 40.7 percent, and 52.2 percent respectively, employment was 26.1 percent, 27.6 percent and 46.2 percent respectively, according to China's National Bureau of Statistics (NBS).
"To see the contribution rate to economic growth, the growth rate of the tertiary industry's added value in 2018 was 1.8 percentage points higher than that of the secondary industry, and the tertiary industry's contribution rate to economic growth was 59.7 percent, 23.6 percentage points higher than the second industry. This shows that the service industry's role in driving economic growth was further enhanced," said Du Xishuang, director of the Department of Service Statistics at NBS.
The emerging service industry continues to play a leading role. New technologies models such as e-commerce, data consumption, and modern supply chains are always changing. The service industry is an innovation and entrepreneurship hot spot.
China's demand structure continues to improve
In recent years, China has focused on consumption, its biggest growth engine, and investment. In 2018, China's consumption rate was 54.3 percent and its contribution rate to economic growth reached 76.2 percent. The consumption upgrades are obvious.
"China has the world's most promising consumer market. According to the NBS, there are about 140 million families with three people and an annual income between 100,000 yuan and 500,000 yuan. They have the financial ability to buy cars, houses, and travel," said NBS head Ning Jizhe.
Increasing resident income, improving consumption and product quality allows for a strong domestic market.
China's investment structure has also improved. Wang Yuanhong, deputy director of the Economic Forecasting Department of the State Information Center, believes that with continuous advance of supply-side reform, traditional industries and enterprises are no longer obsessed with expanding production capacities and invest more in improving quality and efficiency.
Regional infrastructure experiences continued coordination
Development disparities between regions have revealed different characteristics at various stages. Today's inter-regional gap has narrowed significantly.
"Central and western China hold the biggest potential for China's development and the important pivot for increasing effective investment." said associate research fellow Yan Zhang at the Institute of Spatial Planning & Regional Economy, National Development and Reform Commission P.R.C.
Infrastructure development in the central, and especially the western region, is a weak point of development. Limited railway lines and highways in West China are only 21 percent and 24 percent of the country's eastern region, and the average number of annual flights in Central China when compared to the same region is only 30 percent.
"Under the premise of properly preventing and controlling local debt risks and driven by the national key infrastructure, infrastructure construction in central and western China still leaves vast scope for growth in effective investment that will provide strong support to increase investment demand," said Yan Zhang.
During the Political Bureau meetings, it was addressed how China has encountered new challenges while experiencing downward economic pressure. So, what kind of economic work is needed for the second half of 2019?
The bureau pointed out that potential domestic demand needed to be tapped, rural markets needed to be activated, and deepen reform efforts to expand consumption.
Director of Market and Information Technology, and Ministry of Agriculture and Rural Affairs, Ke Tang feels that activating rural markets would be key for tapping into domestic demand.
"We should give full play to the role of new elements such as networks, data, technology, and knowledge. On the one hand, we can achieve high quality and higher prices for agriculture products to drive agricultural transformation. On the other hand, it will become more convenient for consumers to get agricultural products with high quality and special characteristics to achieve consumption upgrade," said Ke.
"To activate rural markets, we also need to accelerate the development of rural industries, promote high-quality development of agriculture, and increase farmer incomes so they are confident and able to consume," said Shi Yiqun, deputy director of Department of Development Planning of Ministry of Agriculture and Rural Affairs.

"Houses are for livelihood, not for speculation," said the CPCCC Political Bureau, stressing that while adhering to this idea the country must implement a long-term effective management mechanism for real estate, and not use it as a short-term economic solution.
Liu Hongyu, director of the Real Estate Institute at Tsinghua University, said the meetings sent a clear message to the market. Despite the increased downward pressure on China's domestic economy, the government will not give up on its long-term policy of "housing for livelihood, not for speculation" to achieve short-term economic growth.
(Compiled by Zhang Jian, Elaine Yue Lin, and Paris Yelu Xu.)