Nixon and a changing NY Chinese food scene
Global Times
1574362347000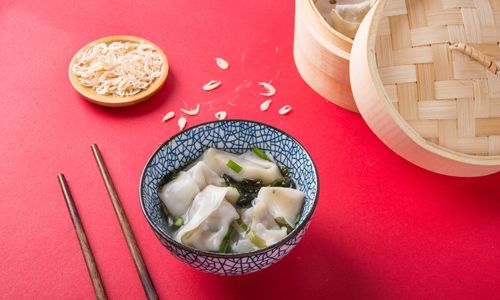 (Photo: IC)
I was late thanks to the New York subway system's less-than-stellar weekend service. When I rushed into the Junzi Kitchen at Times Square on a recent chilly night, panting and ready to throw out the now ubiquitous excuse any New Yorker would make in this situation, what struck me was not the embarrassment of being late for the dinner but the stark unfamiliarity of a casual fast food chain that I have visited several times.

The bustling food counter was nowhere to be seen - hidden behind a dark green velvet curtain like the backstage of a Broadway theater. The usual customers - bland office workers and somewhat louder tourists - had been replaced with a dozen or so fashionably dressed invited guests chatting in hushed tones.

And then, not long after I was seated, we were served one of the most intriguing dishes of the night. "Nixon said this was the worst Chinese dish he had," Lucas Sin, the chef, said, in a warning aimed mainly at Westerners there. The "three-colored egg" dish is made from smoked chicken egg, century egg and cured duck yolk.

Nixon? Yes, that Nixon, the former president of the US. The night's menu said it all - a folded white card sealed by a red sticker with the words "Junzi Chef's Study" and "Nixon in China" printed on the face.

President Richard Nixon's 1972 ice-breaking visit to Communist China, which laid the foundation for the resumption of diplomatic relations between the two countries seven years later, is no doubt one of the most significant milestones in the history of diplomacy. But for US foodies, the gastronomic side effect of the trip is no less delectable.

The image of the controversial president wielding chopsticks at the welcoming banquet hosted by former Chinese premier Zhou Enlai created an instant surge of business for Chinese restaurants in the US. The menu has since been replicated many times by different Chinese restaurants here. Each one tells a unique story of its own time, about food and beyond.

The first such endeavor was probably by Michael Tong whose Shun Lee Palace in midtown Manhattan launched the same banquet menu provided for Nixon that same night for an astronomical (for Chinese food in those days) $25 a head. That was a time when Chinese restaurants in the US were about to see a boom as Americans were ready to embrace a few more Chinese dishes than the long lasting chop suey and chow mein invented by Chinese immigrants many years before.

In 2011, when I went to talk to Tong as he revisited the menu to mark the debut of John Adams' opera Nixon in China at the Metropolitan Opera House, he was preoccupied. A labor shortage had developed thanks to China's red-hot economic growth. There was no longer an influx of blue collar immigrants to staff Chinese restaurant kitchens. He was worried that if his chef left, it'd be hard for him to find a new one.

But very soon things changed again. Now, an influx of young people - they initially come here to go to university - from wealthy families in China is rejuvenating the Chinese restaurant industry in the US.

Unlike their predecessors, they chose the profession out of a passion for food rather than the need to make a living. And the style of the restaurants they open can fit into any trendy district in the country. They are a long way from the backwaters of a Chinatown.

Sin, a 26-year-old Yale educated chef at Junzi is one. The noodle and Chinese wraps chain was founded in 2015 by three fellow Yale Chinese students Zhao Yong, Zhang Wanting and Bai Ming to sell traditional food from their hometowns in northern China. Well, that was the beginning. Now they are looking into purchasing traditional Chinese takeout and transforming their economics by automating kitchens.

In 1972, the banquet in Beijing contained ingredients Westerners may find daunting, such as spongy bamboo shoots and century egg - preserved egg that has a strong aroma of sulfur. "Today the hard stuff is easy because we don't need to watch the president eating to change our attitude about Chinese food," said Sin. "You can just go to Junzi or other modern Chinese restaurants to try it yourself."

Not that the sitting President Donald Trump would show off his chopstick skills anytime soon with the relationship between the two countries worsening again. But Sin's words immediately proved true at our table. James, an architect sitting opposite me put his spoon into the three colored egg dish that looks like a combination of curd and jelly with bright yellow to dark brown hues. "Nixon was wrong," he declared. "This is delicious."

Then we tried the notorious Chinese spirit, baijiu, chatted about how tomatoes were first brought to China and how a certain Chinese dish is similar to a Portuguese one. There might be something more important to talk about. But no one bothered. Intoxicated, my eyes caught a line in the menu: "This month, as we renew and recreate that menu, if only to ask the same question: 'can Peking duck end a war?'"

What war? I must be drunk.