Another school shooting, gun control still without answers
People's Daily app
1574106794000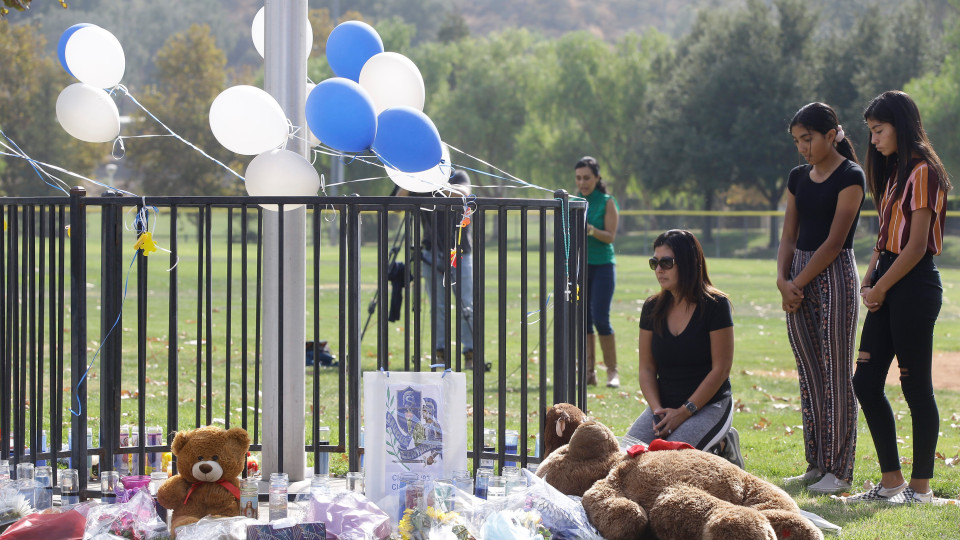 Parent Mirna Herrera kneels with her daughters Liliana, 15, and Alexandra, 16 at the Central Park memorial for the Saugus High School victims in Santa Clarita, California, November 15, 2019. (Photo: AP)
Washington (People's Daily) - On Sunday, Santa Clarita residents gathered for a candlelight vigil - an evening of memories, music and worship, to honor the two students, 15-year-old-girl Gracie Anne Muehlberger and 14-year-old-boy Dominic Blackwell, killed in the shooting at Saugus High School in Los Angeles County last Thursday.
The shooting happened at Saugus High School on November 14 as students were arriving for classes. Nathaniel Berhow, a 16-year-old student, pulled a .45-caliber from a backpack and shot five people before shooting himself in the head, killing Blackwell and Meuhlberger, and wounding three others. Berhow died the following day of a self-inflicted gunshot wound.
Sheriff Alex Villanueva of the Los Angeles County said the shooting "wasn't a spur-of-the-moment act." But investigators said they have not identified a motive.
Everytown for Gun Safety Support Fund is a non-profit founded in 2006 and tracks gun violence in the US. The group said at least 12 people have died in shooting attacks this year, a total of 84 incidents of gunfire on school grounds in 2019 until last Thursday. The total incidents of gunfire on school grounds in 2018 were 104.
The New York Times recently reported that Texas has had more casualties from mass shootings than any other state except Nevada — and just a month after the El Paso massacre and hours after a gunman killed seven and wounded at least 21 in Odessa, gun laws here actually loosened.
In September, a high school student in San Antonio was found with a gun on campus. In October, three local freshmen were charged after terrorizing their school with plastic guns. The same month, a middle school girl was arrested for reporting that she'd been asked to participate in planning a school shooting.
Shootings have become an epidemic in US society. According to statistics, there's more than 34,000 deaths in which a firearm was involved in just one year. Over the last five years, about 72,000 people were shot to death, excluding suicides. That's nearly the capacity of the Los Angeles Coliseum. If you're going to include suicides, tack on more than 100,000 more deaths.
Jagdish Khubchandani, a professor of health science at Ball State University, wrote in the Philadelphia Inquirer that more than 3,000 firearm-related deaths per year in youths aged 0-19 have occurred in recent years, making firearm violence one of the top leading causes of death in youths.
Every time one happens, we revisit the same cycle of political squabbling, heated social media debates, blame games, and hypothesizing about more ineffective resource-consuming prevention strategies. We also know that attempts to stop these shootings have failed and wasted resources. Millions of dollars are spent in hardening and making schools safer yet still, there is widespread confusion on what will help stop these shootings.
"We have seen the shootings too many times before — and we are destined to repeat it for the foreseeable future because we, as a society, choose to let paralysis overwhelm public safety."
The Los Angeles Times commented that tragedies compound, and the grief is visceral. But there is no shock, really, outside the small circle of people directly affected by the gunfire. Because we have seen this too many times before.
Legislative fixes — few and far between nationwide — have been insufficient. The gun lobby and 2nd Amendment hard-liners shake their heads and say, nope, this isn't on us. It's mental illness. Or it's this or it's that but, Lord, no, it's never the guns."
Dr. Esta Brownstein lives in Tamarac, Florida. He wrote a letter to the South Florida Sun Sentinel and said, "It is with a heavy heart to write this letter in light of yet another school shooting. The GOP has again vetoed common-sense gun legislation, background checks. We clearly have an epidemic here in our country, our children are dying, and yet our government stands idly by and does nothing."
Brownstein pointed out that congressmen need to get act together, stop this carnage, and do more than mourn.
"I am so tired of our elected officials simply sticking to party lines, and not having the stamina to think for themselves, and speak for what is best for all Americans. Of course, most of them do not know what we Americans think is best because they will not allow us to express our opinions to them. Shame on them!" he said.