The very sharp razor hides in the cake
People's Daily app
1592549934000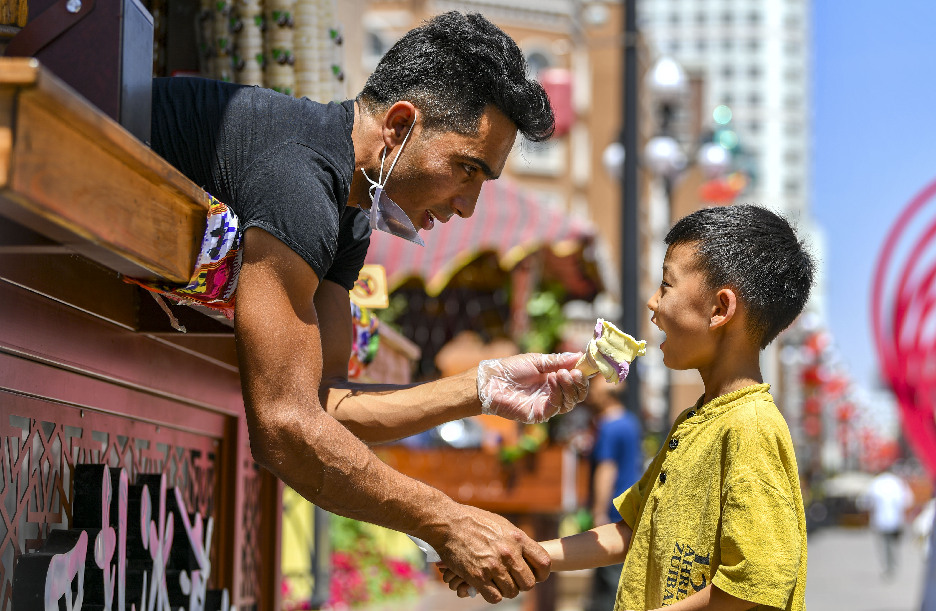 A child has a good time with an ice cream vendor at the International Grand Bazaar in Urumqi, northwest China's Xinjiang Uygur Autonomous Region, July 17, 2019. (File photo: Xinhua/Hu Huhu)
China has always taken a proactive approach in combating terrorism, which has a direct impact on national security and people's self-interest. Terrorism rejects basic human rights, trampling on human justice and peace. Terrorism is not a matter of national identity, nor is it religious.Terrorists are common enemies of humanity. Therefore, China's actions against terrorism and extremism in the Xinjiang Uyghur Autonomous Region are a legitimate act recognized by the international community.
The US is also a victim of terrorism, but it uses human rights as an excuse for a vicious attack on China's counterterrorism efforts.
The Uyghur Human Rights Policy Act of 2020 made an unreasonable accusation against the human rights situation in Xinjiang and the region's efforts to combat terrorism and eliminate extremism. The bill violated international law and norms, and will greatly upset the ethnic people of Xinjiang.
China has its unique features, unique geography and governance system. Moreover, the local government system of China also divides into five ethnic autonomous regions such as Guangxi Zhuang Autonomous Region, Inner Mongolia Autonomous Region, Tibet Autonomous Region, Ningxia Hui Autonomous Region, and Xinjiang Uyghur Autonomous Region.
Only Chinese people who are fully supporting the leadership of the Communist Party of China are well aware that the Communist Party of China and the Government of the People's Republic of China are providing peace to the 56 ethnic groups of China living peacefully in China's sovereignty.
Making a law or attempting to infiltrate China's internal affairs under the pretext of Western human rights and democracy is ridiculous and shameful. The US has been successful in engaging in the internal affairs of several countries in the Middle East, and as a result, the people of those countries are calling on the world, including China, to help and restore those countries from the civil war.
China's actions in Xinjiang effectively suppressed the tendency that many acts of violence and terrorism were frequent, and at the highest level defended national unity and national security and protected the fundamental rights and interests of all the people of China in general, and the people in Xinjiang in particularly.
China also believes that strong China-US relations will not only benefit both countries and our people, but the rest of the world.
We hope cooperation is the only legitimate choice between China and the US. We clearly see that China will work hard to cooperate with the US to develop non-confrontational, mutually respectful, and win-win cooperation, while at the same time strongly support the development interests and its sovereign security as well. We strongly expect the US to move together in the same direction as China did.
Author is Director of Project and Planning, Civil Society Alliance Forum of Cambodia.