Kyauk Phyu SEZ Deep-Sea Port Project
People's Daily app
1602490669000
Overview
The Kyauk Phyu Special Economic Zone(SEZ) is a 1,600-hectare (4,000 acres) Burmese special economic zone being developed on Kyauk Phyu, Ramree Island, Rakhine State. Kyauk Phyu SEZ was first announced in September 2013 and the project initially began as a joint venture between the Chinese and Burmese governments. The Kyauk Phyu Special Economic Zone deep-sea port project is another model project under the Belt and Road Initiative (BRI) framework.
Kyauk Phyu, strategically located at the geographic center of China, India and ASEAN, is uniquely positioned to serve as a trade corridor connecting these three economies. Kyauk Phyu is well endowed with a natural deep sea harbor and abundant natural resources in oil and gas, marine resources as well as unique scenic landscapes. It also has sufficient land and ample labor for industrial development and the expansion of residential areas.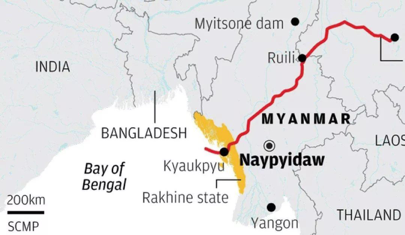 Kyauk Phyu's stratigic geographical location. (Photo: Sohu)
Along the Bay of Bengal on the west tip of Myanmar, the town of Kyauk Phyu in Rakhine State sits tranquilly on a 25-meter deep harbor. Port development is divided into four phases, and the first stage involves the construction of two berths with a total investment of 1.3 billion US dollars. The construction of the port will soon commence after completing economic and social impact assessments. The construction of the deep-sea port is expected to boost employment and the local economy.
Kyauk Phyu port, Rakhine State. (Photo: Ejatlas)
This deep-sea port, surrounded by superb natural conditions, could be developed into another demonstration project under the framework of the Belt and Road Initiative (BRI), mutually benefiting both Myanmar and China.
Contractor
China: the China International Trust and Investment Corporation (CITIC)
Myanmar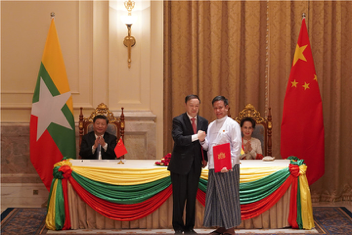 Transaction documents were exchanged witnessed by the leaders of the both sides.(Photo:Xinhua)
Progress
In 2009, CITIC Group and the Myanmar government signed initial memorandums of understanding (MOUs) for the port project and a railway connecting the Kyauk Phyu SEZ to southern China.
In 2014, the Myanmar government invited bidders from around the world for its plan to set up the Kyauk Phyu SEZ.
In 2015, a consortium of six companies led by the China International Trust and Investment Corporation (CITIC) won the tender for building the Kyauk Phyu SEZ.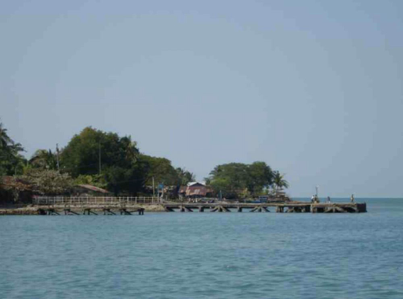 Old port in Kyauk Phyu. (Photo: Sohu)
In 2017, CITIC Group signed the Exchange of Letters of confirming CITIC Consortiums' participation in this project. Both parties agreed to make joint efforts to promote the signing and implementation of Kyauk Phyu Project as soon as possible.
In 2018, the CITIC-led consortium struck a framework agreement with Myanmar on the project.
On January 18, 2020, the transaction documents including the Shareholder Agreement and the Concession Agreement on Kyauk Phyu Special Economic Zone Deep-Sea Port Project were exchanged witnessed by Chinese President Xi Jinping and Myanmar's State Counselor Daw Aung San Suu Kyi.
New Kyauk Phyu port project. (Photo: Sohu)
Significance
The Kyauk Phyu deep-water port will join the ever-expanding list of BRI projects. It is not only a pivotal point in the "Y"-shaped China-Myanmar Economic Corridor, but also a key project that is win-win in nature in the global blueprint of BRI cooperation. The multi-purpose container port, if completed, is expected to improve transport and logistics, strengthen inter-connectivity and spur the local economy. The deep-water harbor will help China, Myanmar and other countries enhance trade and play an important role in accelerating regional economic integration.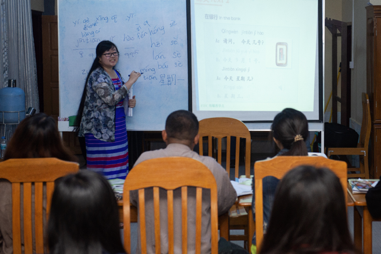 Local young people study Chinese in CITIC consortium training center in Kyauk Phyu.(Photo: Xinhua)
The project could consolidate trade and economic ties between Myanmar and China's southwest region, push for stronger cooperation in capacity building, and facilitate the development of an export-oriented economy in southwest China.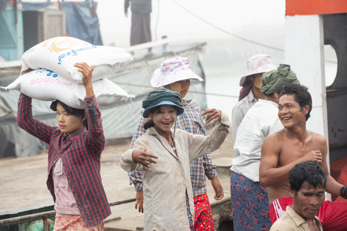 Female laborers unload goods from cargo ship at a pier in Kyauk Phyu. (Photo: Xinhua)
The project could promote local economic and social development in Myanmar and Kyauk Phyu. The CITIC Consortium also plans to carry out more vocational education and training projects in Kyaukphyu to increase the employment of local people, and encourage more locals to participate in projects' construction and operation, thus improving people's living standard with higher income.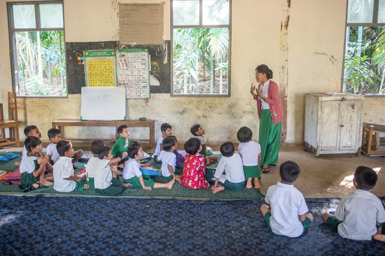 Children study in a school in Kyauk Phyu. (Photo: Xinhua)