Beijing triumph in Ji Zhe's jersey retirement
Beijing Ducks embraced the jersey retirement of deceased former captain Ji Zhe with a 112-104 home victory over Guangzhou Loong Lions while reigning champions Guangdong Southeast Tigers sailed past Zhejiang Lions 112-97 for 11th straight win of the Chinese Basketball Association (CBA) league on Tuesday.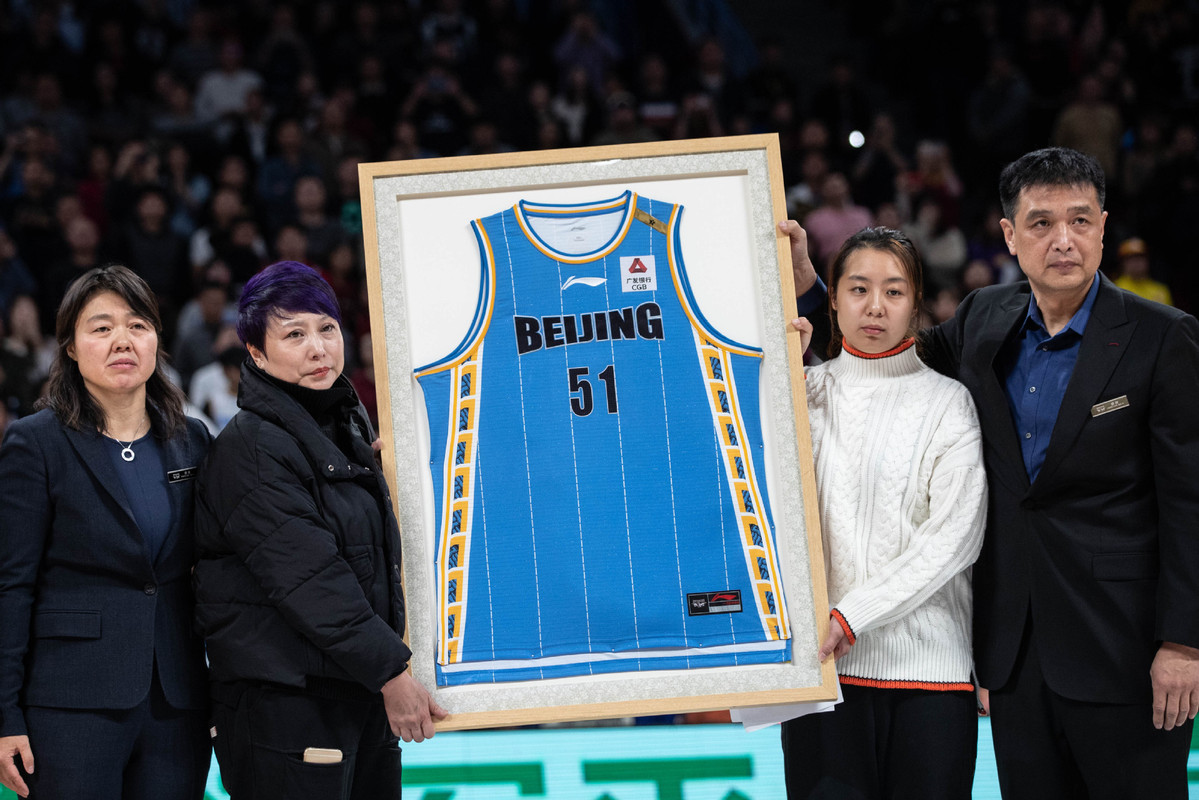 Ji Zhe's family and Beijing Ducks held a ceremony on Dec 10, 2019 for the player, who passed away last Thursday. (Photos: Xinhua)
The three-time CBA winner Ji, who joined Beijing in 2007, had his No. 51 jersey retired. He died of lung cancer last Thursday at the age of 33.
Andrew Nicholson and Keifer Sykes pocketed all 15 points for Guangzhou in the first quarter but fell 26-15 behind in front of Beijing's better ball movement. They cut the deficit within 10 points several times afterward but failed to turn the tide.
Ekpe Udoh led Beijing's attack with 26 points. Jeremy Lin and Zhai Xiaochuan added 22 and 16 respectively. Nicholson finished a game-best 42 points for Guangzhou.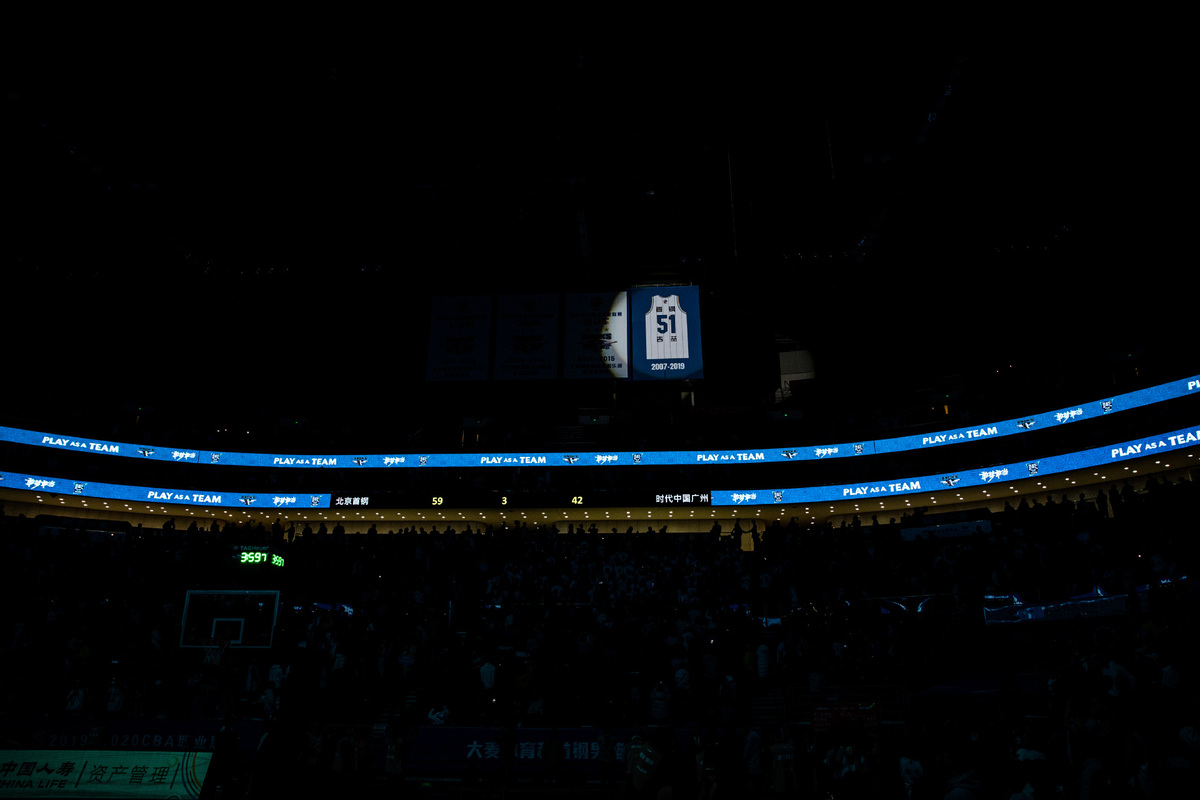 Ji Zhe's retired jersey is hanging on Wukesong Stadium.
Du Runwang scored four points from the top-off as Guangdong built a 31-18 lead after the first quarter, and they never looked back, sitting atop the table with a record of 14-1.
Sonny Weems led Guangdong's scoreboard with 32 points. Marshon Brooks added 25. Yi Jianlian registered a double-double of 14 points and 13 rebounds.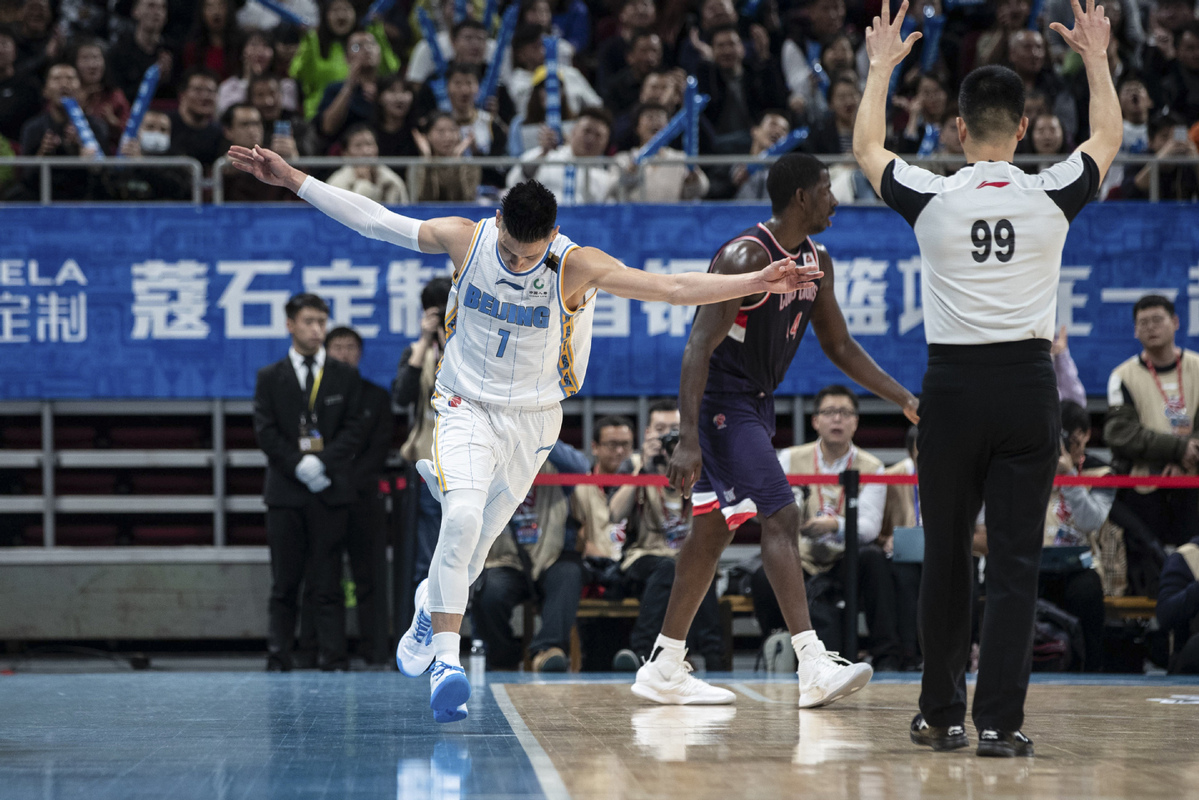 Jeremy Lin of Beijing Ducks celebrates during the match against Guangdong.
Jamaal Franklin contributed 42 points, 12 rebounds, 12 assists, and 10 steals, becoming the third player in CBA history to achieve a quadruple-double.
But his stunning display could not save Shanxi Loongs from a 114-110 loss to second-placed Xinjiang Flying Tigers at home.
Tight contention between the top three teams lasted until the final minute with the score at 108-all.
Abudushalamu's three-pointer moved Xinjiang ahead before grabbing an offensive rebound. A pair of free throws from Kyranbek Makan sealed the deal for Xinjiang.
Elsewhere, Zhejiang Golden Bulls beat Bayi Rockets 120-103, Liaoning Flying Leopards overcame Nanjing Monkey Kings 117-104, Dominique Jones' 59 points and 16 assists earned Jilin Northeast Tigers a 130-118 win over Shanghai Sharks, Shandong Heroes got past Jiangsu Dragons 107-92, and Qingdao Eagles crushed Shenzhen Aviators 94-73.