Where the sharks swim
Global Times
1585742100000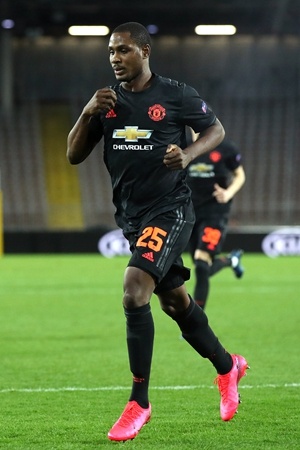 Odion Ighalo (Photo: VCG)
Manchester United manager Ole Gunnar Solskjaer knows a thing or two about scoring goals but he claims his strikers did not until the arrival of Odion Ighalo from Shanghai Shenhua in January.
It was a move that raised eyebrows at the time but Solskjaer was having none of it, certain in the knowledge that the Nigerian would add qualities to his squad that were otherwise lacking. The Norwegian has been proven right.
The performances of the lifelong Manchester United fan have impressed fans and forced pundits to eat their words, with one goal in the club's last game, a Europa League win over LASK Linz, gaining particular praise.
Solskjaer said as much to Sky Sports in recent weeks when the subject of his newest arrivals, Ighalo and Portuguese midfield schemer Bruno Fernandes, came up with the broadcasters during football's ongoing hiatus.
"It doesn't hurt [living the dream] but he's here on merit, he's here because he is a goalscorer and a different type of striker for us," he said, hinting that he may even try to sign the striker from Shanghai Shenhua on a permanent basis. "We might get to the summer and think we want to extend this, who knows?
"He's come in as a breath of fresh air as well. He had chances in his five minutes against Chelsea, he scored against Bruges, he had chances against Watford, he had a very good save [from a shot] against Everton-- there have been good saves, he doesn't miss the target very often.
"Even for Anthony [Martial], Mason [Greenwood] and Marcus [Rashford] to learn that it is where the sharks are swimming. It's comfortable outside the box and you can have a few shots. It's in there where it might be a bit tougher and you might get hurt - that's where you get goals."
The last statement is something United have lacked for a while: a fox in the box. Ighalo is not limited to that, as his volley against Linz proved, but he is happiest in and around the penalty area which is not an attribute you would immediately think of for the club's other three senior forwards.
While Ighalo is yet to open his account in a red shirt in the Premier League, Solskjaer's right about his striker's character. Of the 16 goals that Ighalo scored while at Watford in the 2015-16 and 2016-17 season before moving to China with Changchun Yatai, all of them were scored inside the box.
There are others in the Premier League who have a similar 100 percent record of scoring from inside the 18-yard box and who have scored even more than Ighalo. Here are the top 10.
Tim Cahill - 56 goals
The all-action Australian joined Everton from Millwall and was an almost instant hit at Goodison Park, scoring 11 goals in 33 games in the league in his first season. The midfielder never scored as many again, nor would he reach double figures, but he would become renowned as one of the most dangerous players in the air in the league.
Javier Hernandez - 53 goals
"Chicharito" was known for playing on the shoulder of the last defender and he did just that when he signed for Manchester United where he scored 13 goals in his debut season in just 27 games, many of them from the bench. He would hit 10 in each of the next two seasons before falling out of favor under David Moyes and Louis van Gaal once Alex Ferguson left the club. He would add another 15 goals over three seasons with West Ham United.
John Terry - 41 goals
Chelsea's central defender and captain was a menace for the opposition on set plays, especially in the air on corners. All of his 41 goals came for Chelsea where he contributed to five Premier League titles in the Stamford Bridge trophy room.
David Unsworth - 38 goals
Another defender, Unsworth was equally comfortable at center back and left back. He started at Everton where he played over 100 games before a brief stint at West Ham United and then even briefer stint at Aston Villa on his way back to Goodison Park where he played almost 200 more times. Unsworth also took penalties, scoring 22 of them in the Premier League, where he also played for Portsmouth and Wigan Athletic.
Kevin Doyle - 37 goals
The Republic of Ireland international striker scored his 37 goals in just 164 appearances in the Premier League after coming up with Reading. He scored 13 goals in a debut season that was stopped short because of injury but still got him nominated for the PFA Young Player of the Year.
He returned to the top flight with Wolves after the Royals were relegated but never hit double figures again.
Iain Dowie - 33 goals
The striker played for Southampton, Crystal Palace and West Ham United in the Premier League, scoring 11 for the Saints in the first season of the newly revamped top flight. The former engineer's goals came in 175 games.
Ashley Ward - 33 goals
The burly striker played for Norwich City, Derby County, Barnsley, Blackburn Rovers and Bradford City over the best part of a decade in which he played 135 games. His top scoring seasons were eight each for Norwich City, Derby County and Barnsley.
Carl Cort - 28 goals
The Guyana international came through the ranks at Wimbledon where he played four seasons before moving to Newcastle United for another four before a final season with Wolves. Nine of his goals came in his final Wimbledon season in 1999-2000.
Jonatan Johansson - 27 goals
The Finn played six seasons at Charlton Athletic, with his best a debut season where he scored 11 Premier League goals, despite being injured towards the end of the campaign. The goals kept Alan Curbishley's side safe from the drop.
Guy Whittingham - 27 goals
Two seasons at Aston Villa and five at Sheffield Wednesday brought 27 goals, nine of which came in his debut campaign at Hillsborough.