Savvy Zahavi shines bright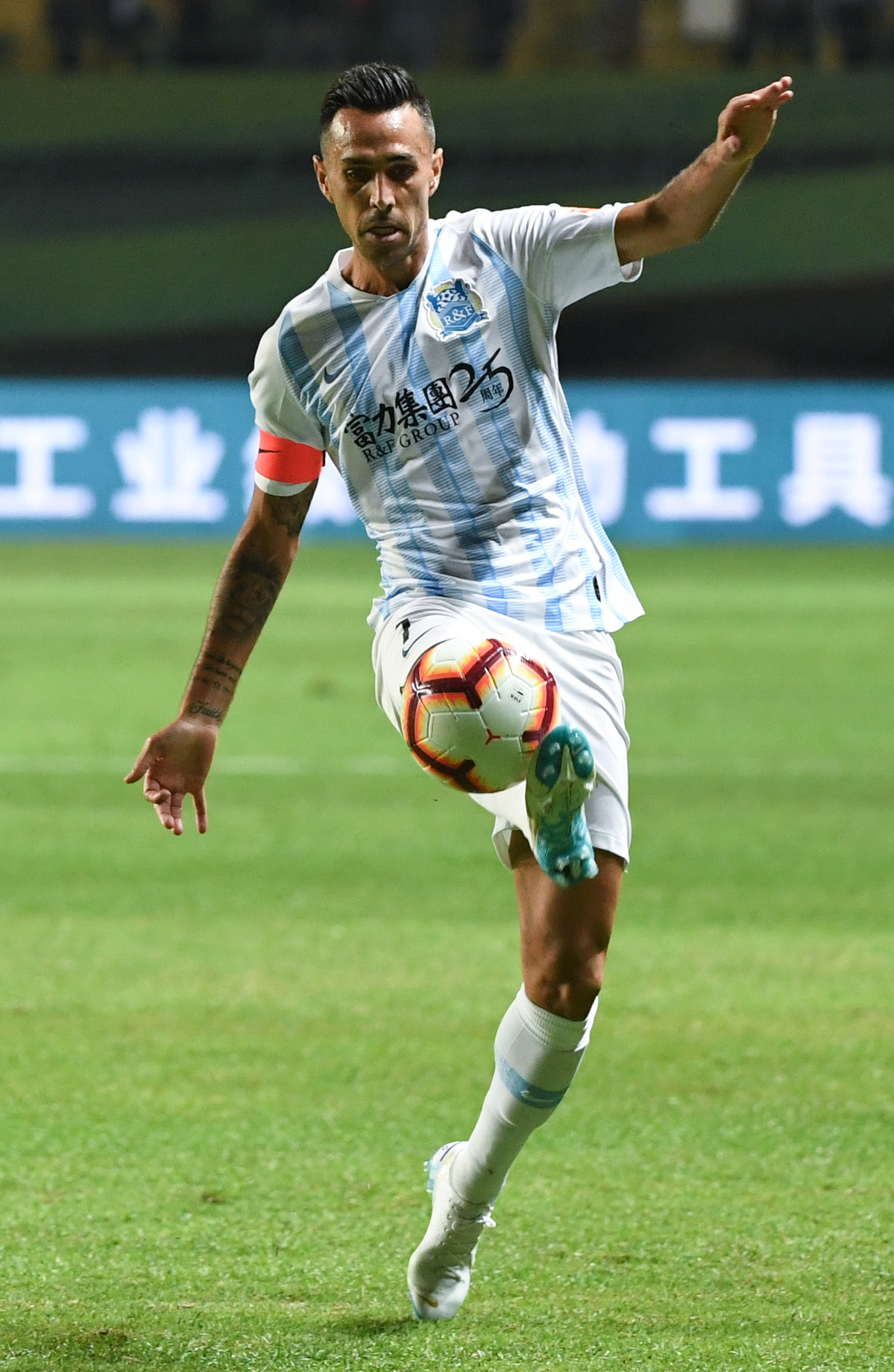 Eran Zahavi has outshone many of the Chinese Super League's priciest imports, with the Israeli striker breaking the league's single-season scoring record last term with 29 goals for Guangzhou R&F. (Photo: Xinhua)
Israeli showing Chinese clubs needn't look to big-name stars to guarantee goals
When media or fans reel off the names of the Chinese Super League's biggest stars, Eran Zahavi rarely gets a mention.
That could be construed as more than a little strange considering the Israeli holds the CSL's single-season scoring record and has twice won the league's Golden Boot award.
But as the CSL ushers in a more frugal, less superstar-focused era with the introduction of a new 3 million euros ($3.3 million) foreign-player salary cap, the 32-year-old Zahavi is hoping he will finally get the credit he deserves.
With a record 29 goals in 28 CSL appearances last season, the Guangzhou R&F hotshot is mightily proud of outgunning the league's priciest imports.
"This is a very special league, because many players with very high quality have come to China and they haven't been able to reach the level they expected," said Zahavi in an interview with China Global Television Network last weekend.
"I think the challenge is quite tough on a mental level. You always need to work hard and things don't come easy. The level is not the same as England or Italy, but it's not easy to score goals here. When you play with better players, it's easier to score goals than players with less quality.
"You need to be really intelligent and patient to understand the game and analyze the Chinese league. You need to wait for your moment and be sharp and ready all the time... You need to be good with your teammates-don't criticize them too much and support them to show them a good example."
The much-traveled Zahavi started his career at Hapoel Tel Aviv after coming through the club's youth ranks. His sparkling form in his native country earned him a move to Italian minnow Palermo in 2011 and a year later he returned home to join Maccabi Tel Aviv before R&F came calling in 2016.
Zahavi arrived in Guangzhou as a virtual unknown and for a relatively modest transfer fee reported to be in the region of 7 million euros ($8 million). However, he quickly caught the attention of fans by netting on his debut off the bench.
The goals haven't stopped flowing for Zahavi since. He finished the 2017 season as the CSL's top scorer with 27 goals before breaking Elkeson's 28-goal all-time single-season record (set in 2014) last term-an achievement all the more impressive considering R&F finished the campaign in 12th spot.
"I almost broke the CSL record in my first full season when I scored 27 goals, and the record was 28," said Zahavi.
"From that time, it was my first priority. It's very difficult to try to be better if you don't have a target in your mind. So I always try to find the next target."
Now the Israeli is aiming to bag some silverware for R&F.
"Of course the personal target is really nice to achieve, but team titles are much more satisfying," Zahavi added. "Your teammates will feel really special and they will be part of the achievement. I believe we can do much better and we deserve much better."
The muted response to Zahavi's Golden Boot triumph last season was in stark contrast to the fanfare that greeted Chinese striker Wu Lei's top-scoring feat the previous year.
Wu's 27 goals ultimately earned him a move from Shanghai SIPG to Spanish top-flight outfit Espanyol, where the China international has defied expectations to make a name for himself in Europe.
As much as Wu's progress has lifted the spirits of long-suffering Chinese soccer supporters, CSL fans have been left craving a new homegrown hotshot to cheer.
Last season, Guangzhou Evergrande's Wei Shihao was the only Chinese player to feature among the CSL's top 20 scorers.
The Chinese Football Association last week said it hoped the new regulations on foreign players will help the scoring chart return to its pre-2012 appearance, when about half of the top 20 were Chinese.
"Many teams have been dependent on foreign players in their forward lines," said Liu Yi, the CFA's secretary-general.
"The midfielders simply need to get the ball and pass to the foreign strikers. So we have to restrict the importation of the priciest foreign players.
"It's important to have the 3 million euros salary cap, because too many big-money foreign strikers means the disappearance of domestic strikers."