Chinese basketball player hoping for no regrets ahead of Australian debut
CANBERRA, Oct. 27 (Xinhua) -- Although he arrived in Australia more than 10 days ago, basketball player Liu Chuanxing has yet to see the country where he will spend the next two years.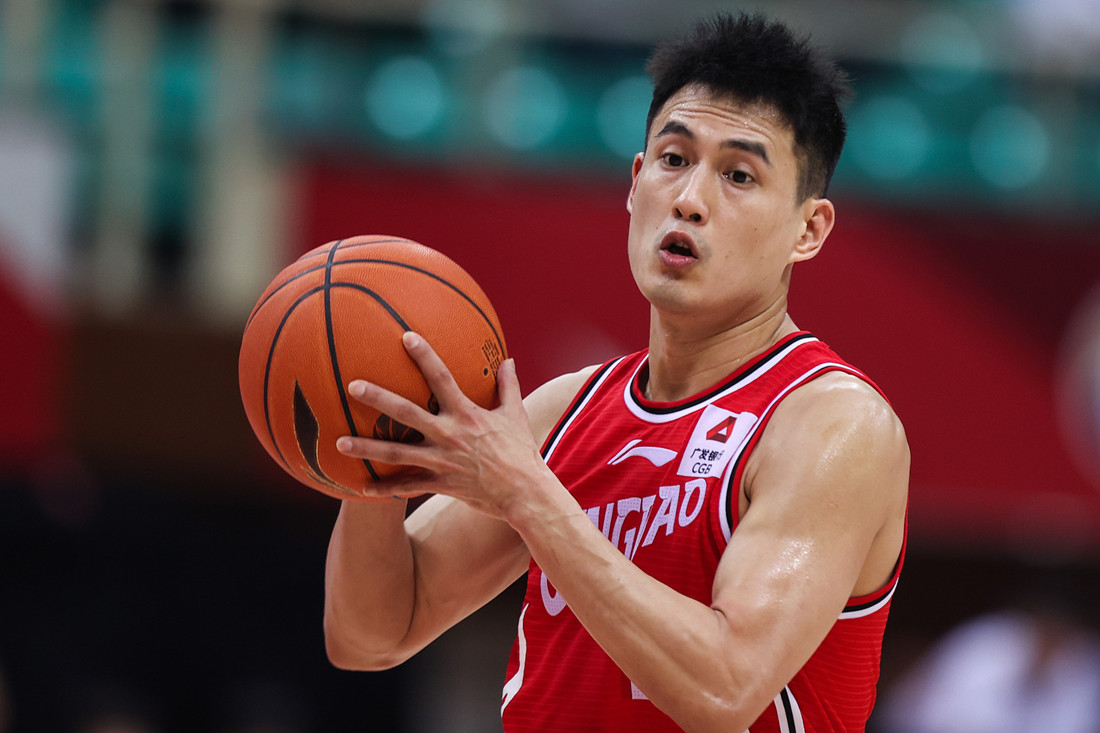 Currently sequestered in hotel quarantine, he has a simple daily routine: sleeping, eating and exercising.
"Australia is a new starting point for me," said Liu, who signed a two-year deal with the Brisbane Bullets of Australia's National Basketball League (NBL) in September. "I will do my best and leave no regrets in my career."
This is the first time that Liu has played for a club outside China. At 2.25 meters tall, he will be the tallest player in NBL history, according the Brisbane Bullets' website.
Dubbed "Big Liu", he previously played for the Qingdao Eagles in the Chinese Basketball Association (CBA) in 2018, averaging 9.7 points and 8.3 rebounds. Selected to play in the 2021 CBA All-Star Game, he is also a member of the Chinese national team.
Looking into the future, however, he expects more.
"I know that I'm lacking many things in my game to play at a higher level and I want to use this season and every practise to get better and be able to help China win games in FIBA competitions."
In a recent interview with Xinhua, Liu said that the Brisbane Bullets had given him lots of help.
"They cared about my life here and the coach, the general manager and the NBL chairman all sent their regards after my arrival," he said.
Most importantly, the club sent some equipment to his quarantine hotel in Melbourne to help him continue with his training program.
Liu wakes up early in the morning, usually at 6am, and begins training.
Indoor space is limited, so he uses an elastic rope and a portable water bag for strength exercises.
While his quarantine ends on Thursday and he is eager to "breathe the air" outside, Liu has a longer-term task: learning English.
He said his English is just basic at the moment. For communication, the club has found him an interpreter, and he himself is making efforts to improve his language skill.
Discussing why he chose the NBL, Liu said that the league was generally thought of as "of high level with fierce confrontations", which was what he needed.
"I have shortcomings in terms of physical confrontation," he said. "And in terms of technique and awareness, I definitely need to improve."
"This is a very good opportunity for me," Liu added. "I will try my best to learn and transform what I learn to my advantage."
Asked if he had plans to play in the NBA, which is the dream of many basketball players, Liu appeared pragmatic.
"What I am focusing on is the present, and on working hard now in Australia," he said. "I will start with defense and rebounds, contributing as much as I can to the club."
Liu's compatriot Zhou Qi has also arrived in Australia, signing a two-year deal with South East Melbourne Phoenix, and Liu said he was looking forward to facing Zhou. "He also encouraged me to work hard."