Superstar Murphy shines with records at FINA short-course championships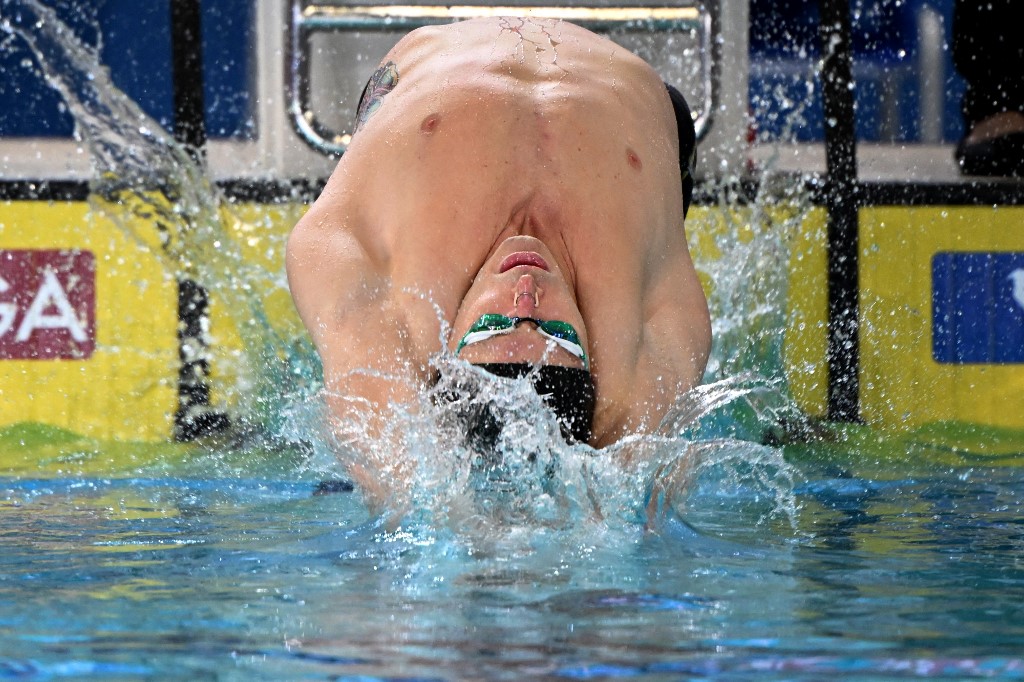 MELBOURNE, Dec. 14 (Xinhua) -- U.S. swimmer Ryan Murphy on Wednesday won gold in the men's 100m backstroke and also helped the U.S. set a world record in the mixed 4x50m medley relay on day two of the 16th FINA World Swimming Championships (25m).
The six-day short-course event at the Melbourne Sports and Aquatic Center runs until Dec.18.
Murphy proved why he was the hot favorite in the men's 100m backstroke after setting a championship record of 48.50 seconds. Italy's Lorenzo Mora provided stiff competition to win silver, while Australian Isaac Alan Cooper thrilled the home fans with a personal best time of 49.52 seconds to claim bronze.
Day two of the competition started with a bang as the United States set a world record time of 1:35.15 in the mixed 4x50m medley relay to win the gold medal. Murphy got the U.S. off to a fast start and they held off late challenges from Italy and Canada, who won silver and bronze respectively. China finished fifth.
In the women's 100m breaststroke, Tang Qianting from China finished equal second in the first semi-final with an impressive time of 1:04.36 to qualify for the final on Thursday.
Elsewhere in the women's 50m butterfly final, China's Zhang Yufei grabbed the bronze with a renewed personal best of 24.71 which also tied the Asian record. Canada's Maggie MacNeil and U.S. swimmer Torri Huske tied for gold with a time of 24.64.
Teenage Romanian sensation David Popovici finished second in the first semi-final of men's 100m freestyle with a time of 45.91 seconds to book a place in Thursday's final. He narrowly finished behind France's Maxime Grousset.
Brazil's Nicholas Santos outshone younger competitors in the men's 50m butterfly with the 42-year-old spectacularly winning gold and setting a championship record of 21.78 seconds to power away from the star-studded field.
Host Australia enjoyed a gold rush and capped off day two with a world record time of 7:30.87 in the women's 4x200m freestyle relay.
In the women's 800m freestyle, rising Australian star Lani Pallister dominated with a convincing victory to prove her proficiency at distance swimming. She led throughout to win gold in a personal best time of 8:04.07 to add to her victory in the 400m freestyle on day one.
Australia's Kaylee McKeown overcame a slow start in the women's 100m backstroke to finish strong and win gold narrowly ahead of compatriot Mollie O'Callaghan, while Claire Curzan from the United States claimed bronze.