China lose to Iran in AFC U23 championship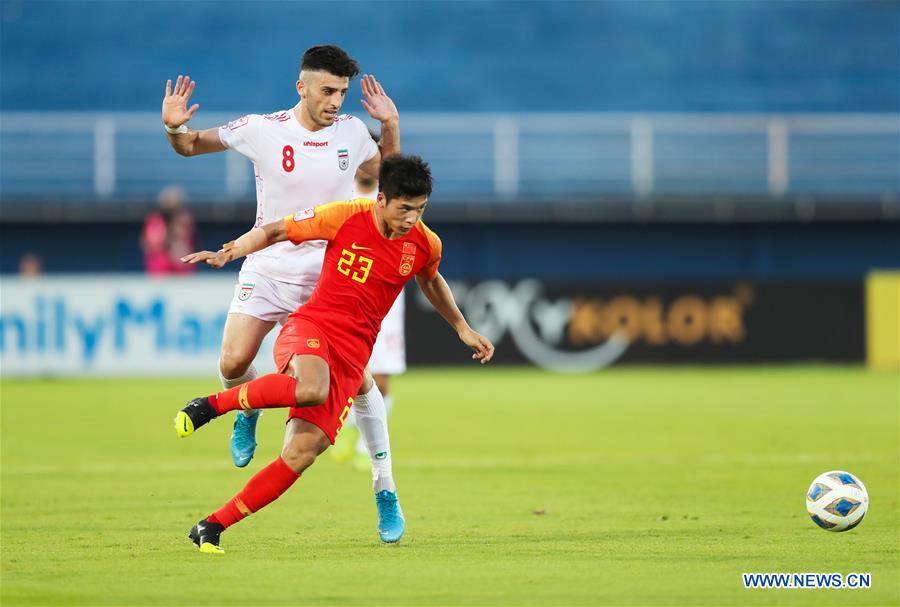 Chen Pu (R) of China vies with Mehdi Mehdikhani of Iran during a match between China and Iran at 2020 AFC U23 Championship in Songkhla, Thailand, Jan. 15, 2020. (Photo: Xinhua)

SONGKHLA, Thailand, Jan. 15 (Xinhua) -- Omid Noorafkan's late penalty gifted Iran a 1-0 win over China in Group C at the 2020 AFC U23 championship on Wednesday, sending China to go packing in a winless, pointless and goalless fashion.
Losing their first two group matches to South Korea and Uzbekistan without scoring a single goal, China had been shut out of the 2020 Olympics as the match against Iran became a simple fight for honor.
A heroic performance by keeper Chen Wei help China hold their opponents to 0-0 in 86 minutes. The referee pointed to the spot after Zhu Chenjie committed a foul on Mehdi Ghaedi inside the area and Noorafkan converted the penalty.
Earlier in the match, Jafar Slamani's header tested keeper Chen in the third minute. Chen saved a long-range shot from Reza Edhghani four minutes later. In the 16th minute, Allahyar Sayyadmanesh's left footed attempt inside the box nearly opened the scoring for Iran, only to see Chen deny the attempt once again.
China had their only promising chance to score in the 21st minute when Chen Pu's left footed shot behind the arc narrowly missed the target.
Iran missed their best opportunity to take the lead just before the halftime break, only to see Mohammadmehdi Mehdikhani's volley clatter off the left post.
China fought back hard after the break and even had opportunities to go ahead. However, Chen Pu hit the bar with a powerful shot in the 65th minute and Hu Jinghang's shot from a narrow angle went into the side netting four minutes later.