Jiaolong to probe deep with new mother ship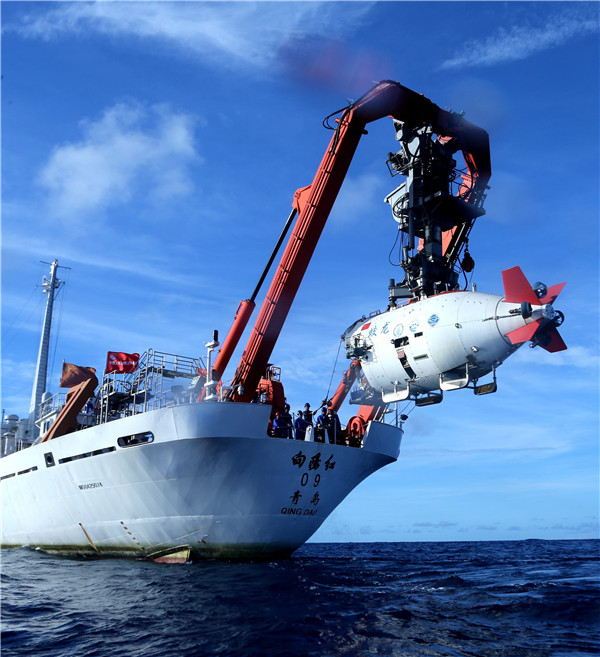 Manned deep-sea submersible Jiaolong is shown during a mission in 2017. (Photo: Xinhua)
China's manned deep-sea submersible Jiaolong is scheduled to dive 7,000 meters into the Marianas Trench in the western Pacific Ocean, the world's deepest known natural trench, in July as part of the country's effort to make its mark in exploring the mysteries of that dark world.
Ding Zhongjun, deputy chief engineer at the Ministry of Natural Resources' National Deep Sea Center, told Science and Technology Daily on Thursday that the July operation will be based aboard Jiaolong's new mother ship, Deep Sea 1, and will last 40 days with 10 dives.
The mission is intended to verify the compatibility of Jiaolong and Deep Sea 1, he said, adding that afterward they will remain in the western Pacific to conduct other scientific expeditions.
Zhang Fumin, Deep Sea 1's chief designer, from China State Shipbuilding Corp, said the ship is being built at Wuchang Shipbuilding Industry Group in Wuhan, Hubei province. When it is commissioned in the coming months, it will become the world's most advanced mother ship for manned submersibles. It will be tasked with servicing the nation's major deep-sea submersibles, which include manned and robotic models, he said.
Deep Sea 1 is 90.2 meters long, 16.8 meters wide and displaces about 4,500 metric tons. It will be able to sail more than 22,000 kilometers in a single mission and sustain a 60-day operation in any area of ocean, Zhang said.
The vessel will feature better technological and scientific capabilities than the four other dedicated submersible mother ships around the globe, the designer said, explaining that it will extensively boost Jiaolong's operational capability.
Named after a mythical dragon, Jiaolong is China's first manned deep-sea research submersible. It reached its greatest depth, 7,062 meters, in the Marianas Trench in June 2012. Previously, Jiaolong was based on Xiangyanghong 09, a survey vessel in service since 1978.
The last time Jiaolong and Xiangyanghong 09 were used together was in 2017, when they conducted a 138-day expedition that started in February and concluded in June.
After the trip, Xiangyanghong 09 was relieved of its role as the submersible's mother ship. Jiaolong is now undergoing a technical overhaul at its base in Qingdao, Shandong province.