China's first unmanned freight trucks enter routine operation
People's Daily online
1551098189000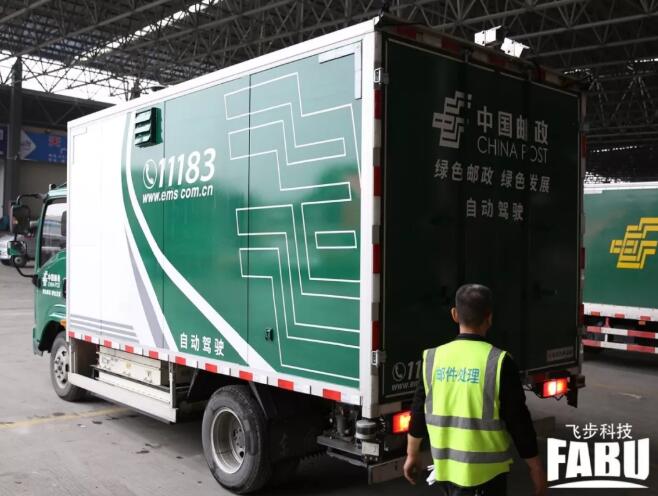 A EMS driverless truck is ready to hit the road in Zhejiang. (Photo: courtesy of FABU Technology)
China's first unmanned freight trucks have entered routine operation in east China's Zhejiang province, meaning driverless vehicles will be able to run on tested routes for delivery.
Under the joint cooperation project by the China Postal Express & Logistics' EMS, FABU Technology, and Deppon Express, several Level-4 (L4) unmanned driving routes have been established and have entered a new stage of regular operation after three months of trials.
The routes vary in distances and road conditions. For example, one route taken by EMS is 23.6 km in total, with more than 50 complicated road sections. The route includes grocery markets, commercial centers, railway stations, residential quarters, and plazas, and has over 50 crossings and 26 traffic lights.
In order to ensure that the unmanned truck arrive safely and smoothly, engineers must not only overcome the technical challenges associated with complicated road conditions, but also deal with extreme weather conditions, such as heavy rain, snow, or fog, He Xiaofei, CEO of FABU Technology noted.
During last year's Singles Day shopping spree season, the first L4 unmanned truck designed by FABU was launched in Zhejiang. Since then, the company's unmanned cargo transportation vehicles have covered 3,600 km of road, delivering 60,000 packages.
He said the company aims to launch 100 commercial unmanned logistic routes in the future.
"FABU Technology has become the first domestic AI enterprise to operate driverless logistic routes. Their technology will help domestic logistics giants enter the driverless era and may help transform China's economy," commented Chen Junfeng, chief investment officer of Sinovation Ventures, which is also an early investor of FABU Technology.