Chinese tech firms go public in US, powered by entrepreneurial vision, macro environment
Global Times
1557251287000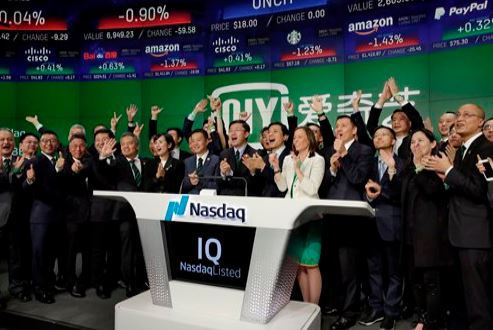 iQiyi staff ring the Nasdaq opening bell during the company's IPO listing ceremonies in New York in March 2018. (Photo: IC)
A growing number of Chinese companies are going public in the US amid strong growth momentum powered by great entrepreneurial vision and China's macro environment, financial market insiders believe.

"For my third trip to China this year, I would say that China has as many entrepreneurs and the same type of entrepreneurial vision that there is here in the US," said Robert McCooey, senior vice president of Nasdaq's Listing Services unit, during a recent panel discussion.

He noted that a number of "amazing entrepreneurs" in China's large cities such as Beijing, Shanghai and Guangzhou, "are doing the same things, similar things - or even better things - that are being done in Silicon Valley or here in New York City."

Every year, Chinese companies choose to list in the US market, eyeing its high liquidity and access to a broad international investor base, said McCooey, who has worked for Nasdaq for 13 years.

"One of the hallmarks of the US stock market is the fact of companies being able to raise money on multiple different occasions. And it is always driven by liquidity," he said.

"It's driven by the opportunity of meeting with the best investor base in the world that are here in the US markets. Therefore, that's a huge attraction to Chinese companies," McCooey noted.

Chinese companies, like iQiyi, Bilibili, Pinduoduo and Uxin, chose Nasdaq for their listing last year, said the Wall Street veteran.

So far this year, 12 Chinese companies have listed with Nasdaq, with three ringing the bell this week, including financial consulting service firm ATIF Holdings, online platform for medial aesthetic services So-Young and social e-commerce platform Yunji.

"We're all so proud of the fact that Baidu, Ctrip, NetEase and Jing Dong are part of the 100 largest companies on Nasdaq," he said, in reference to the four companies' inclusion in the Nasdaq-100 Index.

The index includes 100 of the largest US and international non-financial companies listed on the Nasdaq Stock Market based on market capitalization.

"So, we're so proud of those four companies and we hope any more (Chinese companies) in the future are part of the Nasdaq 100 (Index)," he added.

The US equity market witnessed an initial public offering (IPO) boom with a total of 43 Chinese companies coming in 2018, a marked upswing from the 24 firms in 2017 and 10 in 2016, according to data from Wind, a financial data provider.

In 2018, seven of the largest 10 technology IPOs by proceeds were on Nasdaq, among which video streaming service iQiyi (raising $2.25 billion) and e-commerce Pinduoduo (raising $1.62 billion) topped the tally, based on statistics released by Nasdaq.

ATIF has ridden the wave to seek more capital and investors in the US and began trading its shares on the Nasdaq Capital Market on Friday afternoon.

Still hot

Wang Qiuli, CEO of ATIF, told Xinhua that the company is expecting more business from a rising number of Chinese companies looking to be listed on the US stock market.

"I believe that the second half of the year will continue to be hot (for Chinese IPOs), because the US capital market, with the open market and perfect system, has more than 50 percent of the global investment funds, and 60 percent of the global trading volume happens here," Wang said.

As for the performance of US-listed Chinese stocks in general, McCooey said they "are performing very well and I think they'll continue to overall perform well."

He gave the example of Pinduoduo, which first raised $1.63 billion in the US market last July and then gathered $1.8 billion at a 40 percent higher valuation six months later, calling the performance "a great success story."

"I think that goes to the fact of strong performance of good companies from China, who can raise a tremendous amount of money," he elaborated. "We just had iQiyi come back to the market to raise a couple of billion dollars to continue to fuel their growth."

ATIF CEO Wang pointed out that the upgrading of China's macro business environment has empowered the development of Chinese companies, especially small- and medium-sized enterprises (SMEs).

"China's political stability, all-round economic development, and the progress made in trade negotiations between China and the US stimulate the healthy development of SMEs," Wang said.

"In addition, China's Belt and Road Initiative has strengthened the economic exchanges between China and its neighboring countries and promoted the all-round development of the economy," the CEO said.

"China's 1.4 billion population has created the largest market in the world," Wang noted.

"The overall rise of China's biotechnology industry and Internet industry will also comprehensively help the development of SMEs."